---
Season 2015 Match Reports
Fen Ditton beat Histon II by 61 Runs
Scorecard
Bright Start
With hardly a break after last years title winning season, some of the lads were straight in the nets preparing for our third assault on Division 1. Reports about solid batting against good quality bowling reached those a bit more inclined to have a complete break through the winter.
Therefore, expectations were high at The Rec that we could make a positive start to the season with all that work in the bank. Even Fez arrived in time (albeit last, obviously). PC was out injured so a late change with Marc taking over the gloves and McCann un-dropped/re-selected to bat at seven.
I'm assuming Histon won the toss, and invited us to bat. New signing Rob and re-signed Butler strode out for a big opening stand, which might have happened if Tom had not chosen to 'walk' after failing to get an edge to the 'keeper for a duck. The ground was dumbstruck when AB followed him back - LBW for one. Rob and Skip then fought back with some clean hitting until just before drinks when Skip didn't hit one nearly as cleanly and was easily caught at mid-on for 36. H joined Rob who was now looking fluent and at least fifty was there for the taking. A slightly lazy flick in the air to deep mid wicket was pouched though and Rob had to depart for a very decent debut 45. Need I mention that Fez was looking chilled as he swaggered to the wicket. One very nice boundary was followed by a mis-cue and he swaggered back to the pavilion for some more chilling. So H found himself batting with McCann, like many times last season. All the tension of a potential run out was fulfilled when, on 24, H only made one and a half rather than two. Michael followed that by running out both Marc and Dave but redeemed himself somewhat as he picked up the pace late on to reach 24* in partnership with Dobbo to get us to 165-8 from our forty overs.
We knew our bowling had the quality and depth to make that a defendable total but we'd also need to field and catch with enthusiasm and encourage each other all the way.
Fez kept smiling as he bowled a lively spell of 5-2-9-1. Dobbo opened from an end he's not familiar with and bowled as well as ever in two bursts for 10-0-24-3. Batters can't relax when Fez takes a break - they now have the pleasure of facing Skip, who was pretty quick for early season and decided five overs yielding 1-15 were enough for him. AB was brought on to get the Histon batsman showing most intent, and he did with Jacko taking the catch. Laffers was impressive with 6-0-15-2 and it was left to Jacko to tidy things up with a quickfire 2-5 and dismiss Histon for 101.
An opening day win with contributions from all but not necessarily crucial ones from where we might have expected them. Hopefully Butler, AB and Fez will start scoring lots of runs soon and if the bowlers keep this up the sky's the limit.
---
Monday 4th May
Ketteringham Hall Vs Fen Ditton
Fen Ditton beat Ketteringham Hall by 76 Runs
THREE FROM THREE FOR THE DITTON BOYS By Michael McCann
A hungover Ditton team were seeking revenge over their hosts, having lost to Ketteringham Hall in their most recent encounter, the last match of the 2014 season. That day we lost the toss and toiled in the field under the heat of the sun for 35 overs. This time, skipper for the day McCann made himself popular with his zombie-like Ditton troops by winning the toss and, without hesitation, electing to bat.
Marc W declared himself 'generally unfit' to open, so McCann and returning veteran Fowler strode out for the visitors. Both progressed in a steady if uneventful manner - the former positive, the latter stoic. A rare collectors item came as McCann hit a pulled six over the bowlers head before Fowler was dismissed lbw for 6. H did not last long before chopping onto his stumps, whilst McCann had the proverbial rush of blood to head, as a mindless charge down the wicket led to being stumped from the spinner for 25.
Consolidation was needed, and for a period of time MVS and Dobbo provided that, gaining valuable 'time in the middle' in the process. Both started to show the obvious capabilities we all know they have with the bat - MVS showing his prowess through the on-side, Dobbo with his sweep shots and taking on of the oppositions one truly fast bowler. However, both were dismissed by said fast bowler, who was comfortably the most potent of the hosts attack, and certainly of the standard we would expect to face in Saturday league matches.
Marc, despite the benefit of further time to rest, did not last long before getting out pulling to one that kept low, whilst Jameson and Laflin also did not last particularly long. This left Ditton facing losing their unbeaten record this season at 120-9 from 26 overs.
AB and Butler had other ideas, scoring 48* and 38* in rapid time, featuring some brutal hitting and excellent assertive, but not reckless running, that we would all do well to follow (myself in particular). Umpiring was a joy in having the best view of some superb batting from AB, most notably taking 23 from 5 balls of an over from a slow bowler(4.3.6.4.6). As always Butler was strong through the 'V' against the seam bowlers, with the pair totally changing the momentum of the innings, as Ditton closed on 213-9 from their 35 overs.
Following a plentiful tea from our excellent hosts, Laflin and Jameson shared the opening bowling duties, and both bowled relatively well and economically without quite finding a breakthrough.
Ketteringham Hall were progressing serenly but not at a rate to really trouble us in the context of the match, with this trend continuing through Butler and Marc W, whose spells followed next. The leg-spin of the former was reasonable but could not quite match the high standards he set from an excellent spell on Sunday - maybe the boxing and all those beers were catching up by this point. Meanwhile Marc W's description of his bowling as 'Bertie Bassetts Liquorise Allsorts' is better than anything I can muster, though a leg-stump yorker did give us a first breakthrough - 66/1 from 15 overs left a rising required run rate.
Despite Vaughan-Shaw doing his best through arm rotations to give the skipper hints, McCann decided to go for the proverbial skills as Wilson senior, with his quick spin, and Dobson entered the fray. Given that MVS hit the stumps with direct hits twice in quick succession to flex his muscles this appeared harsh, but proved justified. Both bowlers kept the scoring relatively quiet, as Wilson was unfortunate not to claim any victims, whilst Alexander William added two more to his three victims on Saturday - one caught spooning out to McCann in the off-side, one clean bowled.
Ditton were turning the screw now as hangovers had begun to recede, with the nuclear-bomb levels of gaseous exchange that had earlier been frequently passing through the outfield becoming mercifully less frequent. There was some defiant hitting from our hosts, but wickets were relatively frequent, as AB ran through the middle and lower orders with his left-arm spin, claiming four wickets with some high-quality bowling (apologies for lacking memories of further details).
During this spell wickets were regularly falling at the other end too as Vaughan-Shaw, having patiently waited for his chance, showed how very, very special. The spinner used flight and guile to lure the batsman into a mindless charge down the wicket to be stumped by miles, enhancing his reputation as a lethal death bowler. The very next ball McCann ran to his left from the deep and completed a neat throw to run out a batsman attempting a two, allowing Dobbington to revel in the skippers obsession with the phrase 'take them off.' Soon afterwards MVS, clearly in no mood to watch returning veteran Fowler finish things off, did so himself, through some monstrous turn that induced a leading edge - H pouched a simple catch.
Ketteringham Hall were 126 all out, completing an ultimately comfortable 87 run win for the Ditton boys. That made it three wins in three days and one of, if not our most successful tour to date. Everyone provided valuable contributions at some point across the extended weekend, using the opportunity to continue to find their feet out on grass in the sunshine, a welcome change from concrete nets.
Onto Witcham. Let us hope that it brings another Ditton win and that, equally importantly, this time H might actually be able to remember whatever comes to pass.
---
Saturday 9th May
Fen Ditton Vs Witcham
Fen Ditton beat Witcham (defaulted)
Fore!
Witcham were unable to field a team and forfeited this fixture leaving Ditton players with tricky (or easy) decisions to make.
Five played golf at Heydon Grange, with very mixed levels of success. One went to see play-off football and one spent the day with his visiting parents. Four others failed to report to the web.
Two wins from two, but not how we'd have chosen to achieve it. Looking forward to St Ives next week.
---
Saturday 16th May
Fen Ditton Vs St Ives Town II
Fen Ditton beat St Ives Town II by 76 Runs
Scorecard
8 Bowlers
Good to be playing cricket on a Saturday again after last weeks trek around a golf course, and a nice warm, sunny day rather then wind and rain. The square and wicket looked immaculate thanks to Dave Norman and even the outfield is improving. Skip won the toss and, with our new PMA towards Div 1 and faith in the batting line up opted to set a target.
No Rob this weeek so Fez showed his versatility by opening with Butler who we'd realised hadn't scored a CCA run since 2012. Some run of form. The opening bowling was accurate without being overly threatening and whilst Tom set his stall out for a long innings, Fez sought to get after the bowling. Several swishes at anything pitched up outside off stump led to some playing and missing but also two hard hit boundaries. It didn't look like it could last and it didn't when Fez had his stumps disturbed for 13. AB had only faced about an overs worth before Fez, back in the action umpiring, deemed him absolutely plumb LBW for a duck. AB would have gone "upstairs" but the Ditton facilities don't extend that far yet so he had to go. Skip joined Tom with promises to play a bit more conservatively this year. St Ives introduced their slow bowler and that intention was replaced by how far and how often Skip could hit it. Five consecutive boundaries followed but on the cusp of drinks, with the innings looking in rude health, he missed a straight one to be bowled for 37.
Tom very nearly ran H out before he faced a ball but then settled down to bring up his first half century in league cricket. His fine knock ended as he relaxed and loss of focus led to him chopping one onto his stumps for 54. H had just begun swing the bat like he was holding his Taylor Made R5 but the arrival of McCann led to a flurry of betting activity on the likelihood of a run out. Not this week as H called NO loud and early to keep sending Michael back after hitting it straight to a fielder. McCann then tried to sweep a full ball and missed it. Gilo was in next and we all know he's not great at playing slow loopy bowling. He did enough to keep getting H back on strike though and a partnership built. H rode his luck from the off, edging through slips, miss hits in the air just out of fielders reach, a six which went through the fielders hands and finally brought up his fifty with a six which was superbly caught but the fielder carried it over the rope. The partnership was worth over 60 when Giles was out for a supportive 11. Marc and Paul both hit a boundary in short innings during the final flourish. H ended on 70 not out (highest by a Ditton player in a helmet?) and Ditton, having targeted 200, concluded their 40 overs on 208-8.
We'd always back our bowlers, assisted by some fielding intensity, to defend lower totals than 208 but the first ten overs set the tone for any reply and we have to be up to the challenge. Without Dobbo, Dave took over opening from the far end in tandem with Fez and both were miserly in giving anything loose to be hit. Paul took a good leg side catch off Dave but it was the slow scoring rate rather than wickets which gave cause for optimism. Fez took a break to be replaced by the adequate first change bowling of Skip and Dave finished his work for the day with 7-1-19-1. Skip was frustrated at first but then found himself on a hat-trick which he missed out on by a whisker. AB bowled with much better control and a fuller length and was rewarded with 3-24 from six overs. Skip decided it was time to give almost everyone a bowl as St Ives were going nowhere and had only bonus points in mind. Marc took a wicket, Butler, Fowler and Gilo didn't but were all tidy. Fez and Skip had a couple of overs each at the end to try to dismiss St Ives but they hung in to complete the 40 overs on 132-9. Fez 7-1-16-1 and Skip 8-3-21-2.
A comfortable 76 run margin having used eight bowlers seems proof that this Ditton squad can overwhelm some of the weaker opposition in division 1 but how will we perform when the tougher games come along?
---
Saturday 23rd May
Fen Ditton Vs Littleport Town
Fen Ditton beat Littleport Town by 15 Runs
Scorecard
Tight
Back on 14th June 2014 FDCC last lost a league cricket match - against Littleport who were subsequently promoted with us to 1N. Both games between the sides last season were hard fought and we expected much the same today. Losing the toss we were invited to bat first again.
With just one run on the board, the spirit of McCann entered Butler's mind as he called Rob for a single that was never there, and then sent him back. The run out was inevitable. We all felt sure that AB had to come good at the third attempt this season and he settled in whilst Tom blocked and left, using up balls from Littleports best bowlers. AB accelerated with a flurry of fours but in the over after drinks Tom had another brain-freeze moment calling for a suicidal single. AB was having none of it and Tom paid the price. His 13 was much more valuable than the bare number. At 69-2 Skip strode out and was hitting it sweetly from the off. AB was also timing it now and reached his half-century. Two big sixes helped Skip reach 20 but he then bottom edged one onto his stumps. H was quickly in and out for a duck and at 117-4 we really needed AB to go on to a big score, assisted by the lower order. It was not to be as he flicked a leg stump ball too cleanly to a fielder hovering behind square-leg for a well made 78. AB felt he should have taken the century he thought was on offer, which is an indication of the changed mentality of this Ditton batting unit. With Fez and Gilo both new to the crease, we still thought 180 would be good but 200 was the target if Fez got going. Both played positively and Giles was only out having a big mow at the returning opening bowler for 15. Fez had his eye in though and hit a huge blow towards the pavillion for six which went as high as it did far. He then smashed one into the trees over square cover which is probabably still in the Plough car park. Paul assisted with 5 not out as Fez finished unbeaten on 46 with the crowd wanting more. Ditton had reached 195-6 and those five runs short of 200 possibly played on the minds of both sets of players.
This was evident from the way Littleport set about a proper go at chasing the target. Would they have done that if it had been 200+ I wonder? Fez went for ten from his first over but Dobbo took a very good catch off his own bowling to take the first wicket in his first over. Those two overs set the tone for the innings - Littleport kept chasing hard but losing wickets just often enough that Ditton were always just ahead. Fez took a spell after 4 overs had cost 24 to be replaced by Skip but at the other end Dobbo had two further successes and took a rest with 3-35 from 6 overs. Skip had no luck in two spells with one huge LBW shout turned down but a half-hearted one given for his only wicket. Still, 9-0-26-1 meant Littleport had to keep going hard at those bowling from the other end. Anything short or overpitched was smashed into the trees on the Plough boundary. AB took a valuable wicket but at a cost of 31 from four overs. Dave bowled possibly his best spell for Ditton in the context of the game. 7-1-26-2 when the blades were flashing demonstrated the consistency he's now showing against better batsmen. Dobbo's second spell yielded two more wickets to end with 8-2-48-5, a real jug performance. Littleport looked out of it when the ninth wicket fell on 152 but the last pair blocked and hit to get to 180 at which point we looked like an undertaker who's misplaced the last nail. Fez found it with a straight one hitting the pad and the ump showed why we enjoy these games with Littleport - they're hard but fair.
A win by 15 runs keeps our winning run going and we're joint top of 1N with Fordham II who we face next Saturday. Unfortunately it's the Chairman's reception next Saturday as well. We need to reverse a big trend but the belief is high.
---
Saturday 30th May
Fen Ditton Vs Fordham II
Fen Ditton beat Fordham II by 2 Wkts
Scorecard
Crest Of A Wave
Old documents relating to the very birth of Fen Ditton Cricket Club came to light this week from 1979, with the Chairman, Mr Michael Watt asking the Parish Council if Campo would be ready to host league cricket in the summer of 1980. Campo is how The Rec was known when it was an overgrown piece of land doing nothing in the centre of Ditton. Now that it's the home of this improving Ditton team I'd like to campaign to reinstate the name Campo in next year's CCA Handbook.
Where we might appear in the Handbook in 2016 was not going to be decided yesterday even though Fordham II and ourselves were the last remaining unbeaten teams in 1N. In fact, this game raises more questions than answers. Both teams will think they should have won despite playing below their best. Fordham won the toss and batted. The openers looked compact and played some good shots off Dave and Dobbo. A fifty partnership in quick time and Fordham would have been looking at scoring 200+. We kept plugging away and took two wickets before drinks when the score had just slowed a bit to 82-2. The introduction of AB and Jacko, with pace off the ball, turned the innings around in our favour as Fordham slumped to 107-7. Although we found ourselves in a strong position, the vibe on field had been low key and ground fielding the worst for a long time. The saving grace was that anything in the air was being caught and Marc was having an excellent time with the gloves. In particular, Michael and Gilo took great catches, one in the deep and one close in. AB bowled his best spell so far this season with 6-1-22-2 whilst Jacko took his seasons bowling average down to 2.00 with figures of 5-1-5-3. Surely Skip and Fez would tidy things up and give us a comfortable total to chase. Fordham battled back and we needed Dobbo to return for a couple of wickets, finishing with 7-1-25-2 and Skip taking the tenth in the last over. 168 is about twenty short of decent but defendable.
Fez and Butler began the reply quietly until Fez unleashed two cover drives for boundaries from successive balls but the next one beat and dismissed him. AB was troubled at first by one of the opening bowlers but survived. The score accelerated and although Butler was also out before drinks, we were just about on par with where the Fordham innings had been. Skip showed more of his new found patience, albeit in the face of an ultra defensive field for the slow bowlers. AB was picking off boundaries but just as confidence was growing he chipped one to straight long-on for 39. H ran himself out as a direct hit came in from near the boundary and Skip followed soon after with a replica of AB's shot for 30. Now was the time to see if our capable lower order could cope with these game situations. After Gilo was out, Michael and Marc built a partnership to get us closer. When McCann was out for a good 20, Dave came in, to be joined by Dobbo when Marc became yet another run out victim this season. Fordham now had seven boundary fielders but Dobbo looked calm and hit two lovely boundaries through the gaps to move us to touching distance. Dave to face the final over with two needed to win. He got them with a miscue which led to Dobbo dropping his bat on the first run and Dave diving in for the winning second.
A hard fought match during which tempers flared occasionally, but this is the top end of Div 1. Ditton need wins in the next two matches to complete a year unbeaten, but can't take anything for granted. There are plenty of good cricketers in this league - it's good to be playing with ten of them every week.
---
Saturday 6th June
Fen Ditton Vs Sutton
Fen Ditton lost to Sutton by 14 Runs
Scorecard
The Run Ends
Team changes for Ditton for the visit of Sutton. With both Rob and Tom missing we'd need a new opening pair, runs in the middle with Gilo out and runs/wickets with Dave away. On the plus side, we had Paul and MVS back and George Colwell would make his first appearance for a while.
Sutton won the toss and elected to bat on a used pitch which looked OK but would wear quickly leading to a bit of low bounce. As usual, Fez and Dobbo opened the bowling but it all felt a bit flat. The Sutton openers played positively and got them off to a solid start before a catch was popped up to McCann at Cover off Dobbo. That should have switched us on. It didn't. There followed a catalogue of fielding errors, for the second week running. The difference was that this week we spilled several catches as well. Sutton didn't push their run rate too hard, keeping wickets in hand for their big hitter to play with freedom for much of the back end of the innings. Jacko proved himself Mr Reliable again, bowling a great spell of 10-1-28-0. Many shots in the air but no chances taken. AB and Paul combined for a classic spinners wicket through a thin outside edge and Skip took 3-39 without bowling at his best. With the benefit of hindsight, honours were probably even at Tea with Sutton setting us 159 to win.
0-2 is an uncomfortable start and things didn't get better very quickly. Marc and AB were bowled in the first over for ducks and McCann was back soon after to a stunning catch at short leg for 2. Skip was looking determined and playing sensibly but H had a waft at a straight one and we were four down. Sutton introduced their spinner and he had Skip (35) caught from his first ball. We thought that Fez, assisted by the lower order might still pull us out of the mess we'd got ourselves into. Fez (38) played his part until chasing a wide one he found a fielder on the Cover boundary. MVS and Dobbo were out for single figure scores and it came down to Paul and Jacko to score almost fifty to win. They threatened to pull an unlikely win out of the hat as both played sensibly and whittled the target down. With fifteen to win, Paul (14) had a juicy full toss bowled at him and what looked like a six became virtually game over as the only outfielder moved into view to take another good catch. George blocked five balls but was then bowled leaving Jacko on 17 not out and Ditton 144 all out. Sutton had bowled OK but, crucially, caught without error which was the diffence in the end.
You win some (14) you lose some. We all need to think what we could have done differently/better today and put it into practice at Lode next week. It's not the end of the world, it's only cricket.
Many thanks to MVS who hosted us after the game for the Champions League Final, providing high quality food and beverages. Cheers Mark.
---
Saturday 13th June
Bottisham & Lode Vs Fen Ditton
Fen Ditton beat Bottisham & Lode by 7 Wkts (32 overs)
Scorecard
Wet and Windy
Rain was forecast for Saturday morning, conveniently clearing away around midday. So as long as the pitch at Lode was OK we shouldn't have a problem. The pitch was obviously damp, to say the least when we arrived but, as promised, we'd arrived after the rain had stopped.
By 1:30 we were out in the middle, having lost the toss and been invited to field. Then it started raining, so we returned to the pavillion for around 45 minutes as the weather fluctuated between drizzle, showery rain, hard rain etc. Around 2:15 the captains got together and made the brave/foolhardy decision to start and carry on regardless, with the match reduced to 32 overs per innings. I should also mention that whilst waiting for the match to start we could not avoid realising that MVS had an appalling case of wind which was burning nostril hair. He fielded most of the innings on the boundary, on his own, in a small haze. Other news was that Paul had an ugly looking broken toe that he hadn't realised was broken last week. He's hard. The B&L openers started well and Dobbo was quickly withdrawn from the attack. Jacko was on a perfect wicket for his variations and drew first blood. Skip replaced Dobbo and was getting a bit of tap until he found the edge of the other openers bat and Marc held on very well at slip. An unecessary altercation followed. What is it about quick bowlers? Then Skip (6-0-23-2) hit upon the idea of introducing Mr Robert Smith for his first bowl for Ditton. Slow-medium would suit the conditions apparently. Did I mention it had drizzled continuously since the start? Jacko completed his spell of 8-2-20-1 and Dave took over. A gentle loosener produced a C&B wicket first up for Laffers who then continued to make the batsmen work for every run in another fine spell producing figures of 6-0-24-2. Still the rain came down. Solid ground fielding and a return to taking our catches reduced B&L to 96 all out. The Rob Smith experiment resulted in headline grabbing figures of 7.3-3-9-5. Rob confessed he only bowls in sh*tty conditions.
Much later on Saturday evening we were still talking about the marvellous sponge cake which provided the centerpiece of Tea. It rained while we took Tea and continued afterwards. Paul was asked to "pinch-hit" at the top of the order while he could still move and made a painful, limping 13. McCann was blocking and wafting at thin air but not getting out. H moved up to three and injected a bit of intent in a decent partnership with Michael, who began timing some good shots all around the wicket, especially a couple of square cuts. H was caught on 18 and Michael was trapped LBW for 34 soon after. It was left to Skip (16*) and Rob (11*) to steer us home with plenty to spare. The drizzle was still coming down as the match ended. Both sides had shown remarkable resilliance in starting and carrying on in weather you might not take a dog out in. The cloud had been so low that you sometimes couldn't see the aircraft that regularly fly low over the ground. Trench foot all round.
This week thanks has to be given to the McCann family who invited us to their annual Bumps Garden Party. By the time we got back to Ditton for some food and drink the deluge had finished and Garden Cricket was played as ritual dictates. H took 6-0 to totally eclipse Rob's earlier efforts.
---
Saturday 20th June
Fen Ditton Vs Milton
Fen Ditton beat Milton by 23 Runs
Scorecard
Raining Runs
For the second Saturday running the weather forecast was less than promising. At 1pm we had the faithful tarpaulin laid out covering the wicket as light drizzle fell but there was enough brightness north of the river to suggest we might start on time. Once the formality of Skip losing the toss was out of the way, we slightly surprisingly found ourselves batting, which would have been our choice.
Another tweak to the batting line-up this week saw Rob return to the top of the order with McCann, Dave leapt up the order to three in the absence of AB, Skip and H at four and five as usual, and new father Fessil back at six. A decent start was made as we looked to Rob to repeat the form of his midweek 70 against Remnants. Michael had been mostly untroubled until edging to first slip for 11. Not great to get out, but better edging it than being bowled. Milton would not have known Laffers was not our regular number three. He played a good mixture of defence and attack, whilst Rob was getting towards top gear. Their partnership was broken when Rob flicked to backward square-leg and found one of only two fielders on the leg side for 30. The shower we'd been playing through got much harder leading to a lengthy break during which Tea was taken. Dave and Skip would have to start again, but only if we could get back on before 4:30, otherwise we probably wouldn't have enough light to complete the match. Fortunately, the rain passed, blue sky was visible for the first time and the tarpaulin had saved the day again. We had 22 overs left to bat but a healthy 73-2 on the board. We passed 100 before Dave was out to a smart catch at the wicket for 28 and 105-3 soon became 110-4 when H was trapped right in front to one which kept a bit low (honestly). That was in the 25th over and led to an entertaining last 15 in which Skip finally went on beyond the thirties he's been getting and was only out slogging in the penultimate over for 60. Fez was dosed up with Lemsip and other totally legal drugs, and had benefited from an hours sleep in the changing room. Despite not timing it quite right until near the end he hits it hard enough and finished unbeaten again, for 62. The pair had put on 93 together. Mention to Marc who ran like a whippet to keep Fez on strike in a partnership of 40 and just had the final ball of the innings to face, which he smeared up in the air to register an undeserved golden duck. 227-6 was our best so far this season, but we knew the result was not a forgone conclusion.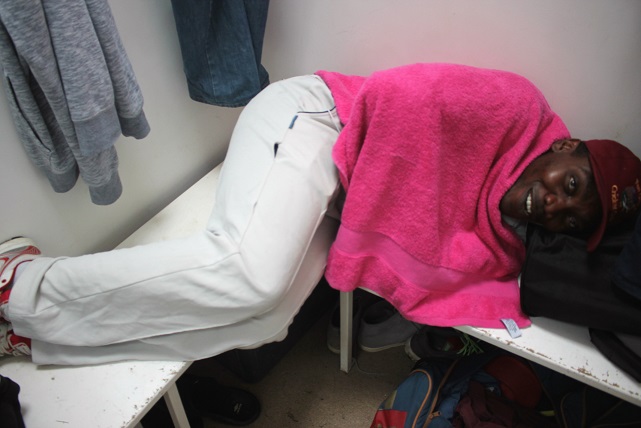 Calypso cricket.

A quick change round and we felt the key would be keeping it tight for the first ten overs and hopefully removing a couple of Milton's strong top four. Fez was still feeling a bit groggy and is yet to bowl at his best on Campo. Jacko might have the 'Bottom End' named after him he's bowled so many overs and taken so many wickets from there and he did the trick again. At the end of the tenth, Fez had 0-22 and took a breather, but Jacko had 2-16 and ploughed on. Milton had reached 40-2 so honours roughly even. Skip replaced Fez and whilst short stuff passing the batsmen's face looks quite frightening, it didn't really look like yielding a wicket as the Milton batters swayed and ducked. Jacko completed his allocation with 10-0-43-2. Skip managed to get one very quick delivery right up in the block hole to bowl the dangerous Liam Dye and took himself off at Drinks by which time Milton had reached 78-3. Still all to play for. Marc put his bowling shoes on and Laffers came on from the bottom. The field was spread a touch and the match went through a phase where the run rate required increased, but not by enough to make us comfortable. Dave took a wicket in his second over and Marc got one in his third. Still the Milton batters came at us. We thought the crucial moment had come when Dave had the Aussie number 3 (Jason Sep), who had looked on course to mount a serious charge towards the end C&B. With ten overs remaining Milton had 141-6. Surely too many for any lower order to get? Skip and Fez returned to mop up but found the number eight had other ideas. Fez was hit for a mighty six and the now large contingent from Milton roared their men on from the pavilion. A brave knock came to an end when Skip bowled Peter Stoehr for 35. A C&B for Skip (10-1-33-4) and a run out from the final ball saw Milton finish on 204. A great game played in the right spirit. It was 8:10 and there were 11 very tired but happy Ditton fielders.

Another big challenge next week as we welcome Cherry Hinton to Campo, before we go on our two month 'road trip'.
---
Saturday 27th June
Fen Ditton Vs Cherry Hinton
Fen Ditton lost to Cherry Hinton by 3 Wkts
Scorecard
Too many bad Cherrys bowled by Ditton
This was the first time we've faced either Cherry Hinton 1st or 2nd XI with a better record and an expectation that we would beat them.
Things looked promising when they invited us to bat first. Rob was looking good from the very first ball and we hoped Michael would stay with him this week. Not to be as McCann nicked to the 'keeper. The same fate for AB and we needed another solid performance from Skip. Rob wasn't as fluent as we've seen him, but didn't seem troubled either. A maiden half century for Ditton didn't quite happen though when Rob was caught on 49. H again failed to give Skip much support and it was down to Fez to ramp up the scoring rate again as the temperature rose on a glorious afternoon, in total contrast to the previous two weeks. Once again our two in-form bats put on a stand and Skip reached a second consecutive half century. He was out shortly after for a battling 57, having told his supportive colleagues to keep their advice on running to themselves. MVS arrived to try to keep Fez on strike, but it didn't work this week as Fez ran a suicidal single to be out for 38. Much of the frustration for both Skip and Fez stemmed from the excellence of the Cherry Hinton boundary fielding. Ditton cobbled together a few more in the final over to finish on a par score of 183-8.
We enjoyed another fine Tea from Don and will now have to wait two months for another. As with last week, we knew Cheery Hinton would have plenty of batting and we'd need to bowl and field well to defend 183.
Fez started with two quick wickets but also had a 5 wides to his name. Jacko had the batsman playing warily until dropping short and getting dispatched for boundaries. This set the tone that only Skip broke, of having all our bowlers take wickets, some with good deliveries, but also bowling plenty of crap. The fielding bravely tried to restrict the damage with Marc, Rob, MVS, H and Dave all taking good catches. Skip bowled in two bursts resulting in figures of 8-1-16-2. The other bowlers had figures of 8-1-42-2, 7-1-43-1, 4-0-35-1 and 4-0-42-1 to illustrate the point. We can excuse Rob his single over for 3 runs. Cherry Hinton's batsmen only began to look shaky when number 9 arrived, but by then it was too late and they reached 184-7 with a few overs to spare.
We were probably 20 runs short batting and two decent bowling performances short today. However, it demonstrates where we are as a squad that we felt so disappointed with ourselves and know what needs putting right. Every team in 1N will capitilise on under-par displays like this, but we've only had two in half a season so no need to feel too dispirited.
---
Sunday 28th June
Fen Ditton 6-a-side Tournament
Milton CC beat Elmdon CC in the Final
Milton win the trophy. Many thanks to Elmdon, Sharks & the Kings Head for making it a great day.
---
Saturday 4th July
Fordham II Vs Fen Ditton
Fen Ditton lost to Fordham II by 110 Runs
Scorecard
Diverting
We have a small squad so when you know that Rob, AB, Fez, MVS, and Dave are all unavailable against the team who are top of the league, we're going to need a surprise star performance or a bit of luck. We had an inkling that luck might not be on our side when we ran into a roadblock on the A10 at Chittering and embarked on a detour that would inevitably make 7 of us late. We tried calling the Fordham skipper, but got voicemail. So we tried Mr Fowler, and got voicemail. Jacko next and an answer - "I'm here but no sign of any Fordham players". Is he at the correct ground? given that the match had been moved from Fordham to a ground owned by Kings School, Ely. Another call confirms all of our players not held up by the A10 incident have gone to Kings Junior School, explaining the absence of Fordham players. Eventually a call from Fowler, now at the correct venue, telling us Fordham are eager to do the toss. Andy was instructed to conduct the ritual and bat. He lost, we were invited to field and that was that.
To blame Andy for a 110 run defeat seems harsh in light of some other issues we had to deal with. It was very warm and a stiff breeze was blowing straight down the ground affecting the lengths bowled from both ends. Mainly it was the fact that Fordham were much better than us today in every department of the game. Dobbo struggled with too many full tosses, bowling from both ends and didn't add to his wicket tally for the season. New boy Adam bowled a promising opening spell into the breeze and took his first wickets for Ditton. Skip was, as usual, our stand-out bowler with 10-1-42-2. Jacko also bowled a tight spell of 6-0-28-0, using his experience against well set batsmen. Marc and Fowler each had a go into the breeze and took an expensive wicket each, before Adam finished off, ending with 3-57 from ten overs. Everyone put in an exhausting shift in the field and we took all bar one of the chances offered. Constantly retrieving the ball from the boundary can get a bit dispiriting but we kept at it right to the end. Fordham had racked up 236-7, which we were never going to chase, but the three bowling points were welcome and we needed to set ourselves a reasonable and achievable target when we batted.
The batting line up had an unfamiliar look to it as Skip experimented with Dobbo opening in the hope he'd reproduce the innings on tour two years ago. That had been on a flat track and fast outfield, but the bowling might not have been quite the same quality. He was bowled third ball for a duck. The next thing to report about the batting order was that Marc and Giles were both down to bat at three or six depending on whether Dobbo or Michael were first out. Dobbo's dismissal meant it was Marc who got the gig at three. After a lovely single, he was (insert how you think he was out, a former Ditton player guessed it spot on later in the Sheps). Time for Skip to continue his excellent form with the bat. McCann had played some nice clips off his pads but was then guilty of the most dozy bit of batting as he inside edged backwards to the keeper, standing up, who whipped the bails off, whilst Michael made no attempt to make his ground. At square-leg umpire, Dobbo was day-dreaming and so had to say Not Out. Michael made little of this escape as he was soon bowled for 10. Skip had started hitting it crisply again and without the constaints of a helmet (today at least, facing spin) H also found the middle of his bat. To be critical, both Skip (34) and H (32) should have made half centuries but lapses of concentration saw them both bowled and our hopes for a total of 160 were adjusted to 120. Giles hates spin, we all know it and he gave Fowler no option but to give him out LBW for 0 when the ball hit his back foot in front of middle. Adam showed he has a solid technique and bought fully into getting the bonus points and making Fordham bowl all the overs. Fowler assisted with a very good 14 but we were still a few short when Gav, so often a lucky charm, was bowled for the third duck of the innings. Paul got us to 120 and then had carefree swish across the line in the final over to be another LBW victim. Jacko played out the last few deliveries for another not out whilst Adam had batted around 15 overs for a solid 13*. 126-9 isn't going to win games but our total of 6 bonus points was possibly as good as we could expect today.
Fordham are a very good side but this win proves little. Promotion for them may come down to the last two matches - both against Histon II. The defeat proves little about Ditton either. We will have players back next week at Sutton and see if we can get back to winning ways to cement a top half position.
---
Saturday 11th July
Sutton Vs Fen Ditton
Fen Ditton beat Sutton by 48 Runs
Scorecard
Ups and Downs
I'd played at Sutton in the past and remembered that there's something quirky about the outfield. Basically, it's like the biggest double-tier golf green in the world. Also, there's the gate that's been considerately placed for visiting teams to go and recover the ball after big sixes over square-leg. Saturday was properly hot in the middle and a very sound track meant it was an important toss to win. Skip obliged for a change and had no hesitation in batting. By then we'd established that Rob had arrived so AB's offers to open were shelved, although it was encouraging that he was so eager to get out there batting.
Rob and McCann had to see off some pacy stuff at the start but with Rob picking off anything loose for boundaries and Michael finding plenty of singles, it was possibly our best start to an innings this season. Having looked set for a very good score, Michael missed a full, straight one and had to be given LBW for 24. AB almost sprinted to the middle. Rob reached his half century with little fuss really. No especially extravagant shots, just compact and effective. And then carried on. AB started to find the middle of his bat and after a quiet season by last years standards, reminded us how destructive he can be as the partnership grew, tiring the change bowlers and virtually silencing the fielders. We were ready to cheer Rob's century when, horror, he chipped one to mid-off for 98. We're finding that very little phases Rob and that he has some strong ethics about cricket which include accepting the rough with the smooth. He didn't outwardly show any signs of disappointment about the two runs he didn't get, but satisfaction with the 98 he did. Skip joined AB and soon after AB reached his fifty in quick time. He'd got to 66 when he middled a drive off the returning opening bowler and all eyes looked to the boundary. We then adjusted our sights and realised shortish mid-off had taken a stunning catch.
By this stage 250 was looking easily achievable although the opener wouldn't be easy to get away. H and Skip ran hard with several boundary fielders in place and managed the odd boundary. Skip was bowled off his pads for 14 and Fez hit 6 from two balls but was caught from his third. MVS strode out to face the final ball and a text book slog led to one leg bye. H had made a slightly rough 23* and Ditton finished on 254-5 which should have been plenty.
Plenty didn't seem enough after ten overs of the Sutton reply. It didn't feel as though Fez and Dobbo did a whole lot wrong but margins of error in direction and length were being fully exploited and my first look at the scoreboard revealed 74-0. Time to take some wickets and slow the scoring, or vice-versa maybe. Skip into the attack and a big hit to deep mid wicket went straight into AB's bucket hands. The whole dynamic seemed to change as belief returned. Jacko had the number 3 groping and eventually had him clean bowled. Still the boundaries came but less often and now AB joined the 'wicket party' dismissing the opener who'd gone past fifty and may have made things very nervy for us. We still knew from the earlier encounter at Ditton that Sutton have a hard hitting bat who comes in down the order. AB, Fez and Skip, along with an improving fielding effort, tried to starve him of the strike. The required run rate rose, as detailed by Michael at every opportunity. Marc, having refereed, had arrived to watch and found himself sub fielding for Dave who had a recurrance of "poorly leg". McCann nearly knocked himself out head-butting a low branch while assisting H in retrieving the ball from under a tree. The Sutton big hitter lost a ball which couldn't be found despite the gate, broke his bat, reached fifty and was then bowled by Skip, effectively ending a bold run chase. All bar one of our bowlers had taken a bit of tap. Fez 10-0-67-1, Dobbo 6-0-40-0, Jacko 5-0-35-1 and AB 6-0-41-3 but all had kept going with total effort given. The final wicket fell with Sutton on 206 and fittingly it was a fifth for Skip whose figures of 8-1-11-5 were astonishing in a game where 450 runs were scored. Our stars were Rob, AB and Skip but it had required a whole-hearted team effort to come out on top.
---
Saturday 18th July
Histon II Vs Fen Ditton
Fen Ditton lost to Histon II by 100 Runs
Scorecard
Local Knowledge
You always think of Histon as a batters venue - both pitch and outfield are always in top condition and you can throw in sightscreens and a scorers box to the facilities. Therefore, on another lovely warm sunny afternoon, we felt the toss could be crucial. Skip lost and we were condemned to a long spell of fetching the ball from the boundary.
Fez and Longo opened up and Adam was really unlucky not to pick up a wicket or two. Fez forgot to switch his radar on and sent down some testing stuff for Paul. The Histon opening batters looked confident in both the pitch and their ability to just push through the line, knowing that the ball only needed to beat one fielder in the ring before quickly running away for four. We persisted with a traditional 'village cricket' ring field for much too long, in hindsight, and the score rattled along. Paul took one from Longo awkwardly, yelping in pain and throwing his glove off. He carried on, as always, but only for another two overs when Longo found a genuine edge which flashed between Paul and Marc. Paul realised he couldn't carry on and Marc put the 'keeping gear on. Despite a broken digit, Paul fielded as well or better than others for the remainder of the innings. Although the score was getting out of hand, we all stuck to the task although I must confess that without the scorebook I can't remember the exact order in which we eventually managed to take five wickets. AB bowled a controlled spell and finally bowled one of the openers. Skip, Dobbo and Fowler were the other 'successful' bowlers and a relay run out by H and Skip accounted for the fifth. During this time four Histon batters made good fiftys and we might be thankful that none of them went on beyond 85. For about the final ten overs we put much more protection out on the boundaries and slowed the run rate a touch. Histon still reached 300 though, finishing on 307-5 with us looking pretty shattered. No bowling figures, because to point any fingers at bowlers would be wrong. Nobody bowled badly and all put full effort in. We just came up against the best batting we'll see this season.
We've done well so far this season by entering every situation with a positive mindset. To believe we could win this was highly unlikely, especially when we saw how Histon protected the key boundary areas from the outset. Rob and McCann produced a fifty partnership with Rob again looking totally in control. Histon had their eye on getting Michael first but it was Rob who nicked behind for 43. AB and Michael continued to make Histon work hard and just as he was looking like getting a big score again, AB was out to the spinner for 29. I was changing and missed Fez bat. McCann brought up his first fifty of the season but then fell for 55. H called Skip for a quick single only to find there was zero backing up. But Skip's quick so he'd surely make his ground. Nope, the fielder kicked the ball a good ten yards straight onto the stumps. Marc and H were both getting their eyes in and beginning to middle the ball, albeit with virtually no boundary opportunities being offerred. H then decided he'd had enough and pointlessly ran himself out with a call and judgement that would shame Butler and McCann combined. Marc had made a steady 14 when he was out but we then saw the real Dobbo bat. His quickfire 24 had some lovely shots and he was well supported by Longo who registered a second not out in two innings. It was enough to get us to maximum batting points but 207-8 still meant a 100 run defeat for the second time - the first having been at Fordham.
Histon and Fordham play each other on consecutive weekends at the end of the season which will decide who wins this league. Histon have post-match hospitality won easily, with their sponsor The Boot providing masses of sausages and chips with bread and butter. I hardly need to add that Michael filled his boots for the secomd time.
---
Saturday 25th July
Witcham Vs Fen Ditton
Match cancelled due to unfit pitch
Build an Ark
Friday morning it started raining around 10am, became very heavy and hadn't stopped by 11pm. It's now 10:30 Sturday and the sun is shining, but Cambridgeshire is reported to have had average July rainfall in one day, so no chance of the pitch at Witcham hosting cricket.
---
Saturday 1st August
St Ives Town II Vs Fen Ditton
Fen Ditton beat St Ives Town II by 21 Runs
Play Cricket Scorecard
St Ives Scorers Scorecard
"All Night Long"
After almost a whole season of reports without a running theme, I find I'm back with a song title. But who doesn't know all the lyrics of one of Lionels' greatest hits? Surely in the top ten karaoke choices, especially for FD players now we can associate it with one of our players.
We had won 8 of 13 matches and St Ives had won once. We were expecting a batting paradise and were inserted. We were missing 7 regulars and called up Ed McCann for his debut. Expectations were still high to add to our winning tally, but it would need a solid effort from a new look top five, missing AB and Skip. The pitch had a bit in it and Simon Pawley of St Ives got much of it out in a spell of 4-22. His scalps were Rob, Longy, McCann and H. If Rob says all four couldn't have done much differently, it was just very good bowling, I'll take his word for it. By drinks the Ditton innings was looking fragile but Fez and Paul were beginning to re-build. Paul then yorked himself and Fez drilled one down the throat of long-off for an innings top score of 20. His wicket made the score 90-6 and we started to wonder what score around 120-130 we might creep towards and give ourselves a chance. After todays skip Marc made his third duck of the season, those scores seemed a bit optimistic. Very optimistic it turned out as M Dack dismissed Jacko, Jason and Ed with a hat-trick and we had just 96 to show for the afternoon.
Marc was defending an unbeaten record as stand-in skipper, but would have been forgiven for thinking this would need something special and I might have heard someone whistling the Great Escape theme tune. Maybe the fact that we were understrength and that the likes of Ed, George and Jason, with little previous league experience, just saw 96 as a number to defend galvanised us. Take the best of Dhoni, Clarke and McCullum as Captains and inject Marc Wilson with a cunning, attacking plan and you give yourself a chance. But only if the bowlers are at their best. Jacko was magnificent. 10-4-12-1 (including two wides) meant we had total control from one end, giving licence to Longy to bowl fast and accurately in an opening burst that saw St Ives 0-2, then 5-3, then 12-4, then 14-5. We were vocal and intense and the batters were like rabbits in headlights. Longy took a breather to allow Fez, on his birthday, to bowl (during one stage to order, as H at long-on requested and received which length he asked for) his best spell this season. 7-4-12-1 put St Ives further on the back foot. Rob replaced Jacko and the change was seamless with tight lines allowing no free hits. Numbers six and seven batters each made a dozen to keep things in the balance and J Perring (eight) was looking like the one man who might deny us. Longo returned and took wickets with his final two balls for figures of 10-3-24-6. One wicket to go and Rob finally had Perring holing out to Michael to set off our celebrations and mass congratulations to Adam Long who'd bowled his heart out. We held some catches but dropped two or three as well. We weren't without the odd miss-field, but we all pulled together in a win reminiscent of defending lowly scores in Div 3 with Ali Selmes and Skip bowling. This was a great win under the circumstances. Contrast our bowling in games at Sutton where we had 250 to defend and coughed up 200, or giving away 300 at Histon to this performance, irrespective of the opposition, and try to explain it. I suppose it's just cricket!
---
Saturday 8th August
Littleport Town Vs Fen Ditton
Fen Ditton beat Littleport Town by 37 Runs
Scorecard
Ton
Due to holiday, I'm writing this report ten days after the event. Given that I usually have difficulty remembering what happened yesterday, this is going to be a bit sketchy.
Skip won the toss on another day when we felt it was a no-brainer to bat first, even without McCann to open. Fez replaced him at the top of the order with Rob. Both seemed to be going along OK but Fez (18) and Rob (12) failed to progress from starts. AB, with brand new bat, settled in and memories of AB and Skip sharing a big partnership here last season came back. But Skip fell for 13 this time. H survived a run out scare before facing a ball and then tried to give AB the strike as he was now in something approaching full flow. AB reached fifty and the score progressed to about 180 when H was out for 38. Assisted by Dobbo, Dave and Fowler, AB reached his century during the last over and finished 100* with a Ditton total of 232-6.
Dobbo and Fez tried one end without success but, again this season, wily old Jacko was bowling great from the other end and took a breather with figures of 8-2-29-2. Skip and Dave then struggled and at drinks Skip decided pace off was the way to go with AB and Rob. It worked. AB - 4-0-16-3 and Rob - 4-0-14-1 stopped any momentum Littleport might have built. Dobbo and Dave returned to take a wicket each and finally George had his first success as a Ditton bowler, despite his Dad missing a catch/stumping. Paul can't read what George is sending down it appears. The game petered out with Littleport 195-9.
Another good win and AB has found a half decent bat. Next Saturday is free, then the final three to see where we finish.
---
Saturday 22nd August
Milton Vs Fen Ditton
Fen Ditton beat Milton by 8 Wkts
Scorecard
Unplayable
Probably the warmest Saturday of the season so the entire team were imploring Skip to win the toss and bat. He sheepishly returned from the middle indicating we were about to field for two and a half hours in thirty degrees plus. There was nearly a mutiny. Skip was told in no uncertain terms that he had messed up by calling Tails and would need to make up for it when he bowled.
Although it was hot, the wicket had enough pace to make us start thinking bowling first could work out. Longy should have had an early wicket but H failed to hold a straightforward edge. Only excuse might be that it was his first outing this year with the gloves. Jacko continued from previous weeks and when he found the edge, Skip took the catch at slip. Having bowled well without reward, Longy took a breather and it was time for Skip to make amends for the toss debacle. 6-2-13-6 was just about good enough, leaving the Milton innings in tatters. Unfortunately, Skip was suffering a recurrance of 'poorly leg' (c) Dave Laflin and couldn't finish the job. Jacko finished with the impressive figures of 10-3-29-1 to be replaced by AB, who has recently shown much more consistency with ball in hand. He was very good again today, with nothing for the batters to hit, despite not receiving much assistance from the wicket. His spell would read 7.3-2-21-2. Dave came on when Skip pulled up lame and found swing and seam. He was unlucky with balls in the air not going to hand but eventually got reward and also had a tidy spell of 6-0-22-1. Longy returned but the Milton last pair dug in and what might easily have been 100 all out crept up to 127 when AB took the last wicket. It had been hard, sweaty work, and we'd lost Fowler to a proper 'poorly leg' - a calf muscle gone. But we would have gladly accepted a chase of this size immediately following the toss.
Rob made smooth progress while McCann swiped and missed a lot, but the partnership was barely troubled and Milton possibly thought the game was gone when Rob was surprisingly out for 39. A 15th over drinks break allowed Michael to reasses how to play leg-spin and hit three textbook boundaries straight after the refreshments. AB took up where he left off at Littleport and the body language of the fielders became horizontal. I'm reliably informed that whilst changing the scoreboard with my back to the game, Micheal middled/smeared/top-edged a six over point. I wouldn't have believed it, had it not been for the fact that the ball smacked into the wall inches from my head. Have people who play cricket never thought of adopting the warning shout of "FORE!". Eventually LBW for 41, Michael had shown he can make runs even when not at his best. Meanwhile AB had raced to a fluent 32 not out and Gilo was promoted for a little not out and to finish the match in the middle. We reached our target during the 29th over to win by 8 wickets and ensure that next weeks game with Cherry Hinton will be a third place decider.
---
Saturday 29th August
Cherry Hinton Vs Fen Ditton
Fen Ditton lost to Cherry Hinton by 3 Wkts
Scorecard
Getting Closer
Over the past few seasons we've periodically come up against Cherry Hinton seconds and now firsts and don't have a single win to show for it. But there is now a belief that if we play even to par, not great, we can beat them. Saturday saw us play below par and not quite pull an improbable win out of the bag.
Skip won the toss and batted first based on previous match results this season at Quy, rather than a genuine belief that it was the right thing to do on a pitch showing signs of the rain we've had this week. Michael and Rob soon discovered that it was going to be a day for grafting. Cherry Hinton bowled straight and made use of any slightly low bounce, giving very little in the way of free hits. We didn't lose a wicket until Michael edged behind, but it had been slow progress. AB needed longer to get his eye in than usual given the surface, but had just begun to look set when caught at square-leg off a hard hit pull, low down. Drinks quickly followed with our total only just short of where we wanted to be and with Rob again playing nicely. Having reached 40, he edged to the 'keeper, standing up, who took a good catch. H joined Skip but the partnership was a short one as Skip was bowled by a shortish ball which kept genuinely low. H and Gilo grafted but the run rate again dipped. H managed a couple of boundaries before getting in a tangle and being caught at Gulley off a leading edge for 18. Cherry Hinton had just brought on a really slow bowler and our lower order found him unplayable. His 3-9 accelerated our collapse as the tail failed to wag and we were bowled out in the 37th over for 124.
This was going to need some St Ives type fight and luck, albeit against a much stronger batting line up. Longy and Jacko both bowled well but without the required luck as when the ball went in the air, it was just out of the fielders reach. We were keeping the run rate under control but we all sensed the only way to win would be to take wickets. Skip replaced Longy and bowled yet another fast, hostile spell including some unplayable balls and dragged us back into the contest with 10-2-27-4. Those wickets took him level with his own record of 34 wickets in a season. Dave charged up the slope and, as with many spells this season looked likely to get wickets but just needed that little bit of good fortune. He did get one before giving way to AB. With just enough spin on offer AB was controlled and worked on setting the batters up for the 'wrong 'un'. When it was padded away with no shot offered, the LBW decision didn't go for us. Longy returned and took two wickets as it just appeared that Cherry Hinton were feeling the pressure but in the end it was their opener, batting through for 56 not out who saw them over the line with seven wickets down.
A decent effort in the field from us, but a disappointing batting performance. We'll now have to wait for 2016 to see if we can put both elements together and finally find a way to win. Despite the result, every Ditton player crossed the road to The White Swan for their Beer Festival (pre-planned by AB). Some had a few pints and some had several - all had a cracking evening. There's another in store next Saturday when we'll be in Town for curry and beer after the last game.
---
Saturday 5th September
Fen Ditton Vs Bottisham & Lode
Fen Ditton beat B & L by default
The End
No big finish. Targets frustratingly out of reach for batters. Skip only equals most wickets in a season. However, it'll be our highest ever league position. There have been countless notable team and individual performances. We can be proud of our progression this season. The Annual Dinner will be a night for re-telling stories and then put 2015 away.
An eleventh hour reprieve as Abbots Ripton, disappointed themselves to have had their final game at Burwell called off, came to Campo for a 30 over/team friendly which could hardly have gone any better. Batting first, Abbots made a decent 154 with Amelia and Himesha both having exceptional spells of five overs each. Jo very kindly rustled up some delicious cake to go with Earl Grey and Darjeeling Tea. Skip, Dobbo, H and MVS all had a decent bat, coaching along Ed, Himesha and Amelia as their partners. A close finish was engineered and Longy won it with some lusty blows (and another Not Out) with one ball to spare. The entire Abbots team came for a couple of pints and a chat in the garden at the Kings Head. So that's it for 2015. Now we can start speculating about what 2016 might hold for Fen Ditton Cricket Club.
---