---
Season 2014 Match Reports
Fen Ditton beat Bar Hill by 141 Runs
Into The Void
Some Ditton players had started indoor nets just after Christmas, others started in February, and one does amateur dramatics. So we should have expected to be well prepared for our first test of the new season at Bar Hill.
A pre-toss discussion with their skipper revealed Bar Hill had lost some first teamers and the team to face us would be a first/second team amalgam. Good news given that Adam called incorrectly and we were invited to bat first - not often a good thing in early May.
Any worries we might have had were dispelled very quickly as Michael and AB (mainly AB) raced us to fifty without loss from about six overs and a mammoth total looked possible. A half-century for AB looked odds-on until he found a boundary fielder to be caught for a rapid 45. H came in and, as Michael stepped up his run-rate, they continued a brisk rate of scoring. H misjudged a slower ball on 22 and Michael was LBW (plumb) for a solid 35. When both Skip and MVS fell cheaply after drinks, Ditton, on another day, in a higher division, might have fallen well short of earlier expectations. Not on this day though as Paul and Marc mixed patience with power to score 37 each and take our total beyond 200. Dobbo, Fowler and Jacko were left to scramble a final few runs before we were all out for a more than respectable 218.
Jacko had pulled a fetlock whilst batting so it would be Dobbo and Fowler to open the bowling. Other than a couple of lusty blows from one opener, they encountered little in the way of aggression or resistence as they ploughed through the top order. Although Fowler felt the need to apologise to a couple of his victims, it shows that if you bowl straight, batsmen will get themselves out. Skip pushed him on towards a five-for but Andy couldn't quite find the last piece of luck and finished with 4-38. Dobbo took a break to allow Skip to seriously frighten some Bar Hill 'batsmen' before bagging 4-9 from ten overs. AB was tidy but found little assistance from the wicket before Dobbo returned to polish things off after a stubborn last wicket partnership had taken the hosts to 77.
A 141 run victory to start the season and take on tour but . . .by Wednesday news reached us that Bar Hill have withdrawn from 2N and our result will be void. However, there's always a silver lining, which in this case is the fact that we would have struggled to field eleven in the return fixture on Skips stag weekend.
---
Saturday 10th May
Fen Ditton Vs Longstowe
Fen Ditton lost to Longstowe by 7 Wkts
Burn Out/Blow Out
After 3 games in 3 days and 3 wins last weekend, Fen Ditton CC management might have thought about resting some first team regulars for this second (first) league match of the season. Skip obviously felt most of us could cope with 4 days rest.
In line with tradition, the first home match of the year played host to the Chairmans reception and would be played on an outfield strewn with grass cuttings. It's also a day on which Ditton hardly ever win (or even play well), therefore alienating the supporters at the reception for the rest of the season. This would be no different, with a well deserved barrage from Donald Page at Tea.
Invited to bat first, all looked OK until AB chipped one to mid-off and then H did the same. Michael ran himself out, MVS clipped one straight to square-leg and Dave was bowled by a full toss. Marc didn't last long and Skip was trying hard to reign in his naturally attacking game. This wasn't a quick collapse either. Due to the long grass and cuttings, normal shots were going nowhere and after 19 overs Ditton were 43-6. Mr Andrew Fowler entered the fray to support Skip and the two stopped the innings from being a complete flop by at least batting towards using our 40 overs. Skip, having batted for 19 overs, eventually aimed a swipe to mid-wicket when straight down the ground would have been the safe shot. His 36 was easily our highest score. Mark made his maiden duck on debut and then Paul pulled a hamstring mid run and was run out. Fowler had batted for what seemed like days (21 overs) to register 9 not out and Jacko, as normal, was not out at the end. We had scraped together 88-9 which was not going to challenge Longstowe unless we made early inroads.
We didn't, as two very solid looking openers made our bowling look a bit blunt. Several bowlers were tried and a ten wicket defeat looked on the cards until the combo of Fowler and Marc took three late wickets which at least gained us one more bonus point.
Not close to the official start to the league season we were looking for, but hopefully this batting performance can be put down to a collective abberation.
---
Saturday 17th May
Wilburton Vs Fen Ditton
Fen Ditton beat Wilburton by 1 Wkt
You're 'Avin A Laf!
Greetings galore as we entered the picturesque Wilburton CC ground on a very warm, sunny afternoon. Perfect for batting. Then we saw, in the far distance, how far it was going to be to one boundary and pitch inspections concluded that "it might be a bit two-paced and low". Skip won the toss (never in doubt) and invited our hosts to set us a score to chase. (snigger)
Dobbo and Dave opened for us with some tight bowling and a hint of seam and swing but nothing too extravagent. Dave made the breakthrough in the sixth over with a caught and bowled. All his own work. Skip replaced Dobbo and found there was little in the pitch for him but he was going to be very hard to score off. After 5 overs had failed to produce a wicket, but had only realised 6 runs, he took a breather. Meanwhile, Jacko had relieved Dave and bowled with all his usual control and variety but looked like he was going to go wicketless. In what proved to be his final over, he removed the stubborn opener and number 3 to open the way for Ditton as Wilburton lurched from 67-2 to 71-4 and then 87 all out. Dobbo with one, Skip with three and Dave with another three to add to his earlier wicket tidied things up and we went into tea thinking 88 should be easy enough. Unless we batted like last week again. Skip made changes to the order to freshen things up.
@DrABrown #bowledoffhispads (26). @MLMccann #shockingfootwork. @MWilson #yorked. @ManagementMVS #catchthat. @GiloJ #finedhalfmatchfeeLBW. @AlexDobbo #slogacrosstheline. @OfficialAHayward #bottleditattheend. @TheSkipper #quackquack. @UNPecekeeper #thinedgetokeeper. Other than the 26 from AB, the batting was a shocker to watch again until @DLaflin #manofthematch and @MrCricket #notoutasalways rescued us at the last in a tense finish, with some assistance from extras (24).
Not a pretty win but 20 points nonetheless. I've had requests to mention The Glider, The Cows, The Music and there my goodwill ends.
---
Sunday 18th May
Eltisley Vs Fen Ditton
Fen Ditton lost to Eltisley by 67 Runs
Our first Sunday match of the season and against a new opposition for us. Their website and multimap gave us the indication that this would be a pleasant venue to play at and this was proven correct on arrival. A lovely ground in the middle of the village with quiet roads running around the ground (also acting as the boundary). A wonderful thatched pavilion across the road would be our base for the day, well that is if MVS won the toss on possibly the hottest day of the year so far.
Needless to say we were bowling with a mixed team out for Ditton. Mvs, Skip, Dave & Fowler all thought their performances on Saturday weren't good enough so tried again. Dobbo was roped in, Gav played his first game of the season along with Jason from Sharks. Young Himesha from our juniors also turned out along with his Dad and his Dads friend. Pete was the 11th but was currently in one of the many fields between Cambridge & Eltisley after choosing to cycle, yes this is not a misprint he cycled.
Once out in the middle you realised just how short the boundaries were and that maybe 250 was par. Gav and Dobbo opened and we soon worked out that even mishit shots were finding the boundary and that the pitch was playing ok, albeit with a couple of balls staying very low. Mvs had already decided that everybody would have a 4 over spell so was just a matter of deciding in which order. Wickets fell at regular intervals but special mention to Himesha who bowled his first spell for the adults and bowled extremely well. Eltisley finished on 198-8 which we were fairly happy with.
A lovely tea was taken while Mvs worked out his batting line up to chase a target within our reach but which would need a couple of stand out innings. Mvs gave the nod to Dobbo and Skip to open up. They strolled out to the crease but within 3 overs they had both strolled back with Gav just behind. Himesha's Dad and his friend also didn't hang around and we were approximately 30-5 off 10 overs. This now produced our best partnership of the innings and some would have been surprised that this was between Fowler and Himesha himself. Fowler playing the perfect Grandfather figure, nerdling the singles and Himesha blocking the other end with a hug after each over. It wasn't enthralling but the scoreboard was ticking along. By the time Himesha was out the score was about 60 and they had passed drinks and into the 22nd over. Himesha batted brilliantly for his 12 including one boundary. With everybody applauding Himesha nobody realised that Fowler was creeping towards a maiden 50, YES FOWLER A MAIDEN 50. He kept playing his shots along with Pete and the runs really were flowing. Fowler brought up his 50 with a lovely boundary through midwicket but soon departed for a well made 58. Mvs went out at number 10 needing about 80 off 10 overs. This is where Mvs comes into his own, small boundaries, friendly game, batting down the order, BISH BASH BOSH...................... Mvs scored 2 before chopping on from about 3ft outside off stump. Pete was bowled for 24 leaving Jason 0 not out.
Bowled out for 131 wasn't a bad effort considering the team that we had out. Fowler maiden 50, Himesha first game for the adults and hopefully a new signing for the club of his Dad.
---
Saturday 24th May
Fen Ditton Vs Wimblington
Fen Ditton lost to Wimblington by 24 Runs
Play!
With 6 regulars missing and plenty of rain on Saturday morning, it would have been easy to have called this game off. But with our trusty tarpaulin and a willingness to give it a go from both teams, an engaging match unfolded.
The captains agreed to a 32 over match, with further downpours on the radar and Wimblington set about making a total to defend. Gav made the early breakthrough for Ditton, inducing an edge to 'keeper H. There then followed a 50 run partnership as Dobbo bowled well without luck, as did Fowler and AB. Every airborne shot evaded our fielders until Dobbo took a good catch running in to short cover. The square-leg umpire confirmed a clean catch and this was soon followed by Gav returning to dismiss the remaining, stubborn opener and finishing with 6-0-33-2. AB (8-1-39-1) had a mixed afternoon with the ball. The batsmen either picked him and smashed it, or didn't and in just the one instance, were clean bowled. Dobbo finished his spell with a couple of wickets (8-0-30-2) and debutant Aruna (Himesha's Dad) bowled two good overs and was unlucky with a stumping decision not going his way. Andy's 7-1-36-2 completes the wicket taking analysis, as the main bowlers shared the wickets around. Wimblington had managed to move from 79-3 after 20 overs to 175-7 - 96 runs from the last dozen overs. It would be a tall order for Ditton, but not out of the question.
Changes to the batting order saw AB recreate the tour opening partnership of Gilo and Dobbo, but it was not Dobbo's day as he registered a 3 ball duck. Giles played nicely for 13 from 30 balls until caught. AB, batting at three was likely to provide our best chance of getting anywhere close and he'd begun in confident style. Michael tried to keep him company, but we've now found another batting position that doesn't suit him with an ungainly looking 3 from 22 balls faced. H was the last of our (vaguely) recognised batsmen and he and AB put Ditton back in the hunt with a 73 run partnership. The run rate was up to about 10/over when AB eventually missed one to be dismissed for an excellent 70. H kept swinging but with 6 men on the boundary the win moved out of sight and all that was left was a single from the final ball to take Ditton to 151-5 and H to 49* - later adjusted to 50* :) from 48 balls. At which point I should thank Jo for scoring all afternoon and helping with the tarpaulin during the tidy up.
Good to have persisted and completed the match, and seen what our squad can do when people are away. Also good to see the senior/regular players taking a little more responsibilty, both bowling and batting.
---
Saturday 31st May
Little Downham Vs Fen Ditton
Fen Ditton beat Little Downham by 5 Wkts
Cabbage Patch
Skip was informed during the week that Little Downham had problems with their roller and mower and couldn't produce a wicket at their home ground. Therefore, the match was moved to Pymoor CC, just down the road where the wicket would be better. We arrived and even from a distance it could be seen that this was a pitch from Fowler's childhood before petrol mowers or rollers were used at cricket grounds. Skip won the toss, invited Lt. Downham to bat and then offered to put his feet up having achieved his best work of the afternoon.
Once Dave and Marc started bowling, there was no help from the wicket as such, you just needed a straight one to keep very low. The Downham openers started well and reached 40 without loss. Skip replacing his brother and AB replacing Dave saw us begin to make inroads. Skip found his yorker and returned 6-1-14-2. AB was finding some grip and low bounce and retained control through ten overs for an impressive 10-3-23-5. Jacko had given Skip a breather and it was a pitch right up his street as he bowled a fine spell of 7-2-14-2. Dave returned to take the final wicket with a catch at last for Gilo. The Downham opener Baker made a very good 49 in his teams 88 all out. Despite the score being a low one, we weren't 100% confident we wouldn't implode again.
McCann tickled one to fine leg and was then bowled by possibly the slowest delivery he's ever faced. Marc was run out by AB, running on a ball hit hard straight to a fielder. Another couple of near things and AB finally settled down to bat sensibly with Skip. Their partnership of 39 ended when Mr Slow bowled Skip for 23. AB had made 32 when he got a leading edge to be caught and bowled. H and MVS took Ditton to within 7 of victory when H chipped one to mid-wicket but Gilo came in to calmly steer us home. It had taken 30 overs, evidence of how hard you had to work on that pitch to score runs. Also, Mr Baker can bowl as well as bat - 10-1-15-0. I'm guessing they'll win more 'home' games than they lose when they win the toss. Once they return to Little Downham, Pymoor can resume growing veg on their cricket square.
---
Saturday 7th June
Fen Ditton Vs Cambridge St Giles II
Cancelled - rain
Very, very frightening
Thunder and lightning, followed by lots of rain on Saturday morning meant this had to be cancelled.
---
Sunday 8th June
Fen Ditton Vs Elmdon
Fen Ditton beat Elmdon by around 10 Runs
Sun and Tantrums, by Andy Fowler
Despite us being rained off the day before, it was very much an experimental Ditton XI (or rather X) that arrived – in dribs and drabs - to play Elmdon in glorious sunshine. Only 3 or 4 normal 'regulars' on the team sheet, and a first game ever guest appearance by Michael's mate Laurence.
Captain McCann had, apparently, had a sleepless night ahead of leading a side for the first time – so much so he professed a new found respect to Skip for his coping with the stresses week in week out. As they had 10 and we had just 9 (Aruna not being due until 3pm), Michael started by doing something Skip hardly ever does – winning the toss – and we batted on the grounds we had fewer fielders. Michael and Mark opened.
In the second over, Mark played a French cricket shot to a rather straight and full ball in the second over and was more than plumb LBW. Even the blind and aged umpire had to raise his crooked finger for that one – only AB would have disputed the decision. Adam arrived and departed in short order and then Ditton's main partnership began – with Michael and Dobbo putting on 70 or 80 in 15 or so overs against the Elmdon opening attack, an attack that was directionally variously either good or 'wide'. Both batsmen looked comfortable.
Sadly, this partnership was ended by the ball that almost defined the day. For those of a certain age, think England v Australia, Trent Bridge 1981, the First Test of Botham's Ashes. Boycott, his first match back after a self-imposed exile from Test cricket, was facing with local Nottinghamshire hero, Derek Randall, at the non-striker's end. I recall Len Pascoe was the bowler. What could possibly go wrong?
Your correspondent can recall events (both of 1981 and 2014 as it happens) in slow motion – both happening as if it were a bad dream. Boycott prods one to leg, no-one calls but Randall runs, Boycott doesn't move. Randall is stranded, turns back but is run out by a mile and just keeps on running to the pavilion. Our 2014 story starts with Dobbo, on strike, playing a truly horrid shot, skying a slower ball to just beyond the bowler. It was one which Boycott's mother (assuming she was fielding at mid off) could have caught in her pinny. Sadly, Geoff's mum wasn't playing for Elmdon and Dobbo – who had run – jogged to the bowler's end only to see himself dropped by a rather casual young Elmdon fielder. Michael, however, hadn't moved: neither batsman had called it then transpired. Both were now stood next to one another at the non-striker's end along with the bowler, the umpire and even the young mid-off who had dropped the catch. At this realisation, panic set in. Michael decided to try and race the throw from mid off, just behind the bowler, to the striker's end – losing by a distance and being rightly given out by his younger brother Ed (who looked rather and rightly pleased with himself).
In 1981 Randall departed with tears in his eyes but that was all. Boycott retired to Square Leg and hung his head in shame. No such manly restraint in 2014. No, in 2014 we will draw a veil over the harsh words that were then exchanged between the departing Ditton Captain and Dobbo. They were in the heat of the moment and should be forgotten. Best of friends the two may be but young ears had to be covered to protect the innocent. It was not a 'Happy Time'. Dobbo then did all he could – as Boycott did in 1981 – to make amends for despatching the local hero prematurely to the pavilion. Dobbo made 50 – in 1981 Boycott made 100. Aruna and Himesha moved things along in the first of the day's Father and Son partnerships, whilst Ed also played his part in making amends for Michael's 'unlucky' but correct dismissal in a 50 partnership for the 8th wicket with Mighty – 'I shall only score in boundaries' - Marc Wilson. Ditton closed on 175 for 9. Tea was not a happy time in the Ditton dressing room. The atmosphere was akin to that of the bunker in Berlin in late April 1945 – a new Leader being appointed every 5 minutes, harsh exchanges of words, much blaming, some choice phrases – only we had a BBQ and the Germans didn't.
After a short sojourn on the counselling couch, Michael led us back out on the field. The Elmdon innings was a strange affair. 35 overs to get 176 on a fairly placid Ditton track and the boundary rope in short…frankly, had it been a Saturday, you wouldn't have expected Ditton to make a game of it. However, the Sunday side is made of sterner stuff. Dobbo got rid of one of the openers and Marc bowled so well (and took a blinding catch – off the Elmdon 'Son') that the Eldon players mistook him for a regular cricketer of some standing (notwithstanding his ridiculous shorts). The Elmdon Father and Son pairing, batting 2 and 3, put on 80 but all rather too slowly it turned out. By the time they were parted by Marc's catch the rate was already up around 6 an over – the 'Dad' made 50 but was lucky not to be out on a number of occasions. Aruna was tidy and got a wicket but special mention must go to Adam who, frankly, bowled brilliantly – a series of slow Yorkers - and yet had 3 catches dropped from his bowling, 2 by Aruna in consecutive balls. Himesha took great delight in kicking his father for the second drop! Indeed, catches were dropped all around the place but Ditton heads never dropped and somehow Elmdon never were up with the rate. 13 off the last over proved far too many.
So a win it was. The weather was glorious but what at times looked an ominously dark day on the field ended with the Elmdon players saying what a good game it had been. It felt anything like that at times if you were paying for Ditton.
As Greavesie used to say, "Funny old game, Saint."
Postscript: Now I check it was 1977, not 1981, Boycott was facing Thomson not Pascoe, and it was Boycott who ran not Randall but other than that I was totally accurate.
It's me age you know....That said, my recollections of the last hours in Hitler's bunker are far clearer.
---
Saturday 14th June
Fen Ditton Vs Littleport Town
Fen Ditton lost to Littleport Town by 6 Wkts
Catching Practice
Bumps Saturday so Ditton Rec being used as a car park for much needed Parish Council funds. Our attempts to switch this match to Littleport, or to late season had fallen on deaf ears. So it was a large fee to rent Gonville & Caius ground which has a lovely, billiard table outfield, as smooth as Fowlers head, but a wicket which was a bit spongy. Also, a spacious pavillion which could be the blueprint for what we'd like at Ditton in the future.
We were invited to bat and another new opening partnership of Gilo and Marc strode out. It wasn't long before Marc started having a wholehearted swing at anything pitched up, but after making 5, it was a mistimed pull, straight to mid-wicket which was his downfall. AB has been Mr Consistency so far this season, so maybe he was due a failure. A leading edge to one of many balls which seemed to 'stop' in the pitch saw him register an uncharacteristic duck. Skip joined Gilo who was going along nicely and it was a surprise when, on 20, he rifled one in the air to mid off. H and Skip had a reasonable partnership, Skip dealing with the swing on offer to all four Littleport medium pacers better to find the boundary four times before skying one to mid on who took a good catch. McCann looked like a rabbit in the headlights and was bowled for two. Paul was just getting the pace of the pitch when he lost H who finally edged one to slip for 17. Paul moved up a gear and with Fowler supporting really took the game to the Littleport spinner. Paul getting out for 32 was probably a turning point, as Dobbo, Dave and Jacko failed to bat out the forty overs and our minimum score of 140 became 131 all out. All bar one of us dismissed caught.
As always when defending a lowish total, early wickets would be key, and Dave got one. Both openers looked solid but then one chipped a catch to Fowler. Could we capitalise? Dobbo was struggling a little with both the raised wicket ends and running into a breeze and it wasn't long before we had a double change with Skip and AB looking for wickets. AB got one but unusually Skip didn't. Jacko and Fowler were the next pairing and both took a wicket to keep us interested. The problem was that the remaining opener was looking untroubled and, other than a big LBW shout, went to fifty without offering a chance. All of the Littleport batters chipped in, showing why they're leading the league. We made them bat into the 37th over but even a couple of catches late on which we failed to take may only have increased our bonus points rather than giving us a winning chance.
It continues to be a season of experiments, with no threat of relegation. Next week brings the much anticipated trip to The End Of The World (Wisbech). Everyone ready to leave straight after breakfast?
---
Saturday 21st June
Wisbech III Vs Fen Ditton
Fen Ditton beat Wisbech III by 131 Runs
Ditton make B-line to victory
The longest day and the longest away trip in Club history made it feel just that. Thank goodness we returned to civilisation with 20 points to make it worthwhile. In Skip's car, with Dave just in front and a lorry that couldn't be overtaken in front of him, half the Ditton side were going to be late. Calls made to the ground made it clear we were nearby and to conduct the toss, batting if we won it. Gilo did the business and got his pads on.
Excellent facilities at Wisbech, although the shared boundary rope seperating the two matches was possibly a first for most of us. Marc opened with Gilo and after a near miss when an off-cutter beat everything, the same ball hit Marcs foot en route to the stumps second time and he was gone for 3. AB may have been looking to make up for a low key game last week and started stroking shots around from the off. Gilo kept pace with him, playing some particularly nice straight drives. When Gilo was out to a good leg side stumping for 40 (his league highest), the partnership had been worth 125 and we were in position to post a big score. Skip joined AB and although a quick 26 was good, he didn't quite find his timing. AB was cruising to a century until, on 89, out of nothing, he moved across his stumps and turned an ordinary ball into a yorker which was given LBW. H and Paul were looking for quick runs to boost the total and H made 27, whilst Paul scored 40 runs in boundaries out of his 43 not out. Dobbo only faced a few deliveries finishing 6 not out. 267-5 might be Ditton's highest ever league score and there didn't seem any way it could be chased.
Dave and Jacko didn't initially make an impression on the Wisbech openers, one of whom looked quite dangerous. Skip and Dobbo entered the attack and in the space of 4 overs the game was effectively won. Two wickets for Skip, who was just too quick, and one for Dobbo from a catch that nearly took out H's ribcage. The only interruption was for an angry swarm of bees to pass across the ground.
Skip had bowled his two overs with a fielding-damaged knee so then took himself off. The game meandered along as the Wisbech youngsters played very straight but without too many attacking shots to Jacko, Fowler and Gav. Once they were out the rest of the batting was pretty ordinary, giving Dave the opportunity to bag 4 wickets and Dobbo to complete 9-4-18-1. Marc almost begged for an over and saw it go for 13. Negative fantasy points there then. The forty overs were completed just after seven o'clock with Wisbech having made 136-9. Estimates of getting home/back to Ditton by 8:30 were about right. I'm not going to say much about the 'incident' as it has no place in any form of cricket and no place in front of youngsters.
A shorter journey next week to Waterbeach, significantly so for your reporter.
---
Sunday 22nd June
Fen Ditton 6-a-side Competition
Elmdon beat Horseheath in the Final
Worthy Winners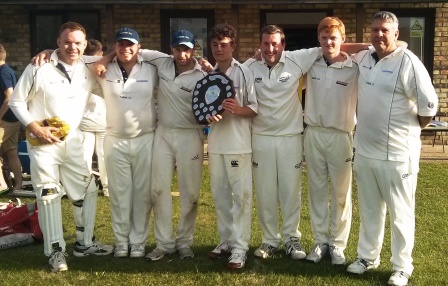 ---
Saturday 28th June
Waterbeach Vs Fen Ditton
Cancelled - rain
Torrential
Started raining at about 1:10. We won the toss, electing to field and stood waiting for umpires/batsmen in light drizzle. That soon bacame heavy rain with the odd clap of thunder and by 2:00 several of us had changed. Ate some tea and called it off with even heavier rain promised.
---
Sunday 29th June
Milton T20 Tournament
Fen Ditton 88-1 in 9.1 overs beat Willingham 87-5 in 10 overs in the Final
Champions!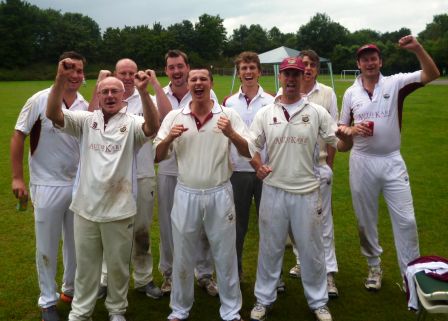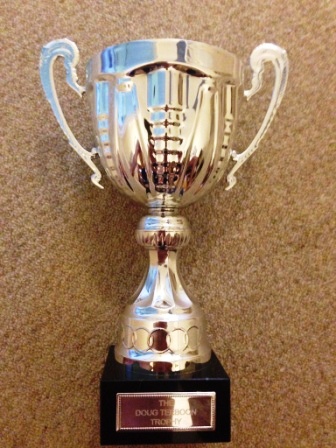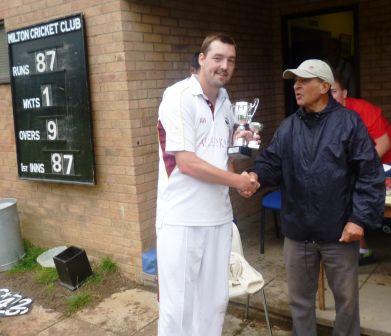 ---
Saturday 5th July
No Match
---
Saturday 12th July
Longstowe Vs Fen Ditton
Fen Ditton beat Longstowe by 46 Runs
Mind the Tree
Saturday afternoon brought a sunny, warm interlude to the heavy showers before and after this Ditton match in the picturesque surroundings of Longstowe cricket ground. Gliders circling high above and swallows darting low, in and out of their nest just under the pavilion roof.
Skip lost the toss and we were invited to bat. Not the worst toss to lose as the pitch played really well, without much deviation. The only challenge would be how slow the rain had made it. Marc took a big divot out of it playing his first ball and the following repair lasted almost as long as the balls faced during his brief innings. Michael was back opening and in partnership with AB, played with better technique and about the right level of attacking intent. He was a little unfortunate to play on to his stumps for 27 but should take heart from this improvement. AB looks like getting lots of runs every innings at the moment and was again the backbone around which the Ditton score was built. Skip is still looking for some batting consistency in the league and was out cutting in the air where point took a routine catch. AB and H have been batting well in partnership and had reached 55 together, during which AB passed fifty, before AB hoisted one to long on who took one of several good outfield catches. MVS is not in the best of form but having got away with a looped leading edge might have thought it could be his day. Alas, a short ball, which could have been hit anywhere, was hit straight to deepish square leg. H had played sensibly until undone playing much too early looking to hit one into the car park, bowled for 34. Paul with 12 and Dobbo with 14* lifted us beyond 160 and 200 was a possibility until two poor run outs of Fowler and Jacko saw us bowled out for a respectable but slighty unfulfilling 183.
New signing Fessil would open the bowling having gained a bit of a reputation to live up to following a lively spell during the week. He didn't disappoint with a spell of 5-2-3-1. Dobbo again bowled a very good line and length at decent pace and made the initial breakthrough. From the off, the fielding intensity was better than it has been for a while. Fowler and McCann dropped difficult chances but special mention has to go to Dobbo who athletically cut off four on the long leg boudary and then threw his return into the tree within the boundary causing an immediate four 'overthrows/penalty runs' and costing Skip six. Skip had taken over from Fessil and bowled well enough without finding his rythym, although it's high standards that make 3-38 seem average. AB bowled with good control, bringing out the high full toss sparingingly to record 10-0-35-2. Jacko got a bit of tap so Fessil returned for another 5 overs during which he took 3 further wickets for debut stats of 9-4-13-4. Longstowe had threatened but we'd managed to keep control and eventually run out winners by 46 runs and move up to third in the league.
---
Saturday 19th July
Fen Ditton Vs Wilburton
Fen Ditton beat Wilburton by 4 Wkts
Second Rate Sledging
Ditton were looking for a league double over the joint leaders, having squeeked home at Wilburton earlier in the season to inflict Wilburtons only defeat. That day we had bowled first and dismissed our hosts for 87. Today, Skip won the toss again and invited Wilburton to bat in the hope that this game might follow a similar course.
Fez was fashionably late for his home debut, so Jacko opened with Dobbo. Whilst Alex started well, Jacko got a bit of tap until Paul helped him out with a sharp leg side stumping. Dobbo had removed the openers by the time Fez could bowl and found the slight uphill from the far end not really to his liking. Skip replaced Dobbo and bowled a similar spell to last week - some unplayable stuff that didn't take a wicket and the odd four-ball, which did go for four. Wilburton had steadied things and a partnership was beginning to flourish, so what better time than to bring Fowler into the attack. Two wickets in his first over had broken the partnership and two in Dobbo's following over swung things firmly towards Ditton. Dobbo missed out on a hat-trick but his final figures of 10-2-36-5 were exceptional. Skip, 1-21, Jacko, 1-28 and Fez 1-26 had done a great job for us in bowling Wilburton out for 118 in 30 overs, but it may have been much different without Andy Fowler's 2-0-4-2.
Without our leading run scorer, AB, and expecting Wilburton to fight hard, we knew batting wouldn't be straightforward. Gilo and Michael to open with Charlie, down in timely manner for his only game of the season going in at three. Hesitant and impulsive might describe Giles and Michael's style of running between the wickets and it wasn't long before we gifted the first wicket with the two meeting mid wicket as the bails came off. Charlie was understandably rusty and Michael lacked the fluency he showed last week. Both were dismissed in single figures. Skip and H looked to build a partnership and were just settling things when Skip missed a straight one. H enjoyed an innings-long dialogue with the Wilburton 'keeper who thought he'd heard an edge that nobody else did. Other than that, it was an untroubled afternoon for H as he waited for the bad ball and kept chatting to Marc to take us within 30 of the target. Marc played a gutsy and hard hitting innings of 17 which, in the end, when caught at mid on, just led to an entertaining 15 minutes of Fez batting. Don't be fooled by his laid back exterior, when Fez decides he doesn't like a bowlers attitude, he hits him out of the park. With H having cashed in on three long hops from the spinner, just twelve were needed which became six from the final ball of the 29th over. Fez made his point by hitting it high, long and handsome into the bleachers for the win. He finished 17 not out from very few balls and H was 41 not out to the disgust of the Wilburton 'keeper who didn't shake hands. Whatever.
We can now look forward to Skip's big event on Friday, and playing with thick heads at Littleport next Saturday.
---
Saturday 26th July
Littleport Town Vs Fen Ditton
Fen Ditton beat Littleport Town by 18 Runs
No Flies on Ditton
Another blazing hot day for the trip to league leaders Littleport was compounded by a few thick heads following Skip's wedding reception last night. Lots of "How are you feeling?" questions greeted those who had made full use of the bar and dance floor. We'd jokingly told some people that we'd be OK - we always play well with hangovers on Tour, however this was not a friendly tour game but one which both sides would be wanting to win now that we approach the business end of the season. Front runners are there to be caught and yesterdays other results show that anomolies with previous form will happen once the holiday period kicks in.
The wicket looked good, with just enough green to make Skip hesitate before choosing to bat having won another toss. Marc and Michael opened but McCann found South too quick and failed to impress Tara (long way to come and see your boyfriend get nought). She gamely stuck out the entire innings despite Michael choosing to umpire for approx. 30 overs. Marc, in his own words, played his best pull shot for four and his best off drive for a single, but then he too found South too hot to handle. 17-2 and time for someone to stand up and be counted. Too often we've seen a poor start become a poor innings, but today AB showed huge resolution and restraint in realising that South was the key bowler and leaving as much as possible, test match style, was a decent option. Skip started with two streaky fours over slips but settled down and finally went on from the twenties he's been getting recently. The pair batted with skill and nous with Skip just beating AB to a half century. Shortly after he was out for 51, ending a 106 run partnership. AB soon followed him back for 54. This left the lower order with ten overs to get what we could. H became South's third wicket for a remarkable 10-7-4-3. Fessil, Paul and Dobbo were out trying to slog the spin of Heaps, who finished with 5-36 and it was the turn of MVS to make an invaluable 15. We were pleased with 179-9 from our forty overs considering we'd basically not scored off the ten overs bowled by South.
Pleased with our score but by no means complacent - we'd seen enough of Littleport in our earlier fixture to believe that the team leading the division would put up a solid fight. We'd need to bowl and field close to our best.
We have the regular following of spectators at home games but it was great at an away game to have Dave, with his poorly leg, and Tara watching the whole game. Pam & Alan Dobson along with Niamh arrived at tea time for the second innings. We're grateful for their support.
The Littleport openers didn't look entirely convincing against Fessil and Dobbo and it was Dobbo who, for the second week in a row found himself on a hat-trick. Spells of 2-22 for Dobbo and 0-8 from 5 overs for Fessil had ensured the sort of start we wanted. But as we'd done earlier, Littleport fought back with a 48 run partnership until we again took two wickets in an over, this time Jacko putting us narrowly ahead again. His spell of 8-1-31-2, with pace off the ball gained us some control but the Littleport opener James played very well for 56. He was undone by Skip, bowling and captaining as though this were a cup final and finishing with 9-1-34-3 plus a good catch. While our outfielding, among the flying ants was mixed, Paul had another excellent day with the gloves, taking two catches and saving countless runs diving down the leg side. AB had a near full toss free day and was unfortunate to finish wicketless but 5 overs for 16 were crucial as we tried to increase the required run rate. Marsh and Logan played well until Fessil returned to dismiss them both and finish the game with figures of 10-1-26-3. A win by 18 runs with one over unbowled at 7:15, which seems late these days, and a lot of exhausted cricketers congratulated each other on a good, hard match.
We re-hydrated in the bar and three of us returned to the Kings Head to deliver the good news. Thoughts have begun to turn towards the possibility of promotion. Do we have enough to win our remaining games? It will be fun finding out.
---
Saturday 2nd August
Fen Ditton Vs Little Downham
Fen Ditton beat Lt.Downham by 5 Wkts
Yes He Cann!
Most sports teams have a scapegoat - even when winning. We all know who's fulfilled that role for Ditton over the last 4-5 years, and will continue to do so. But today was the day when McCann't finally showed he can.
M.L. McCann 1.4.2.1.4.1.1.1.1.1.1.1.1.1.1.1.1.1.1.1.1.2.2.2.1.1.1.1.1.1.4.1.1.1.1.4.2 Not Out 54
The cover had done it's job again in keeping the pitch dry and Skip, having arrived back from New York a few hours earlier, won another toss and decided to insert our visitors. Without Fessil or Dobbo, some changes to bowling personnel would be required.
Marc and Jacko to open and Marc to bowl a bit too short but Jacko to weave his spell as always. Skip replaced Marc after 4 reasonable overs but by then Jacko had struck with a lot of help from George Colwell, taking a great catch. Skip bowled very quick and soon had a wicket too, with Lt. Downham reaching 30-2 after eleven overs. A pattern began to emerge of partnerships just getting going before we broke them. Jacko bowled his overs straight through for 10-0-31-3 and a well earnt drink. Special guest Andy Rabjohns greeted us at the drinks interval by sledging my mis-fielding and describing Jacko's bowling as Bassetts Allsorts. It was good to see him and take the abuse we were used to during his illustrious playing career with Ditton. By then Downham were 59-4 and we were eyeing a low run chase. R Duffield, batting at 4 had other ideas, making a solid 65 including driving Skip for boundaries through extra cover, which not many batters manage. He had support at the other end and with Dave struggling through 5 overs with his "poorly leg" we had to manage our bowling moves carefully. Fortunately it was a day when AB had the ball on a string and gave little away to get through 10-0-35-2. Skip finished off from the Pavillion end with another couple of wickets to register a jet-lagged 10-4-20-3. He should rack up a few more Air Miles maybe. Lt. Downham had stuck at it and put 147-7 on the board to give us a decent test.
A shrewd move to put the Tarp on at the start of Tea as the rain arrived and was heavy and persistent for about half an hour. Marc and McCann to open again despite their poor record together. Today it was Marc who departed early for a single. AB and Michael then put together a 68 run partnership before AB spooned one straight up to be easily caught by the keeper for 37. Skip was visibly tiring and it wasn't a huge surprise that he was out quickly for just a couple. H joined Michael for an odd partnership where it seemed H would keep trying to find a way to retire hurt. First, wearing one in the ribs as the ball started doing all sorts in the hands of Duffield, then harpooning himself with the bat handle on the inner thigh in a tight run. The two had to negotiate several potential running calamities but ate into the target with Michael more and more determined to finish not out. The pair had added 60 when H was bowled for 30 with just a dozen still needed. Paul made a collectors item duck and nerves just jangled a little. Dave and Michael saw us through with Michael bringing up his maiden league 50 in the 38th over to win with 9 balls to spare.
A big surprise to all at the Kings Head when Michael bought a jug ( and pint of Guinness for H). Another win and up to second spot. Again I'll ask - do we have enough to win our remaining games?
---
Saturday 9th August
Cambridge St Giles II Vs Fen Ditton
Fen Ditton beat St. Giles II by 74 Runs
Edging closer
The torrential rain around Cambridge on Friday had led many of us to predict not many games would be played on Saturday, but the British Summer lived up to it's reputation by providing a warm, sunny day on which all games in 2N were completed. A strong Ditton team with a good run of wins behind us are hugely indebted to St. Giles (also on a good run) for getting this match on.
Skip lost the toss and we were invited to bat on a wicket which would obviously have some moisture in it. A slight surprise when the batting order had Fez opening with Michael - a fast start required with less pressure on McCann to play any big, rash shots. All was going well until Michael called Fez for an impossible single and Fez was out for a quickfire 22. AB moved another 26 runs towards breaking Ditton run scoring records and was disgusted at himself for edging one to the 'keeper. Michael was bowled for 18 and although Skip had made a good start, he was now looking for some support. He didn't find it from H, who was also caught behind for a first duck of the season. The Wilson brothers were starting to pull things round when Marc found a way to kick a ball going down leg onto his stumps. Skip was out in similar fashion for 37 as we lost three wickets without the score moving from 120. MVS and Dobbo offering catching practice to hot up the race for the Duck Trophy. There then followed an excellent 46 run partnership between Fowler and Dave, with Laffers hitting some great boundaries and a six in his 31 before falling in the last over of the innings. Three balls for Jacko to run himself out for the fourth duck of the innings and Flower to finish 10 not out. We'd have taken 160 before the start and fancied our chances of defending 166.
Fez and Jacko opened for a bit of contrast on a wicket which was now much drier and beginning to assist anything which hit the seam. Jacko bowled his usual variety and was unlucky not to pick up more than one wicket. But with Fez a bit too leg-side, it was the breakthrough we needed. Skip replaced Fez and bowled an almost perfect spell of unplayable, quick bowling. 5-4-2-1 is an accurate reflection of how difficult he was to bat against. AB took over from Jacko and once on a good length, he too became difficult to play with the ball spinning both ways. Skip made way for Dobbo, such is our bowling depth, and it was one of Dobbo's "good rythm" days where every ball asks a question. Four of them failed to find an answer and 4-23 from 6 overs wasn't bad for our fifth bowler on the day. AB had taken two good wickets early in his spell, with catches from stand-in 'keeper H and a great, running, over the head catch by Dave. He then bowled a dirty full toss that was smashed to Long-On, straight into the waiting hands of Marc and finished the match with a horrible apology ball which just hit the stumps before bouncing a third time and becoming a No-Ball. 4-17 for AB and St. Giles all out for 92. This was a ruthless fielding display from Ditton, back to the standards of 3-4 seasons ago. We held every chance and saved runs in the field with dives and good chasing. Unfortunately, the catch we'll remember from this will probably be the camp way in which AB took and celebrated the dolly offered to him at mid-wicket.
Still in contention for promotion with now just three fixtures remaining. Still need to challenge ourselves and ask the usual question. Do we?
---
Saturday 16th August
Fen Ditton Vs Wisbech III
Fen Ditton beat Wisbech III by 7 Runs
I 'ate You Butler (Longest, most detailed report of the season, by Marc Wilson/Andy Fowler)
It was an unfamiliar looking Ditton XI that gathered on a slightly blustery and overcast afternoon to meet our Overseas Tourists from far flung Wisbech. They arrived with a young looking XI 'On The Buses' (a minbus with 6 inside by the look of things) whilst the absences of Skip, H and Paul meant our middle order had been rebuilt: Dobbo's absence also meant we were missing our two main wicket takers of the season. In short, we would need runs from the top of the order to defend any total (as Stand-In Skip Marc was to about to maintain the family tradition of losing the toss and we were invited to bat). The visitors asked your correspondent what a par score was at Ditton – 'Few ever successfully case down 160+' was his reply – but with our slightly thin looking bowling attack we knew we'd need a few more than that batting first. Ever the generous hosts we then decided to make it even more of a game by fielding only 10 – Fez being detained on child-minding duty and several calls to other squad members at around 1.30pm being unreturned. Adding to the slightly chaotic start, AB had arrived early to find the pitch unprepared so our warm up consisted of mowing and painting the wicket (which was hard with a slightly green top to it).
So into bat we went and, despite it all, confidence was high. We were on a winning roll and had posted our highest total of the season in the corresponding fixture, albeit on what was a flat wicket. In went another new opening partnership – Michael and (in his first 40 over game for 16 years) Rammers. Both enjoyed slices of luck with skied shots falling short of fielders but both also scored freely and we passed 50 in around 10 overs: the pavilion was feeling settled and calm. Then Rammers went to pull a short ball that had pitched just outside off and was coming back in to him – and it was then we realised the Ditton pitch was going to play its usual cameo by being slow and, in this case, offering very variable bounce. Rammers found himself lined up to pull a ball that did not get above his knees and was stone dead LBW. No worries. AB was up next: Scourge of Wisbech in the away fixture and a veritable 'Run Machine' this season. As long as Michael called and ran sensibly, we still had plenty of overs and runs in the tank. AB began where he left off at Wisbech, albeit they clearly remembered him and his pull shot so a couple of his leg-side hammerings of long hops only just eluded catchers. He seems in the form of his life and (I assume – or should I say hope as your correspondent is still waiting for a rich vein of form) what it is like when you have a bit of luck too. By now the Wisbech medium pacers had been replaced at the pavilion end by their off spinner – who was to prove the man of the match – who, after a rather loose first over was turning it a mile. Still, he and the pitch were slow and, as AB showed, you could wait in the crease, pick your spot and play him as he bowled at least one short ball an over. At around 80 Michael chose to ignore all that and was bowled all ends up advancing down the wicket and driving – not a shot he is known for. So now we were in to the 'revised middle order' – a series of names that on their day are good for 20s and 30s but 'Their Days' are sadly not that frequent. First up was Gilo-San, fresh from his Engagement (he proposed at the romantic location of the nuclear wasted Hiroshima) and break in Japan. We all know how much Giles loves slow bowling and how reliable his running between the wickets is, following a dropped catch and a near run out, he departed caught off the spinner who was finding turn and Giles misread how the ball was not coming onto the bat. Tom Butler, returned from Down Under, went out, played two lovely defensive shots and then, seemingly exhausted (delayed jet lag?), missed the 3rd ball, laid down flat on his face and was stumped off the spinner whilst prone. We were 100 or so for 4. Marc and AB steadied things for a while until AB rocked back to a short one, aimed a pull shot, played over it (the low, slow bounce again) and dragged it down onto his stumps. Being a batsman short and with 8, 9 and 10 therefore being Fowler, Adam and Jacko – and with all respect to those 3 – this meant the 6th wicket partnership of Dave and Marc (now a live-in couple it transpires so they should feel comfortable batting together) now represented our best (last?) hope of reaching the magical 160+. Dave played well last week – and was to do so again (another vital 25). Marc, one of our many less than successful partners for Michael at the top of the order this season, seems to prefer this lower middle order role and the bowling was not too challenging. They put on 40-odd, taking us past 150 before Marc departed. Fowler hit one glorious 4 and, feeling like Bradman, was then LBW to a straight one. Dave succumbed and Jacko followed Fowler with a lovely 4 and then being bowled. We had posted 178. A winning score usually but would our bowling hold up? We expected it to as the Wisbech batting line-up in the away fixture was stubborn but found it hard to score once we were through their top 2 or 3 – and, apparently, they had since had difficulty posting much above 100.
Dave and Jacko took the oldest and mankiest looking new ball you've ever seen (the main ones having been lost as AB smashed their short stuff from the pavilion end into the nettles) and their openers began carefully – perhaps knowing they needed to stick around as their batting line-up was young and not the best. In the field we were tight but a little too vocal – Butler having picked up the Aussie habit of sledging (he claimed to have been told to do this but we told him to 'Shut up' from time to time). 30 for 0 after 10 overs, Dave having proved rather more playable than Jacko, especially when he strayed to leg and short.
Then Ditton's Dad's Army took over. Jacko (Private Walker – annoyingly skilled, you think you can catch him, but he's a slippery customer) got one opener stumped – Marc had a fine day behind the wicket. Fowler (Sergeant Wilson – polite but far too often ineffectual), replacing Dave after 6 overs at the pavilion end, took the other caught and bowled. That this came off a very short ball that would have bounced twice before passing the stumps had the batsman not hit it: it should have warned everyone that Fowler was struggling to find his length and it certainly merited the 'Awfully Sorry Sir' apology given to the batsman as he walked disconsolately back to the pavillion. Fowler began to leak runs badly, struggling to find line and length, especially when bowling to their spinner/Number 4 bat. However, bizarrely, he enjoyed the generosity of the batsmen as they contrived to get out to him (a smart catch by Dave and another caught and bowled). Jacko was much more reliable and got his second wicket in his final over finishing with 2 for 17 off his 10.
At drinks – or shortly after – they were 70 odd for 5, needing 100 from 16 overs and seemingly with little batting left as we were into the youngsters: surely we were safe? AB replaced Jacko at the bottom end and bowled tightly (I can't recall a full toss) – 3 or 4 of their batsmen could not read him at all – but the problem was at the Pavillion End and especially with their Spinner who was murdering anything short to leg, of which there was too much. Adam replaced the expensive Fowler (whose 6 overs went for 40 notwithstanding 3 wickets) and, even though wickets fell, they kept the required rate around 6, moving up to 120 for 7 or 8 from 32 overs. As AB muttered in the field 'Don't worry, we have Dave to come back on for the last 4'. And so we did. Except by now their Spinner was going for everything and Dave had lost his mojo: his first over back went for 15 and suddenly they had two wickets left and needed just 27 from 5! Cue the Adams. Their Spinner – who was by now into the 70s and farming the bowling to protect the tail enders – cut AB behind square, the ball passing the other Adam at backward point. Their Spinner set off for a single but the non-striker wasn't having any of it and Adam had got the ball, running out the spinner with a throw to Marc as he tried to get back to his crease. We had won – as the last pair, whilst playing sensibly, couldn't find boundaries, only singles to a deep set field, and 13 off the last over was too much for them.
So how do we feel. Relief? Yes – we had been run close. But then why not confidence too as we had shown that, even lacking some of our better players and even being one down, we could win. Promotion is still a real prospect, the unbeaten run goes on and we take it off North to the artificial world of Wimblington next week.
---
Saturday 23rd August
Wimblington Vs Fen Ditton
Fen Ditton beat Wimblington by 127 Runs
Smashing
Marc stood in as Skipper for his brother again and followed family tradition in losing the toss. Wimblington invited us to bat which was OK as H, McCann and Dobbo had been delayed. That delay involved Michael becoming quite animated when finding he wouldn't arrive in time to open with Butler. Showers were forecast and a couple of them, in both innings, were quite heavy but both sides stuck it out.
Fez partnered Tom who suffered brain freeze for the second week running and a second duck running. AB in to join Fez at 6-1 in the fourth over. AB was then dropped by the wicketkeeper when on 5. How a game, and FDCC history can change in a moment. On a lush, damp outfield scoring boundaries was initially difficult but compensated for by excellent running as the partnership blossomed, passing 100 to reach drinks on 106-1. With the partnership at 134, Fez was finally out having scored his maiden half century for Ditton. 55 with lots of singles and two's and just one signature big six. MVS had been elevated to number 4 and did a great job of supporting AB in a 48 run partnership. Whilst only recording 7 it was an important knock. H suggested McCann should go in at 5 for his ability to find singles and run hard. He scored a single but that's all. H joined AB in the comfortable position of 194-4 with 8 overs to go. Another decent partnership of 68 followed with H finishing on 25 not out. AB had kept pushing all his partners and achieved the goal of a run-a-ball total of 262-4, a Ditton record. It's not a Ditton season without some comical umpiring and today it was supplied by Butler who called over and then went walkabout on a huge circular route to square-leg. Also of note was Fowler calling No Ball and signalling to the opposite side of the ground to the pavillion and scorers.
I played a lot of squash/went to the pub with AB during the winter and it was clear he was analysing his batting of previous seasons and planning how he would use exhaustive nets to improve this year. He also seems to have put into practice all of the techniques he's coaching to our youngsters. Before today he had scored 487 runs, including four half centuries, targetting the club record of 605 in a season. Two games to get 120 was looking a tall order but not one we'd rule out. AB was in no mood to use both games. His 150 not out - a club record high score, included 18 boundaries and a six during 36 overs, moved him to 637 runs at an average over 50. From just 13 innings AB has smashed the old aggregate record and the previous high score of 138. A vintage year in the 32 seasons since the club was formed.
Realistically the game was over at Tea but the bowlers still had a job to do and fielding standards to be maintained. Dobbo was excellent with figures of 7-2-12-0 with only 8 runs off the bat. Jacko struggled to hit a full length but made the breakthrough following a gutsy opening 50 partnership by Wimbo. He later took two good catches also. Fez replaced Dobbo and was quick, finding the outside edge but seeing the ball fly between or past slips. Finally, there was a finer edge which Paul took, the first of two catches and a stumping for the afternoon. 1-24 from 7 overs by Fez meant the scoring was going nowhere fast and we just needed to remain focussed. A lovely, controlled spell of 6-1-19-2 from Fowler completed the work of our regular bowlers for the day (with AB having a rest) and it helped keep everyone interested as the opportunity arose for others to turn their arms over. Marc bowled 3 good overs of spin wearing sunglasses. It was high time MVS had a bowl, and not just to buy a wicket. Despite having to wear his cap to keep the sun out of his eyes, a spell of 3-0-14-3 makes you wonder where he's been hiding. Then Butler bowled. In two overs he bowled 3 big wides but only had two runs scored off the bat. With a full rainbow in view, Tom had an edge caught by AB to claim his first ever league wicket. Time for McCann to become our 14th bowler of the season and fittingly, AB to bowl the final over and take his 99th Ditton wicket with Michael taking a catch to become the 14th different catcher of the season. Wimblington finished on 135-9 for us to register our tenth win, by 127 runs.
Littleport lost to St. Giles so we find ourselves top of the table with a shield up for grabs. I've asked several times and the answer has been "Yes, we do have enough". We now need one more performance next Saturday.
---
Saturday 30th August
Fen Ditton Vs Waterbeach
Fen Ditton beat Waterbeach by 9 Wkts
More than Enough - CHAMPIONS
A win against relegated Waterbeach would see Ditton crowned champions of 2N and with a strong side available, we arrived at The Rec with high expectations and a determination to play our best cricket.
Skip won the toss and invited the visitors to bat, even though Fessil had not arrived yet and odds on him being ready at 1:30 were pretty long. Therefore, Skip opened the bowling along with Jacko. Much playing and missing off Skip followed but Jacko was leaking a few runs, struggling to find a consistent length. However, it was Jacko who took the first wicket when Waterbeach had reached 29. 1-25 gave Jacko a season total of 17 wickets to move ever closer to the club record. A double change saw Fes replace Skip and AB come on for Jacko. Once Fes pitched it up a little, he became a real handfull and bowled his 10 overs straight through for figures of 10-5-21-4. AB has been excellent for several games now, bowling far fewer bad balls and his first wicket today was his 100th for Ditton. Two further wickets followed for 10-3-17-3. Paul completed his 5th stumping of the season and H took his 9th catch. Good ground fielding built pressure on the batsmen and 9 were bowled or LBW. Skip returned to take a couple of tail-end wickets and record 9.2-3-12-2. 82 all out and a feeling that the mother and father of all cock-ups would prevent us from winning the match and the title.
Don completed his seasons work with another 5 star tea and a 'crowd' by Ditton standards were arriving to see if we were about to seal another shield.
Among the onlookers was a critical father, watching (and sledging) his son Michael grind out an innings that saw him take 27 balls to get off the mark. Amazingly, the Ditton players were less concerned, reassuring James McCann that his boy would come good. Fessil was also less aggressive than normal, making a sedate 16 from 38 balls before being caught and bowled. The slow scoring rate had opened the possibility of another AB half-century and he was soon climbing into anything off line or length. 25-1 from 11 overs became 78-1 with one ball of the 21st over remaining. Two previous balls had been smacked for sixes by AB and taken him to 44 not out. An attempt at another over extra cover fell short and saw AB finish his days work on 48 not out and 685 runs for the season. Michael hit the first delivery of the next over for four to end 11 not out, having achieved 205 runs for the season. Victory and the league title sparked much spraying of Cava and Marc completing an ice-bucket challenge.
The early finish meant more time in the Kings Head before moving on to AB's for a BBQ, a few quiet beers and reflection on the end of a season where Ditton had gone unbeaten from 21st June, picking up the Milton T20 cup along the way. Littleport won to secure runner-up spot and promotion, which will sadden our friend at Wilburton :). It's been a fantastic season to be a part of and I can't quite believe there won't be a league match next Saturday. The team spirit could not be bettered and I'm sure we'll have some fun together during the winter months, starting with The Dinner on 18th October.
---