---
Season 2016 Match Reports

Saturday 2nd July
Fen Ditton Vs Over
Fen Ditton beat Over by 8 Wkts
SCORECARD
OVER - REGULATION By Michael McCann (Filed for 3.30pm on Sunday)
Round 9, Over visiting El Campo for what was a third straight home game, and was to be a third straight win, with Rob once again to the fore.
AB back after missing both Sutton games due to being terrified of having to bowl at Lourens Herselman, Ralph and Wayne Clements also in. Notable absentees were Fez away on 'daddy duties' and Longy off for a prolonged stint on 'birth partner duties.
The pitch looked dryer and better than in previous weeks, and the sun was out, with plenty of hay bales on the outfield from the grass being cut in the week. We won the toss and bowled.
The 'back to the future' opening combination of Jackson and Clements, last used in the early 2000s, gave us a good start. One run came from the first 3 overs, and though one of Over's openers hit a few boundaries, we had him quickly enough, Ralph holding a good catch off Wayne.
From the Jackson end Jacko was 'asking all the right questions', leading fielders to be impressed with his 'primary research'. This involved Jacko's standard survey: how many nagging dot balls can you stand before doing something daft? Are you able to resist trying to put me in the Plough? Can you pick my doosra?
As three decades of success will tell you, plenty of batsman often fail the survey. Mainly because they totally refuse to abide or respect it. Jacko bowled straight through an excellent for 3-32, supporting by some good sharp catching from H, Skip and Rob, a consistent line and length rewarded with some predictably impatient dismissals as Over stuttered to 60-5 at drinks.
If this is anything to go by Jacko isn't just the YouGov or ComRes of this world, he's clearly much more. With his help on that front we might actually get a pollster in this country that can actually accurately predict a political vote sometime, given the cricket equivalent of the last two efforts on this front have been a bowler having a bought of catastrophic yips, so bad that you might even question if they were trying.
At the other end Skip had joined the 'wicket part' by that point, though after drinks Over's opener and hard-hitting left-handed 7 instigated a recovery. Skip was hit onto the pavilion roof by the opener and AB went for 20 off 3 overs, including unfortunately dropping the opener (bad memories for us this season) as the visitors started to get away.
Ditton re-adjusted to the conditions, Joe replaced Skip and Marc replaced AB. It worked. Joe bowled the left-hander and Marc had a wicket through the same method, the batsman brilliantly looking around in disbelief when by all accounts it was just a straight ball, also dropping a caught and bowled chance that could have given him a second victim.
The number 9 plodded around for 5 from 33 balls alongside the opener, who could have probably got even more than his 82* had he not got so distracted by the cat-and-mouse game of farming the strike during the last ten overs.
In that spell Over were scoring at no more than two-an-over through some intelligent field setting and intensity from Ditton. The Over 9 was run out by a combination of Wayne and Marc, sacrificing himself to try and get the opener back on strike. The opener eventually opened his arms, hitting a 6 from Marc's final over, which got a bit of expected tap to give Over 153-8.
Wayne 19-1 from 6, Jackson 32-1 from 10, Skip 19-1 from 6, Ab 20-0 from 3, Joe 28-1 from 8 and Marc 28-1 from 7. That reflects a solid bowling effort and good variety in our attack.
Marc later said he believed Over, like Girton, had misjudged the situation and though 150 was a winning total, when it was intact comfortably below par, and it appears an accurate assessment.
In reply Rob and McCann set out to give Over not a sniff, and in putting on 96 in 21 overs for the first wicket, did a pretty damn good job of blocking Over's nasal capacity in this regard.
Both opening bowlers were decent, but once they were seen off, either side of a rain delay four overs in, the run-rate climbed.
Rob went about striking a 4th successive League fifty, making the bowlers put the ball in his areas through patience and then timing to put it away, showing his usual flowing range of shots to make batting look easy.
McCann was defensively solid without quite finding his attacking rhythm, the pair reaching 75-0 from 18 when another longer rain delay came.
That brought an enjoyable interlude, as the 2nd team, back early from getting hammered (not in a good way), provided colour to the day (thanks to so many for coming back to El Campo to support the 1sts, much appreciated). Mani delivered the sawdust to the wicket using Edward's electric scooter, though after doing a lap of El Campo the tables were turned on him. Just as play resumed Mani did another lap of the outfield, except this time running behind Edward on the scooter, and struggling to keep up.
Rob was correct that Mani's 1500m needs work yet, whilst the image of watching from the non-strikers end as Mani chased Edward is one that will live long in the morning. The opposition were both amused and bemused, whilst Rob did his best to hold back from going back to his day job as 'Mr Smith', whilst using an authoritative tone to (unsuccessfully) try and bring some return to normality.
It also gave us this glorious photo, where the ray of light shines on Mani, leader of Mannyism, riding his chariot towards philosophical and spiritual enlightenment.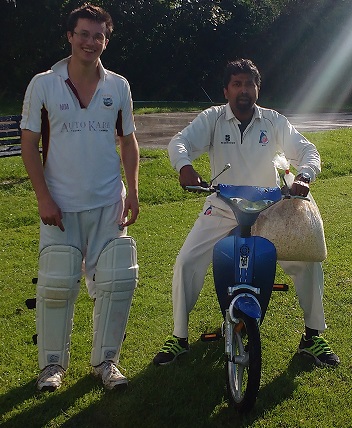 Some Dittoners might be aware that Mannyism comes from a very simple 6-word, and if expanded, three sentences, of life advice.
GET IN - Give yourself a chance to GET IN
SPOT ON - Do a SPOT ON job once the opportunity presents itself...
PISS OFF - Don't hang around longer than is needed, PISS OFF!
Rob and McCann both abided by the first two, particularly so Mr Smith, but as opposed to pissing off with another 10-wicket win, decided they do so a little earlier.
McCann made a good 27, but went when he tried to hit a wide long hop far too hard and slashed it into the hands of point.
It was a most pleasant scenario for AB to walk into, and he batted sensibly and serenely through for 19 not out.
Rob continued to make it look easy, including a nonchalant 6 over square leg, though we all calculated that he would't have enough runs to get to be able to make a ton.
He did reach 90 though, but with 1 run to win he pissed off prematurely, caught playing a 'stupid shot', in his own words, though the batsman had crossed.
The dismissal prompted huge laughter from everyone on the boundary, as Skip had promoted H to 4 in search of some confidence-boosting runs, yet as the target had got closer H's enthusiasm for batting was dipping significantly.
His walk out to bat was one of the most reluctant I have ever seen, only crossing with Rob when the opener had nearly passed the boundary. Despite having hit 90, Rob received only a brilliant look of disdain from H.
The very next ball was a leg-bye down to fine-leg, confirming a comfortable 8 wicket win with 8 overs to spare, and a brilliant 0* from H.
A win that makes us 6-3, and a big session at the Ancient Shepherds (huge credit to whom for putting food on despite the kitchen being out of use) saw that rueing the dropped catches that could have prevented it being even more.
Wilburton away next week provides a chance to open up a significant gap between the top three and everybody else, now we just have to take the opportunity.
---