---
Season 2017 Match Reports
Fen Ditton lost to Girton by 1 Wkt
Scorecard
Rusty?
The first Saturday in May, and the 1st XI opened the season at home against Girton. We had a rather new-look team, with Rob and Longy unavailable, but debuts from three new players: batsman Dan Brown, and pace bowlers Krish and George. All had impressive debuts. They were joined by Giles and Darren, both promoted from the 2nds.
Bearing this in mind, a score of 198-9 batting first was about as good as we might have hoped for, even taking into account the flat pitch, quick outfield, and limited bowling attack of our opposition. After two nervy early wickets, Gilo (41) and Fez (23) rebuilt the innings responsibly. After Fez was disappointed to slap a long hop straight to cover, Gilo was joined at the crease by Skip, who began his innings patiently to take us to a healthy 85-3 at drinks. After Gilo was run-out, cameos from Dan (16, including a flicked 6 over square leg for his first ever FD scoring shot) and Paul (11, also hitting a 6) helped us up to 198-9. The backbone of the innings was the 89* from Skip, mixing his usual pugnacious legside hitting with some delicate late cuts.
Several of our bigger hits went to the newly christened Byron Smalley boundary, named in memory of a young lad whose innings came to a premature end. We'll keep you posted on hits to that part of the ground in his memory.
Over the past few seasons, we have been blessed with some excellent bowling attacks, and as a result, have got rather too used to simply going through the motions in the field, waiting for our bowlers to simply blow the opposition away. Perhaps if we hadn't had it so easy, we would be a little less shell-shocked when faced with a couple of decent batsmen willing to take the attack to us.
Unfortunately, on this occasion, the fielding wilted under the pressure almost from the off. If the first 10 overs were highlighted by some excellent attacking batting, the second 10 saw some equally poor and uncommitted fielding. Giving up 200 suggests a poor day with the ball, but truth be told, most of our regular bowlers bowled exactly the same variety and quality of deliveries as they normally do. We weren't brilliant, but we weren't bad, either. Jacko bowled his usual variations of pace neatly and economically but without troubling the batsmen; Adam bowled fast and straight but without much luck, and AB bowled a mixture of very good balls and the occasional long hop. It was he who eventually dismissed the one opener, bowled through the gate, and came close to dismissing the other, taking the edge twice, but he was eventually trapped lbw by Fez.
By this point Girton were 154-2 with plenty of overs in hand, and the game looked lost. However the new batsmen looked an altogether easier prospect, and AB kept reminding everyone that there were still 50 runs to get and that a collapse was still very much a possibility.
Two excellent spells now changed the game. Firstly Fez was rewarded for some increased control with 3-30, and Krish returned from taking a bit of a pasting in his opening spell to bowl fast and straight at Girton's long tail, to rescue his figures and finish with 3-40.
Girton remained strong favourites however, with 2 runs to win off the final 2 overs, with Adam and George to bowl. A fast yorker cleaned up batsman 10, with the possibility of a famous win now very much a reality. Unfortunately, the tension only lasted one ball, as the number 11 correctly guessed what was coming, and squirted the incoming yorker away through the offside.
Mixed emotions at the close. Pride and relief that we had belatedly found the mental strength to make a game of it, but disappointment and frustration that we hadn't found that level of motivation 10 overs earlier. If we had saved just half of the boundaries that went through or under fielders in the first half of the innings, we would be celebrating a famous 10 run win right now.
---
Saturday 13th May
Fen Ditton Vs Burwell III
Fen Ditton beat Burwell III by 89 Runs
Scorecard
THE LAST TEN, THE FIRST TEN By Michael McCann
Second game of the season and another at home. A game primarily won by our last ten overs with the bat, and our first ten with the ball.
Three changes from the side that narrowly lost to Girton - Butler, H and Wayne Clements in for Jacko, AB and Dan Brown. Campo presented a cloudy day and once again a fast outfield, but a pitch that was offering more for the bowlers than the track used last week.
Michael and Gilo provided a steady start to lay a foundation. Gilo looked the more fluent of the two until he fell in the tenth over for a solid 25, nicking off caught behind. 37-1. Not long afterwards Michael departed for 13 to a catch in the gully that was apple-picking at its best.
Fez came in at 3 and batted with an awareness of how important his wicket was in the context of the game. Alongside him Wils went on the offensive and looked in good touch following on from his good innings last week, the pair taking us onto 78-2 at drinks.
Wils hit the Burwell spinner out of the attack and after drinks he continued on, including hitting a maximum over Byrons boundary. He reached 30 when he perished, though Fez was still ticking along nicely. Our West Indian hit a huge six into the trees and scored well all around the ground to keep the run rate decent throughout the middle overs.
Darren kept Fez company for a while, hitting 15 before being caught. H was bowled not long afterwards, playing on for a duck. Butler joined Fez, who eventually fell just inside the last ten overs for a well-made 55. Krish fell for just 1 and just before doing so appeared to pull his hamstring, causing a sharp intake of breath for us all, thankfully he'd bowl through later At that point it looked like we might have to settle for around 180, which would be a par total but nothing more.
Butler had something to say about that. Initially he'd been trying to push the balls around for singles to get Fez on strike, but once the West Indian was out Butler found his groove. Trusting his excellent hand-eye instincts he started finding runs all around the ground.
He was joined by George, who went out and batted like a 'cut snake', as he later put it on the podcast. In more conventional English that meant running superbly, a lesson to everyone in this regard. Proper backing up, sprinting the first run and so often getting two by putting the fielders under pressure. The partnership reached a crescendo as 27 runs were added in the final two overs, Butler hitting a lovely reverse-sweep for 4 in the final over. 40 not out for him and an unbeaten 13 from George meant we posted an above-par 207-7.
After tea Burwell found themselves 16-1 from 10 overs thanks to George and Krish. Irish from the Pavillion End, George from the Jackson End. George took a wicket with his first ball, Wilson with the catch at slip. Krish bowled right arm around and both openers found a really nice length for the pitch - we bowled three maidens in a row at one point. Butler almost took a worldie of a catch off George too, a low left-handed chance almost sticking in. Eventually both openers came off with excellent figures - Krish 6-2-16-0 and George 6-2-11-1.
Inevitably more scoring shots followed, and change bowlers Skip and Wayne weren't at their brilliant best. Just before drinks we had our second wicket, Paul C taking a great catch standing up. Burrell 64-2 at drinks and we were in the driving seat.
After the interval Wayne, jetlagged from a recent trip to the USA, found his groove when continuing from the Jackson End. His first four overs went for 19, but the four after drinks went for just 7, and he took another wicket. Neat figures of 8-1-26-2.
At the Pavillion end Fez continued on his excellent bowling from last week, bowling straight through in taking 8-1-19-3. Initially it looked like he might go unlucky though, H dropping one at mid-on, whilst Skip and Butler couldn't hold on to nicks induced by the West Indian. Thankfully the deserved wickets did come, one bowled and then McCann taking two simple catches, one from a misjudged pull shot Fez had predicted, the other a simple one at cover.
Skip came back on, this time from the Pavillion End, and grabbed a couple of wickets in taking 8-0-33-2. Then Butler, who had earlier strengthened his '1000 runs this season' campaign, finished the game off with a couple of Rabjohns/dirty wickets. Fez catching 10, Wilson catching Jack. A solid recovery from an over that started with six wides off spin.
Burrell 118 all out in 37 overs, Ditton the winners by 89 runs. A first win of the season. Happy days.
---
Saturday 20th May
Granta III Vs Fen Ditton
Fen Ditton beat Granta III by 8 Wkts
Scorecard
BATTLING THE RAIN By Michael McCann
Granta III at St Catherine's brought a comfortable eight-wicket victory, with rain as much of a threat to our hopes as anything.
Five changes for Ditton - Lord Branwell Govier (Yes, Lord!) and the Will's (Goulding and Sheeran) came in for debuts, whilst Rob Smith and Adam long played their first games this season. Out went Giles, H, Paul C, Wayne and Butler.
We warmed up with an extensive session of football, using a rock hard ball that stung those who were bravely barefooted. AB, Rob and Skip managed to nutmeg 'keeper McCann, with Smith then content to shine his head by sunbathing. AB also completed his audition for Sea World by flapping around manically in trying to direct one volley towards goal. We also learnt that Krish is incredibly reluctant to shoot, Goulding has a nice first touch, and Longy really shouldn't attempt to play whilst eating after regularly falling over. Thankfully nobody got injured, unlike when it was banned by England in the mid 2000s after four casualties within a year. I look forward to seeing Manchester United warm up with a game of quick cricket before the upcoming Europa League Final. Can Wayne Rooney bowl?
That warm-up served us well for fielding, Granta electing to bat on a visibly damp pitch after plenty of rain recently. George and Krish were once again all over it as an opening pair and Granta were going nowhere fast. George bowled through for 8-2-16-0, tight as a ducks watertight rear, to borrow a phrase he used on the podcast last week. Half of those runs were two edged boundaries. Meanwhile Krish got the wickets he deserved from last week in taking 7-1-18-2. One of those was a fortunate lbw from right-arm round the wicket that was apparently missing off-stump. The umpire who'd given it had words with team-mates before leaving the ground, reducing Granta to 10. The other dismissal was a more traditional caught behind, giving Branwell his first league catch for Ditton, a feat Will Sheehan would also achieve later on.
It wasn't until the 15th over that we conceded a boundary from the middle of the bat. Shortly afterwards at 57-2 a rain delay came for half an hour, but mercifully the groundsman gave us the go ahead to get back on. The match reduced to 34 overs a side and seven overs per bowler, with George celebrating that he'd already got his eight in. Whilst waiting for the pitch to dry we learnt that Krish doesn't know his own strength, hurling the balls at various team-mates ankles in enthusiastic fielding warm-ups. Fez, McCann and Long also practised combined boundary catches, appreciating through experience just how hard it is, no matter how easier people like Lyth and Finch make it look.
Longy and Fez had replaced Krish and George, and after the break found their rhythm. Longy claimed 7-2-20-2, both his wickets coming from big inswingers, one removing leg stump the other middle. A morning net with McCann had helped get his rhythm going, but his desire to sledge from gully and competitive edge had certainly not been lost. At the other end Fez continued his excellent season with 7-2-20-2 including remove the key wicket, a decent Asian batsman caught well by AB running in from mid-on.
Fez also put his audition in for 'dick of the day', by bowling a ball when the off-side field was still being openly moved around and the batsman wasn't even looking. What's more it was a head-height no-ball, and his figures were rightly punished for it. Thankfully for Fez this wasn't a tour game. What's more Butler's desire to pay for his Guinni (as he calls it, Guinness to everyone else) by fining everyone anything so much as breathing hasn't been implemented yet.
Butler's Guini for the evening could have also been sorted by Skip's fine in bringing himself on for a few Rabjohns wickets. Wils cleaned up the tail to finish with 3.4-2-9-3, and narrowly missed out on a hat-trick. Apparently he just 'happened' to come at that time in the innings, all too convenient. Hercule Poirot would not to bother with his standard search for small clues to solve this one.
Granta 95 all out with eight balls to spare. After a relatively swift tea the sun had come out and the wicket had been rolled. With dark clouds overhead though time was short.
McCann was caught behind for a duck pushed at one outside off-stump, whilst AB was caught and bowled for 3. Thankfully Rob was quietly effective, whilst Wils came in and gave everything the long handle. Both ran hard between the wickets and Skip channelled his inner Michael Fish by giving constant updates about the impending rain. The pair finished things off - Rob 46 not out, Skip unbeaten on 43 to continue his brilliant start to this season with the bat. The chase finished off in the 18th over, thankfully 25 minutes before a shower that would have cost us the match.
A first away victory of the season then, and our good record at St Cats continues. Back at home next week, and hopefully a third win on the spin.
---
Saturday 27th May
Fen Ditton Vs Terrington St Clement
Fen Ditton lost to TSC by 4 Wkts
Scorecard
FINE MARGINS By Michael McCann
A third home game in four saw Terrington St Clement made the long trip to face us at El Campo. it would bring them 20 points, and us a very preventable and narrow defeat.
Six changes to the side that beat Granta - George S, Krish, Skip, Longy, the Will's (Goulding and Sheeran) all unavailable for a variety of reasons. In came Giles, Darren, Butler, Dan Brown, Paul C and Jacko. That left us without our new-found opening duo of George and Krish, as well as Skip and Longy, who aren't bad too.
AB replaced Skip as captain, and given we only had four recognised bowlers his plan was simple: bat first and rack up a big score to heap the pressure on. In the beating sun we won the toss and batted, but it didn't start well. McCann was bowled by a good nut for 3 and not long afterwards Giles went for 2, bowled around his legs when stepping across to expose his leg stump. He had been stuck in traffic and arrived pretty much right as we started, so hurrying out to the middle probably didn't help. 10-2. Not good.
With the openers gone numbers 3 and 4, Butler and Rob, rebuilt, playing responsibly against decent bowling. Both were quietly effective, taking advantage of the rare bad balls to start the recovery. Tom was looking good for 21 before mistiming one to cover, who took a good catch to dismiss one of our form batsman. He was understandably frustrated to get out having done the 'hard yards', and made sure everyone knew just how annoyed he was. His reaction might have left him glad his frequent calls for a fine system haven't be heeded. A guini-free diet might have been needed for a while to afford the fine.
Fez joined Rob but after a brief cameo went for 12, caught behind despite being unsure if he nicked it. Rob continued to progress, and it was now clear our hopes of a big total were increasingly depending on him, and if he could find decent support. Darren made a useful 25 at a good pace, full of well-run singles to get Rob the strike and lusty leg-side hitting towards Byron's Boundary. Darren eventually went, caught right on the mid-wicket boundary with a shot that was a yard from being a maximum. At the other end Rob had kept going in his own merry way, with classic cut shots, straight hitting and clips through the leg-side. His hundred came and went with a 'celebration' that was a classic example of how he does everything with a minimum of fuss. The innings was aided by well-timed acceleration, and St Clement saving their 'fifth' bowler (a combination of a few) until the death.
Darren's dismissal brought out captain AB, who had dropped himself to seven in the help of some friendlier bowling and to find his form. He did exactly that with a quick fire 22* featuring some ferocious drives, whilst Rob kept pushing on. We scored 126 from the last 14 overs, bang on nine runs an over, and that got us to 230-5. Even with the pitch playing well a very decent total. Rob scoring an outstanding 126* - 55% of the entire score and the 4th highest score in the history of the club.
With no fifth bowler we needed early wickets, but the two Asian openers went after Fez and Jacko, initially with success to give St Clement a fast start. Fez has bowled well this season and earn the slight fortune in removing both openers, moving to ten wickets this season. The first chopped on outside off, and the second was well taken by Darren at mid-wicket, at head high catch from a well-timed clip. With two new batters in Fez was removed to try and sneak in some 'fifth bowler' overs, Butler replacing him from the Pavillion End. His first two overs went for six, but the next two got a bit more tap, so he was taken off after 4-0-24-0. Meanwhile Jacko had bowled through at the Jackson End for 8-1-36-0, a reasonably tight spell significantly below the required run rate.
AB came on for Butler, and bowled a good spell from the Pavillion End of 8-0-32-1 to keep the pressure. His wicket came with one that turned and kept low. At the other end despite defensive field setting the scoreboard ticked much faster, as we sought to get through the rest of our 'fifth' bowler. Darren went for 17 from his two overs, then Giles conceded 14 from a couple of overs. Giles also picked up a wicket, Paul C with a very neat stumping, the batsman appearing to lose concentration due to an offer of proper liquorice all sorts that Bertie Bassett himself would be proud of.
We were continuing to take wickets relatively regularly, but St Clement were still very much in the game, needing 74 to win from the last ten overs. They also had a Pakistani batsman who was hitting fairly big sixes, fairly regularly. Rob was bowling from the Jackson End by now, with AB still finishing off from the Pavillion End. We had a sign of what was to come, as just after reaching his fifty the Pakistani batsman was dropped on the boundary by Branwell. That was compounded by said batsman quickly adding another maximum and a four. He was was brilliantly removed though , AB taking a brilliant catch running to his left out at deep wide mid-on, Rob the bowler grabbing a key wicket.
The new pair of batsman kept going though, and it came down to 35 to win from 4 overs, with 5 wickets left. Fez had returned by this point, and the first ball of his over brought a wicket, knocking back the off-stump. 35 to win from 23 and a new batsman had to come out of the traps flying. At this point the game should have been ours but fielding suicide set in.
McCann overran one out on the cover boundary, an inexcusable error, thinking about the throw before securing the pickup. It cost a couple of crucial runs, and helped St Clement reduce it down to 27 from three overs for victory. Then one over really killed us, going for 15 runs thanks to more of the same.
Giles 'dropped' a catch at deep mid-off but in reality it was much more of a brilliant stop, as the ball was travelling fast and above head-height. It was really a stop that saved two runs. Butler misfielded one on the boundary that should have been two at most. He then dropped a catch that, by his high standards, was relatively regulation. One was then chipped to the right of Fez (at point) at a very catchable height, who didn't seem to move. Then came another one, the easiest of the lot, which went straight in and straight out of Fez's hands. Rob was understandably frustrated, and the last ball of the over went for six towards the Plough to rub the salt in. 15 runs from the over, six from fielding errors including two dropped catches (Gilo rightly excluded), and one catch not attempted.
Add in McCann's shoddy work and that's eight runs handed over, as well as various chances to force another new batsman to come in to this pressure situation.
Just 12 needed from two overs then and Fez's first ball went for four. He pulled it back well though finishing an excellent spell of 8-0-42-3 to continue his strong season with the ball. That left Rob with five to defend from the final over, which was always going to be incredibly difficult. He managed to make St Clement sweat for it, scampering a single from the penultimate ball of the match to secure victory. Rob finishing with 7.5-0-59-1, St Clement the winners by four wickets. A decent haul of eight bonus points a small consolation for a game we should have won, regardless of missing players.
A valuable lesson in the value of concentration in the field, and the old catches win matches motto. No matter one's talent with bat and ball everyone has to do it, and today shows how it can change games.
A missed opportunity to make it three wins on the spin, and now we embark on a run of three away games. It starts with Girton away, a chance to get revenge for a narrow one-wicket defeat in the first game of this season.
---
Saturday 3rd June
Girton Vs Fen Ditton
Fen Ditton lost to Girton by 8 Wkts
Scorecard
"Waiting…NO!" By Michael McCann
"Waiting….NO!" A phrase only normally used on a cricket field when a batsman thinks of taking a run, then after good fielding decides against it. After all, using it any other time on the field wouldn't really make much sense…Anyway this weekend the phrase "waiting…NO!" was unfortunately also an accurate answer to the question 'will Fen Ditton CC win this Saturday?'
Ditton had five changes from the penultimate ball defeat to Terrington. Bowlers Krish and Wayne returned, Grant Gilmour and Dom Absolon made first-team debuts, whilst H came in as specialist captain (think Mike Brearley).
Out went centurion Rob (at a festival), AB (kids), Dan B/Browny (opening for the 2nds), Branwell (kids) and Butler (not paying his fine from his dismissal last week so captaining the 2nds). We were also missing Skip (nose operation), George (holiday) and Longy (kids). Can we get a good creche or something?
Thankfully Fez spent the car journey outlining his party-political broadcast to solve this. The slogan "I'm just asking for one day of the week, you get me for six" is clearly working for him. His expanded election manifesto was short and sweet - creches for all club cricketers, and the slogan "I'm just asking for you to vote for me on one day this year". The fact he's planned to have a rare Saturday off for childcare next weekend suggests he's not remotely expecting to a win a majority on Thursday.
H won the toss and, in the sun on a rock hard pitch batted. Dom Absolon has already had a warning for strike manipulation from unofficial/wishes-he-was-the-finesmaster Butler during a 2nd team stand earlier this season, but began his 1st team career with a repeat offence. Dom faced 22 balls from the first 24 bowled through some aptly-timed singles. Once the partnership with McCann got going it was as if the cricketing Gods remembered that Dom still needed to be punished, particularly with no fines system. 'Lon' absolutely nailed one straight at mid-wicket, who juggled and found a way to cling on. Dom unlucky to go for 11.
One down quickly began three down. Giles showed commendable commitment in driving down from North Yorkshire on Saturday morning to play. Unfortunately, he acquired more items of new garden furniture from that trip - four, than runs he was able to score for us - one. Gilo was bowled, and then Fez was caught behind for a golden duck next ball. Ditton 30-3 and in a pickle.
McCann was joined by Darren, and the pair steadily rebuilt. McCann had re-found his 2016 modus operandi, whilst Darren looked in the same good touch from a quick 25 last week. They added a fifty partnership, the highlight being a six over cow corner from Darren against the spinner, taking Ditton to 87-3 from 23 overs.
A new paragraph can only mean it didn't last. Darren was run out for 35 by a direct hit from cover when incorrectly called through for a quick single. The next over saw McCann pinned lbw for 37 when trying to turn a ball into the leg side. Grant was caught at mid-on for one, and H was caught for seven.
Krish and Wayne fought well to salvage things, Clements making 11 before falling lbw when by his own admission, offering the pad to a straight ball. Jackson was promoted to number 10 by Paul C through virtue of "making the effort to bring his pads", but was bowled for five. Paul was caught for one, leaving Krish stranded on a handy 24*, and Ditton stranded 13 runs short from the fourth batting point. 147 all out in 37.3 overs.
After a tea spent having a group discussion about the Champions Trophy we set out to field. Darren had passionately explained why England have to find a spot for Bairstow, leading to the obvious question - have we tried offering him a Don Page tea, a spot in the side and a few pints? As for our game, given both Girton openers hit fifties in the previous game this season Ditton knew early wickets were badly needed.
Krish and Wayne initially strained without success against good players on a batting track, Dom unable to hold onto a difficult and sharp chance at slip off Wayne. Towards the end of his spell Krish dismissed the right-handed opener to get himself in the wicket party. Jacko came on first change got the left-handed opener out and then created another chance that Paul C couldn't hold onto. 6-0-29-1 for Jacko then, and a wicket to add to the all-time tally. Unlike in our reverse fixture, these wickets didn't open the floodgates. Fez wasn't able to add to his impressive tally this season on an unforgiving surface - 5-0-27-0. Grant replaced him and bowled three tidy overs for just eight runs before the bell tolled. At the other end Krish came back on to finish his allocation, his figures a more than reasonable 8-0-31-1. Then Wayne returned and got some tap in his second spell, conceding 47 from 6.2 overs. Girton 151-2 in 28.2 overs.
One comedic highlight of the innings was Fez and Gilo dancing apparently aimlessly running around just as Wayne was coming in to bowl. That makes Fez a repeat offender for such offences, after bowling a head height no-ball when absolutely nobody was ready at Granta.
An eight-wicket defeat then and four bonus points gained. Pride can be taken though in the effort from all involved in what was always going to be a testing away day.
Next up a trip to Littleport, which hopefully will see us return back to Ditton with a few more points to show for our hard work.
---
Saturday 10th June
Littleport Vs Fen Ditton
Fen Ditton lost to Littleport by 23 Runs
Scorecard
WE LOST, COULD DO BETTER, GET TO THE PUB By Michael McCann
'We lost, could do better, get to the pub'. Some would prefer our match reports are limited to this phrase, particularly from a third successive defeat. Unfortunately, this method would make our accounts no different from other clubs, and half of the approximately 800,000 club cricketers in the UK. Anyway, those wishing for one-sentence match reports will have left us, so on we go. So whilst sitting in the shade of the outdoors press box at the Oval, and watching South Africa bat first against India, I'll look to put some meats on the bones of how we lost this.
Changes again - Skip, Longy, Rob, AB and George returned, coming in for Grant, Dom, H, Fez and Wayne. We only had ten players due to an overall lack of resources (ten for both teams). With the Littleport ground unavailable we we made the track to the artificial track at Wimblington, providing no shortage of bounce. Think cricket on a trampoline. Sort of.
Every game between ourselves and Littleport over the years has been won by the side batting first, and that would continue. They won the toss and batted in the sun.
Things had started well - maidens from Krish and Longy, who both bowled good first spells. Darren arriving a few overs late meant we only had nine (seven outfielders) initially, but we were bowling to a five-two offside field pretty well. The run rate was very much under control throughout the first half of the innings, as Skip and Jacko continued the good word. Jacko removed both openers in the same over before drinks, the first edging onto his helmet and eventually into Paul's gloves, the second cutting straight to George in the gully. 69-2 from 20 overs and promising signs.
It was the best of times, but then, to paraphrase Dickens, it quickly became the worst of times. In the same over Jacko took both wickets, Littleport captain Marsh strode out and hit his second ball for six. Remembering his rapid fifty against us last year we had Rob out at the short straight boundary, and he did brilliantly to push the ball back into play. It was a fantastic effort that the opposition rightly applauded, but unfortunately he was already out of play.
To quote Skip 'our fielding was was good as I've seen in the first twenty, and as bad as I've seen in the last twenty' - I wouldn't disagree. Throughout the last twenty overs we had too many fielding errors to list, of every kind. Fielders throwing to a bowler not paying attention and nobody backing up, falling to make what should be pretty regulation stops (guilty), and fielders having the ball at their feet, yet just not actually throwing it in. Schoolboy stuff. Marsh and his left-handed partner got going, and our seamers often bowled too full, allowing both to hit through the line with confidence. The short straight boundaries were successfully targeted and carnage ensued from both ends. AB had a go at changing things but went for 21 from his two overs. Skip had conceded only 11 in his first four overs, but went for 42 from his final four.
Longy returned to stem the runs, and got the left-hander out with the last ball of his spell. Rob with the catch at mid-on, Longy returning neat figures of 8-1-22-1. At the other end Krish picked up two wickets in two balls during his final over, one caught at cover by George, the other bowled. That left him with reasonable figures of 8-1-38-2. Jack then returned with a wicket maiden, getting his third of the day clean bowled. Thus run of wickets left Littleport 141-6, having been 137-2, but Marsh was still present and going. He got some lower-order support and that allowed Littleport to get away again. Jacko did get himself a fourth wicket, a neat stumping for Paul to remove another partner of Marsh, who batted through for 73 not out. George finished off with a lethal bouncer-filled final over, including one that was strangely no-balled, conceding 32 from his six overs.
208 to win was a par score given the surface. Littleport's inswinging opening bowler picked up three early wickets. McCann bowled for six, Darren caught at short leg for 1, and Skip bowled by a yorker for six. Rob had watched from the other end, and Longy stepped out for his first bat this season. We badly needed a strong and stable partnership, but it ended as a coalition of chaos. Our Yorkshireman fell for just 4, run out when Rob hit one just short of the longest part of the boundary. He was seeking a fourth run on the arm, and called Longy through, but he didn't get the memo. By the time he did Rob was alongside him. Little port had time to get the ball in, and to the other end. 57-4. Ironically just as I write this paragraph, as if it's some kind of tribute act, South Africa have committed two suicidal run outs in two overs. The second seeing Miller and Du Plessis ending up at the same end. It is cricket, it happens to the best.*
AB had, as he did against Terrington, elected to bat down the order, so came out at no.6. That brought a veritable feast of boundaries, seven coming in the four overs before drinks, six of them from AB. This flurry took us close to three figures by drinks, ahead of Littleport at this stage but having lost more wickets. After the break AB added a couple more boundaries against South but was then nicked off, caught behind to a swinging delivery outside off. A really well-made 41, scored at significantly quicker than a run-a-ball. George was bowled for 0 and suddenly we were 114-6, eventually seven given we only had ten men Those wickets meant that just as things were moving our way, we were pegged back, and that happened a few times more.
Krish joined Rob, and battled through admirably after getting a bad leg injury whilst fielding. He was nearly run out once due to limping so badly, but was being very polite about not wanting a runner, so I insisted we got one. George did the honours whilst Krish went for his shots to good effect, including three off-side fours, and a straight six. During this stand Rob passed his fifty, though from my position umpiring it was hard to tell exactly when. It was now clear we just needed somebody to stay with him. His partnership with Rob was worth 49 when finally ended, bowled for a gutsy 27 scored at a decent rate. Having limped from the crease to the square leg umpire during his knock, Krish then limped off, kindly aided by George. 163-7, effectively eight with us a man short. 44 runs needed from the last eight overs or so.
Jacko joined Rob, and a few more wides and byes, which had come regularly throughout our innings, helped us along. Rob hit a straight six and we had whittled it down to 24 from five overs. Then Jacko was out stumped for 2, when batting outside of his crease and failing to re-make his ground. That gave the wicket-keeper enough time, standing back, to roll the back onto the stumps. The very next ball it was all over, as one hit Paul in the body, bounced down and rolled onto the stumps. Ditton 184 all out with overs to spare, Rob 68 not out to continue his fine efforts next season.
A loss by 23 runs and seven bonus points gained. So we give Littleport their first win of the season, a feat we won't hope to repeat next week when playing at Burwell.
*The final wicket of the South African innings was yet ANOTHER run-out. Three for the innings. It really does happen to even the best.
---
Saturday 17th June
Burwell III Vs Fen Ditton
Fen Ditton lost to Burwell III by 4 Wkts
Scorecard
DEJA VU (A BIT) AND A CAUTIONARY TALE By Michael McCann
In many ways this week was deja vu. We lost away at a side who got themselves a first win of the season. We (and the oppo) faced a really hot, humid and sticky day. We certainly didn't do ourselves justice. This defeat was a significantly more emphatic one though, meaning we head into hosting Sutton next week having lost our last four in a row. Given that starting point, I'll naturally try and spend the rest of this report on extraneous observations rather than cricket itself.
Plenty of changes from Littleport - in came Craig, Fez, Ralph, Paul Jenkins, out went AB, Paul C, Longy and Rob. Particular credit to Paul Jenkins, honourably filling in at the last-minute for the ill Paul Colwell. You don't ever see Ed Woodward donning a Manchester United shirt, do you? And particular not once quite so unusually shaped….
Arriving at Margeret's Field we were quite surprised - no stumps, boundaries or ladies named Margeret, just a playground and some cars parked dangerously close to the square. Our bumps day coincided with Burwell's carnival, but one team had to be at home. Thus they had to find the owners of these cars, and get them removed. That delayed our start, and with Skip having to leave at 6pm for a trip to France he was understandably hoping we could get going sharpish. He would easily make his deadline, but not for the reasons we'd like. The delayed start gave some a chance to wander over to the main Burwell pavilion, and witness some East Anglian Premier League action. We unfortunately had no such facilities, so made do with changing out of cars and the like whilst the ground was assembled - proper village/hamlet/WhatIsSmallerThanAHamlet cricket. The ground was on a significant slope, with the playground and road at the bottom of it.
We won the toss, and in blistering hit with a staggeringly short boundary on one side of the wicket, we batted first. Craig hit a ton for the 2nd team last week but after a week of congratulations was brought back down to earth - caught for 3 spooning a wide one straight to point. McCann and Butler set about the rebuild job and for a time it was going well - bad balls going for four, singles being taken frequently. The openers had been and gone, Ditton 57-1 when the stand ended. McCann gone for 28 to the newly-introduced left-arm spinner bowling down the hill. He was caught and bowled when weeks early onto an attempt to turn the ball into the leg side. Tom went soon afterwards to the same bowler for 21, bowled by a length ball that 'bounced', only to never leave the ground again, hitting the base of middle.
Skip climbed into the change bowling, particularly taking advantage of the invitingly short boundaries in striking a rapid 33 before he suffered the exact same fate as Butler. Darren has also been taking advantage of the facilities, or lack off them in regard to boundary lengths, striking 14 from one over of medium pace. That brought a bowling change, which in turn brought Dazza's downfall, bowled playing inside the line of a leg-spinner for 15. Fez provided our second deja vu dismissal of the day, hitting said spinner for two boundaries from his next over, before getting out in the same way as Darren. Unfortunately in-between these dismissal Ralph went for just a second ball duck, bowled by the left-arm spinner. So we stumbled to drinks seven down, desperately needing strong and stable leadership with so many overs left.
Krish and George both wielded the wallow in typically aggressive fashion, but both fell for 14. Krish was 'six and out' - he hit the left-arm spinner for six over midwicket, a man was put out, Krish found his next ball trying to repeat the feat. George was caught behind against the leg-spinner to a very thin edge, and walked. Paul Jenkins was out for 0 caught at mid-on, leaving Jacko 0* and Ditton 144 all out from 27 overs. Below par. Butler's favourite 'tfc' phrase comes to mind. We were finished so early we had to wait 15 minutes for Burwell to get tea ready. The fare itself was very decent, customised baguettes meaning no wasted food from the guessing game of most popular sandwich choices. Once that had been consumed, with quality EAPL cricket to enjoy, it was time to get back to our game.
In a collectors item for Fen Ditton fans and statisticians, Skip took the new ball bowling down the hill, partnered by Krish. The pace generated by both unfortunately brought the short boundaries even more into play. Following a flurry of early boundaries Skip took a wicket, then brought himself off, leaving his figures as 1-24 from four overs. At the other end Krish brought in figures of 6-2-25-0, doing his best to build pressure and slightly unfortunate to go wicketless. Skip was replaced by George, who impressively changed from his seam to his off-breaks in an attempt to adapt to the conditions. He did get a clean bowled with one that turned through the batsman's gate, but anything short was mercilessly punished to the relatively small leg-side boundary, meaning he took 1-36 in five overs. At the 'Playground End' Jacko had a go as the other half of this change to something slower, and conceded 26 from his five over spell. Burwell reached drinks two down with around 35 needed.
We fought right until the bitter end, with Fez and Craig doing a great job in delaying the near-inevitable. Fez continued his good season with the ball in another probing spell down the hill. Edges flew away for four, but he deservedly got a couple of wickets, one with a craft slower ball off-cutter. He's now onto 13 wickets for this season, the most in the club, finishing with 5-0-24-2. At the 'Playground End' Craig's spin proved effective, picking up a wicket to turn in very respectable figures of 1-11 from four overs. Burwell 146-5 from 30 overs, chasing the target down pretty comfortably. We also found out that 96 of the first 108 runs they scored came in boundaries (24 fours), which suggests that short boundaries and pace bowling in particular don't mix well.
A five wicket defeat then, giving Burwell a first win of the season. A day for Fen Ditton CC best summarised by Ralph Colin Woodward's social media post. "Since I occasionally report on cricketing high-points, it's only fair to record that today I scored a 2-ball duck, we lost to the lowest team in the league, and I was stung by nettles retrieving a ball from a hedge."
Today's 'Thought For The Day' is a cautionary tale about disturbing the cricketing Gods. It comes from a Fen Ditton back garden. Butler, Silcock and Jenkins made it back to the annual McCann Bumps party, joined by a certain Mr Dobson, a forgotten Ditton cricketer from another era. The main attraction was garden cricket, the highlight of which saw the cricketing divine distribute some karma upon a certain T Butler.
A young batsman named Toby, aged 12, was going about his business at the crease, only to find all sorts of sledging comes from behind the stumps. Nonsense appeals of every variety - LBW's, stumpings, supposedly attacking shots that were nothing more than defensive pushes. It was like watching the worst stereotypes of an excitable wicket-keeper - nearly everything was out, Butler just needed to find a mode of dismissal as the excuse to appeal. The stumps had been tactically placed to leave Butler keeping perilously close to a huge prickly plant, which was at a very close leg slip. Disappointingly despite such innovative thinking we didn't get the joy of fishing Butler out of said plant. Thankfully for him everyone else wasn't following his lead, in trying to 'tactically' induce attacking shot by bowling waist-high wides down leg.
Back to those frivolous appeals then and with the match at McCann's ground, and McCann considered a guardian of the 'Garden Cricket' rules, he was regularly hounded. However, McCann steadfastly stuck to the garden cricket policy that under-13s get certain benefits to level the playing field - unlimited leaves/misses, no LBW's and being allowed to bowl eight-ball overs, for example. Tom's parents were (proudly?!) watching on at mid-off, rightly joking that such a 'passion' for testing young people's resolve out makes him an ideal school sports teacher. Little did they know this tale was a long way from its apex - the first flashpoint was still yet to happen.
Butler took a caught behind to dismiss young Toby, and gave him a send off that Merv Hughes would be proud of. Ball thrown in the air, a chainsaw to rival Brett Lee and a fist pump to match anything Tim Henman ever managed. The reminder that his victim was half his age sparked loud laughter from the two dozen spectators watching on, most in the mid-wicket region where the marquee was situated.
Butler was delighted to have learnt his opportunity to back, taking up the plastic red bat, and faded green handle, with real gusto. He was greeted by a certain M McCann, bowling loopy right-arm rubbish. Immediately out came all the chat - anyone in Fen Ditton (or most female's in Cambridge) will know exactly what I mean. A certainty of personal ability. A certainty of the opposition's incompetence. A certainty that nothing could possibly go wrong. A threat was issued to crash at the tennis ball straight drive out of the ground. The smattering of spectators infront of the marquee at mid wicket shook in terror - they've heard the stories about Butler's golfing, and knew they were in grave danger. McCann, now in the unusual triple role of bowler, host and Garden Cricket match official, stepped in. Butler was warned that an aggressive shot would result in dismissal, a fiver for a lost ball and paying for any damage to Harolese's beautiful plants next door.
Butler just had to find another way to be the focus of all and sundry. This came through so far down the wicket to McCann's first five balls that he took almost every fielder out of the equation. The keeper, short leg, silly mid-off and point were all helpless, as he had run past them all before the ball had left McCann's hand. With McCann having no quicker ball in his locker, surely this innovation made him simply unstoppable?
The cricketing divinity were having none of it. Remembering his earlier antics against Toby, they struck back with the full force of the law on the last ball of the over. Once again Butler came racing down the track, but this time McCann managed to somehow avoid sending the ball so high that it would come down with snow on it. Butler worked himself and prodded back down the pitch for a caught and bowled. The crowd roared with laughter. As Handel famously said in Judas Maccabaeus - Hallelujah, Amen.
If the cricketing divine decided that Butler was wrong to get the chainsaw out when catching a 12-year-old in garden cricket, when is it acceptable - if ever?
Joins us next week, where we'll move onto another burning cricketing issue: can Krish ever throw a ball in a fashion that can be described as 'easy'?
---
Saturday 24th June
Fen Ditton Vs Sutton
Fen Ditton beat Sutton by 30 Runs
Scorecard
We WON (for the first time in aaages), can do better (but did pretty darn well), let us get to the nearest public house By Michael McCann
The losing run is coming down, and we're gonna have a party. A hard-fought first win in five.
In typical Ditton fashion being the underdogs in a tough game brought out the best in us. We've beaten every team that has got promoted from this division in the last two seasons - Fordham and Histon in 2015, Cherry Hinton and Wilburton last summer. Sutton could yet join that statistic, after a really entertaining game that we won by 30 runs.
Ch-ch-ch-ch-changes, there's gonna have to be a different man. Well three of them actually. In came Rob, Wayne, AB, Aruna and Paul C, replacing Craig, Krish, Wils, Ralph and Paul J. AB as captain then, and on a hot day at El Campo he won the toss and batted. The entire match was played with a booming soundtrack of loud and often questionable beat-based music coming from a party at the Plough. Fair to say that after a while of batting or bowling these sounds fall into my mind, these sounds fa-fall into my miiiiind….for a colourful appraisal listen to Butler's appearance on the podcast. Some find only freedom in the realms of eccentricity.
On the field Rob and McCann saw off the new ball, the latter getting an early life when dropped at slip. Both ran well and largely stuck to the shots they know, reaching 67-0 at drinks from 15 overs. Following the break the pair went through the gears, adding 48 in the next seven overs. For years and years he'd roamed, gazed a gazeless stare, but in the 22nd over McCann reached his first home league fifty since 2014 - his last happened 21 innings ago. He fell in the next over plumb lbw for 51, the opening stand worth 115. The over after that saw Rob get to his fifty.
Butler strode out at 3, captain AB again again saving himself for later than his regular spot last season, a tactic previously employed against Terrington. Butler wasn't quite at his brilliant best despite removing his pad rash, but kept the scoreboard ticking over whilst Rob cut loose, Smith dominating a stand worth 84 for the second wicket. The opener reached his second hundred of the season and continues to make it look easy, when we all know it's not. The partnership ended strangely after Ditton had reached 199-1 in 35 overs. Rob hit the first ball of Barnard's over for 4, moving onto 106* and Ditton onto 203-1. However, scorers Dom and McCann had spotted that Barnard was already bowled out, and raised this. Rob, a dedicated advocate of the game being played the 'right' way, decided the fairest thing was to scratch the four and re-start the over. Bowles replaced Barnard and, the law of sod, bowled Rob next ball for a brilliant 102 with one that kept low, suggesting cricketing karma can be defied. In the same eventful over Major Tom to Ground Control had communication issues, meaning Butler was stepping through the door, and floating in a most peculiar way - back to the pavilion when run out for a useful 25. Speak in extremes, it'll save you time. So in one over we'd been 199-1, 203-1, 199-1, then 203-3 - make sense?
Unfortunately soon afterwards we suffered a second run out to a direct hit, Dom out for two trying to make his ground after backing up aggressively, as one should at this stage of the innings. AB's self-appointed pinch-hitting role ended when he was unfortunate to be bowled by a proper Ditton shooter for 2. This feels an appropriate time to mention that a green pitch meant a fair few deliveries were keeping low on a length. We'd gone from 199-1 to 212-5 with two overs left. A late flurry came from Fez, who was bowled for seven, and also George, who put on his red shoes and danced the blues. Silcock ensured we finishes the innings with the momentum by hitting the final three balls for four - getting inside the line and flicking through fine-leg, driving through straight mid-off, tracking down the pitch and smashing through cover. George 16 not out, Aruna unbeaten on one. 234-6 from 40 overs, an unquestionably above-par total rightly fuelling a belief that we can beat them, and we can be heroes, just for one day.
235 to win then then, though we began our bowling efforts simply glad to have eleven on the field. Naturally Fez arrived at today's game late, but in his third year with us today was a new twist on his scheduling issues. Immediately after getting out he'd left to drive his better half back to home in Cherry Hinton, before returning immediately. This should've taken about half an hour or so, but mysteriously took about double that time…..thankfully for Fez nobody was in a rush to resume. When we were eventually set to do so he arrived back in the very nick of time. Butler was devastated that imposing a huge fine was not possible.
George and Jacko opened the bowling, Jacko naturally using the Jackson End, and he picked up an early wicket, Grady chipping to Smith at mid-off. 1-26 from four overs for MJ, whilst George, returning to his pace after spin last week, caused plenty of problems. He went for just 20 from five overs and was unlucky not to get the key wicket of opener Vincent, a really tough chance going down at slip. AB and Wayne replaced George and Jacko. Sutton were going well enough on 61-1, but found themselves 96-4 when AB took important wickets in three successive overs. Firstly the big scalp of Vincent for an assured 29, clipping a sharp catch to Wayne at midwicket, who held on then showed us the bruise afterwards. Next the number three was bowled, and finally the big-hitting Hershelman was six and out. The South African cracked a maximum over long-on, before being well caught by Rob next ball when trying to repeat the shot. 96-4 then, and at the other end Wayne was provided a valuable holding role. Three catches dropped during a spell in which he was unlucky to go wicketless, one at mid-off, one at point and one by himself. A lighter moment came when he induced a huge swing and a miss that nearly caught the edge and, sensing the moment, our DJ friend at the Plough immediately starting playing 'Where's Your Head At'. Despite his lack of wickets, successive maidens from Wayne helped ensure Sutton scored just one run from three overs. That left them 97-4 at drinks from 20 overs - no drinks break at 15 in this innings as cloud cover and wind has made conditions significantly less sweltering. We were 102-0 at that stage, but we also know that Sutton have depth, so as one pulls out the oxygen tent, they ask for the latest party. They showed that with the response after drinks.
Relative carnage issued. The six overs after drinks saw 52 runs added by Bowles and Barnard as AB got some tap, Aruna went for 13 in a solitary over where three short balls were mercilessly punished, and a brief spell by Fez from the Jackson End didn't quite work. AB completing his important spell of 3-50 from eight overs, the highlights being those crucial wickets. At 149-4 from 26 overs Sutton needed almost exactly a run-a-ball, and with two well set batsman had swung the momentum towards them. At this point Fez returned from the Pavillion End and continued to show the form that has made him our best bowler this season. He produced a simply superb spell, conceding just 14 from six overs to swing the game our way. In high-scoring games it's often the batsman who get remembered most, and spells like this are too often forgotten, just like Wayne's economical efforts in our high-scoring home win over Cherry Hinton last year. At the Jackson End on came centurion Rob, who broke the 5th wicket partnership, bowling Bowles with one he described as a 'peach'. The next over saw Fez join Rob in the wicket party with a clean bowled, and Rob's following over brought two wickets. One was a lightening-quick stumping from Paul C, the other was caught. Sutton had suddenly gone from 149-4 to 161-8.
As those wickets fell the dangerous Nuttall had been waiting with his pads on, and finally at number ten he walked out. With ten overs left we knew it wasn't done yet but Rob and Fez did a good job of keeping a lid on things. We did have some nervous moments, primarily when Nuttall was dropped at long-on and the next ball flew over the same fielder for six. Such nerves were eased somewhat when Rob took the ninth wicket, and his fourth, leaving Sutton 177-9 from 34, meaning they required almost ten an over. Rob had a difficult caught and bowled chance to win the game that he couldn't quite take running backwards but by this point the rate was climbing regardless. Meanwhile Fez completed his allocation, a valuable 1-26 from his eight overs. George replaced him and bowled a tight last over from the Pavilion End, meaning he conceded just 22 from six overs. Rob bowled through for 7-0-37-4, a brilliant all-round performance. During this late spell in the game MM swapped boundaries to join Butler down by the Plough, and truly appreciated the earache Tom had been describing himself as having from the pumping music.It must also be said that Dom was particularly good for us in the field out on the boundary. Sutton reached 204-9, with extras conceded a significant factor - 11 given up by us, compared to 28 from the opposition. A fantastic game of cricket played in a great spirit, that was a real pleasure to be involved in. Pretty much an 8pm finish with things going the distance, but all that effort has brought us that 20-point feeling back from a proper team performance where everyone contributed.
So it's over, it's over, it's over. No, not relief at a wide-filled over finally being completed, the current status of our losing streak. I don't know where we're going from here, but I promise it won't be boring.
---
Sunday 25th June
6-a-side Tournament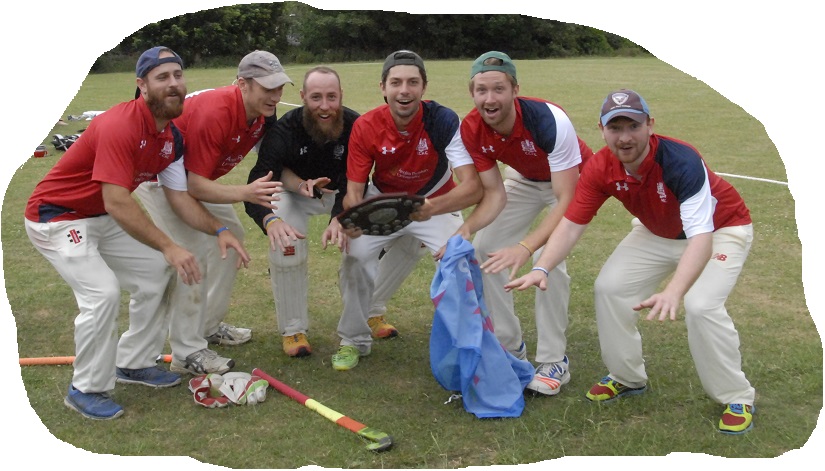 Winners 2017 - Cambridge City Hockey Club
---
Saturday 1st July
Fen Ditton Vs Isleham
Fen Ditton lost to Isleham by 3 Wkts
Scorecard
THE INCOMPLETE (BUT BRAVE) COMEBACK By Michael McCann
A game where we did a reasonable enough job of re-enacting our home defeat to Girton earlier this season. Unfortunately we couldn't follow up the win over Sutton last week this time against newly-promoted Isleham, meaning we've now lost five in our last six.
Once again inevitable changes. Out went Wayne, Aruna, and in came Longy and Mani. Both teams wanted to bowl as the outfield had long grass, whilst the pitch was visibly green and a bit moist from Friday night rain.
MM was out early for seven, clipping around the corner so fine that he guided it into the gloves of the keeper. Longy was bowled by the pacy Staywood for just two, leaving us 29-2 from 12 overs. Rob was going ok and found support in AB, who was at his best, finding boundaries all around the wicket. He managed this despite the outfield regular turning potential four's into two's, one highlight being a well-timed back-foot cover drive which somehow didn't reach the plough boundary by the path. The pair added 49 runs in just seven overs to take us onto 78-2, and promisingly placed at drinks.
A new paragraph can only mean one thing. Just after drinks Rob fell for 31, caught at mid-on to bring his average down to just the 187. That left us 83-3. AB went on to his excellent fifty, then absolutely creamed an off-drive against Staywood. Unfortunately mid-off moved back and five yards to his right, taking a really good catch at shoulder height. AB gone for 51 then, made at around a run-a-ball and providing promising signs for the season. We were 106-4, and thereafter wickets fell regularly and we steadily collapsed. Skip had been playing himself in but was bowled by Starwood for nine, and Darren was bowled for five. Fez had seen two partners come and go before the got off the mark, which he did just before another fell, Krish bowled for a duck. Mani was also bowled for a duck, but kept Fez company for long enough so he could add to his tally. Our West Indian had reached 16 when he was caught slicing one to deep point, leaving us 136-9. A collapse of 30-6, but credit must go to Paul C and Jacko. They fought hard in the dying overs to get us up towards 160, and had added a valuable 17 runs when Paul was out with two balls to spare. He was out for 10 when he had a big swing, the ball hit his pad and he set off for a single that Jacko wasn't interested in. The bowler swooped in and executed a direct hit before Paul could get back, and it was apt metaphor on which to end the innings. Jacko 6 not out, Ditton making 153 all out with two balls to spare. Three batsman reaching double figures, and wides the fourth top scorer. However, with the surface receptive and the outfield long consensus was that we were still very much in this, despite the sun steadily drying the pitch out.
To defend 153 we almost certainly needed to have a strong start, but we didn't. To quote Rob we drifted collectively for 20 overs, and cannot afford to do that. It's hard to disagree.
Krish and Jacko did begin with maidens, the former conceding just one from his opening three overs, but we couldn't get the breakthrough. McCann executed a direct hit from midwicket against opener Tilbrook, who was running a quick single to the bowlers end. Various fielders were certain he was short of his ground, and not even running his bat in, but Isleham's specialist umpire disagreed. Tilbrook made the most of his opportunity. Krish strangely switched to around the wicket, then came off having conceded six from four overs. Jacko had bowled three overs before getting some tap, meaning he went for 30 from five overs.
Longy came on from the Pavillion End and didn't have his best spell, too wide and full in the eyes of Paul C from behind the sticks. Tilbrook in particular enjoyed this, meaning our Yorkshireman went for 33 from five overs. It must be said in mitigation though that for a bowlers rhythm only playing once every three weeks or so is surely a bit of a nightmare (not that I'd know that feeling). At the other end Fez had not been able to turn the tide in three overs, so AB had a go, and went for 14 from two sets of six. Tilbrook had reached his fifty with just 76 on the board, and Isleham were 103-0 at drinks from 20 overs.
Remember the Girton home game anyone? We did our best to provide a reenactment, except with the miracle win at the end this time, for Messrs Reeds, Butler and Silcock. They were relaxing on the boundary, much like our own version of the members at Lords, except not dressed quite so formally.
Skip had bowled an over before drinks to get himself going, then after drinks produced an outstanding spell. Clearly the best he has bowled since his knee issues began - fast, hostile, accurate and almost every ball asking questions. Primarily these centred on 'can you keep this straight ball out?' or 'can you avoid nicking this to various catchers' Skip took wickets in his second, fourth and fifth overs, then two in his sixth to suddenly bring this game back to life. The spell was pretty much a force of nature, and even figures of 5-20 from eight overs don't fully do it justice.
Tilbrook was worked by the first ball after drinks for 74, then the number three was bowled for a lengthy duck. 110-2. Fez was on at the other end, and unfortunately conceded three successive boundaries against the new batsman to ease the pressure somewhat. Either side of that he bowled maidens to back up Skip who, as our spectators on the boundary informed us, was literally on fire. The captain bowled another one when backing away to leg, then a plumb lbw made it 129-4. His Michelle was achieved in some style, the number six edging one towards Darren at point, who dived low to his right and took an outstanding one-handed catch inches from the ground. 129-5. We couldn't, could we?
Skip didn't manage a wicket during his last two overs (massive fine for this please Butler), whilst Fez came off with his figures at 7-2-31-0. Reasonable but by his very high standards set across this season not his best. Krish came on to force the issue, and after some initial tap Rob's whisperings from mid-off about bowling fast and straight worked. A wicket maiden with a clean bowled made it 140-6. The other Isleham opener Hurst had battled his way through this chaos at the other end, and looked to be seeing his side home, just about. However, with eight still needed he was out, caught behind off Krish for a battling 47. 147-7 and game on. With Skip bowled out he was replaced by Longy at the Pavilion End. Unfortunately two confident cover drives for four from young batsman Griffin secured victory for a relieved Isleham by three wickets. The huge celebrations are cheers from the away team that greeted those boundaries are a testament to how well we had come back after drinks. Sadly that work was only worth securing us three bowling points, to go with our three from batting earlier. Isleham 155-7 from 34.3 overs, Krish finishing with impressive figures of 7-3-18-2, Ditton with a brave but incomplete comeback.
Defeat again then, and next week we travel to league leaders Bluntisham hoping for a better result.
---
Saturday 8th July
Bluntisham Vs Fen Ditton
Fen Ditton lost to Bluntisham by 30 Runs
Scorecard
AS RESPECTABLE A DEFEAT AS IS POSSIBLE By Michael McCann
Facing the league leaders away with a weakened team was a tough test. As it was, we had about as respectable a defeat as is possible. We acquired nine bonus points, and quite possibly could have got all ten that are available in a defeat.
Once again so many changes it genuinely took me a good five minutes to work them all out. There were six infact, the most I can recall all season. The headlines were that this week we were without four more than handy all-rounders - Longy, George S, Wils and Fez. Not ideal when travelling to the league leaders but with the Fen Ditton committee still frustratingly hesitant on installing central full-time contracts this will continue to happen. Batsman Darren and religious leader of 'Maniism' Mani were also out from the team last week We did have Krish back though, and in also came Craig, Gilo, Marc, Gav, George Colwell.
At Bluntisham we were greeted by nice facilities, hot weather, a flat pitch and a short outfield that meant everybody was desperate to win the toss and bat. AB handed captaincy duties to Marc, who lost the toss, meaning we fielded. Krish bowled an exceptional opening spell, featuring three maidens and consistently troubling opener Austin. Fellow opener Cornwell was incredibly convincing though, climbing into Jacko. A very simple chance was dropped to give the much more defensive Austin a life off Jacko. Thankfully he was out not long afterwards, bowled by AB for 3 from 36 balls - 42-1. Unfortunately Cornwall was still going strong, benefitting from two difficult chances hit at the same fielder not sticking. Dropped catches were to be a theme throughout the afternoon, but thankfully we also caught enough to bowl Bluntisham out. Getting that first wicket out only upped the scoring rate though, as Cornwell was now joined by Fordham, who batted far more aggressively than his predecessor.The pair rapidly added 50 to the total despite the best efforts of AB and Marc, and at 92-1 well before drinks it looked like it could be a very long 40 overs.
Back we came though. 'Golden arm' Marc got the big wicket of Cornwell caught for 67 from just 45 balls, with 54 of those coming in boundaries, including five maximums. Marc went for 34 from his five overs bowling at a difficult time, and picked up an important scalp. That buoyed us, and not long afterwards Rob replacing AB brought us more success. Fordham was caught by Krish off Rob for 42 from 46 balls, a valuable wicket that left Bluntisham 120-3, and suddenly the momentum was with us. Jacko came back on and removed another batsman, caught for a duck, meaning he ended with 1-45 from eight overs. The pattern continued when Rob grabbed his second wicket, yet another caught dismissal. From 92-1 we had Bluntisham 128-5.
Given Bluntisham were league leaders, and had been a senior 3 side last season, we expected they had batting depth and so it proved. Number 6 Richardson played shots all around the wicket, on a pitch that if anything game over-value for shots - edges from Marc were flying for four, for goodness sake. On that front god knows what might have happened had more of our genuine fast bowlers been here. An understandable view was that our attack was well-suited to such conditions through not being as quick (not using the 'taking pace of the ball' cliche as it actually doesn't even makes sense). Back to the match and Bluntisham re-built well, Richardson well supported by Gawthrop, adding 66 for the 6th wicket. Rob bowled his eight overs straight through, hauling in stats of 2-45, featuring a maiden - particularly respectable given by his own admission birthday celebrations on Friday had weakened his powers. At the other end Krish had come back to have another go, but unfortunately got a bit of tap, though his earlier frugality ensured decent figures of 7-3-30-0.
AB came back on and took four more wickets, taking Buntisham from 194-5 to 220 all out and securing himself a Michelle. Gawthrop was bowled for 20, numbers 8 and 9 were caught, and the impressive hitter Richardson was stumped for an aggressive 69 from only 40 balls. One particular highlight was a caught and bowled from AB where Krish could have taken the catch, but as both converged on it AB screamed 'mine' and pouched it - you sense if they collided there would have been only one winner. AB was to finish with 6-0-42-5, figures which tell the story pretty fairly - plenty of wickets, and a bit of tap. At the other end by this point Gavin came on, and he picked up the last wicket of the innings to end with 3.1-0-22-1, Paul C with an excellent stumping. Bluntisham 220 all out in 37.1 overs, if anything below par given the pitch, outfield and conditions. Pleasingly we were disciplined throughout, conceding just four extras, including only two wides and zero no-balls. Marc captained sensibly in terms of fielding placings and bowling changes, and our reward was shaving almost three overs from our stint in the field.
Following tea we set about the chase, but Bluntisham are the league leaders for a reason and unsurprisingly had two threatening openers - a consistent ousting seamer from one end, an absolutely rapid if occasionally erratic youngster from the other. Anyone who legitimately has six outfielders level with or behind square of the wicket tells you plenty, and that was the field for the young chap. It paid dividends when the man at gully caught McCann for 3, a short ball rearing up and flying off the splice. The other opener had Rob caught for 10, leaving us 31-2. If you're wondering where all those extra runs had come from to make us 31-2, well it was exactly that mainly - extras. Plenty of wides and byes from the young fast bowler, and it was a theme which was to continue regularly throughout the innings. Bluntisham conceded 39 extras to our four - every little helps as they say, with extras our second top scorer. 31-2 unfortunately became 37-2 when Craig was leg before for 0, utterly convinced he hadn't edged it, before Rob politely reminded him that an appeal can be for others modes of dismissal.
At 37-3 we looked in real strife but new batsman Giles was the support act in a steadying stand of 47 with AB, who'd returned to his conventional number three spot. AB dominated the scoring in the partnership, continuing the good form show in his fifty last week, this time particularly prolific with the on-drive. AB went for 30, caught behind to what non-striker Gilo described as a peach of a ball shaping across the left-hander - 84-4. Gilo took on the senior role then alongside captain Marc, the pair adding 47 together after the drinks break at quicker than a run-a-ball. Gilo was finding the gaps nicely all around the wicket whilst Marc was operating in his normal regions. Just as things were getting interesting Marc crashed a long hop out towards the midwicket fence. Frustratingly it was head height at the boundary rider though, so he went for a useful, albeit slightly unfulfilled, 22. The wicket came just as you could sense Bluntisham becoming concerned by the situation, and just as we had worked out that we needed eight an over, and that this was still unlikely but very much possible. Gilo kept going at a pace to keep things interesting, but with a first league fifty deservedly within reach he was caught for a well-made 44. A really good innings against both pace and seam that showed his capabilities and range of shots. More of the same please.
At 146-6 realistically the game was realistically now almost certainly about how many bonus points we could get. Saying that nobody had told Krish. No shortage of bat speed and boundaries all over the place to match, with some clean hitting. Gav was following his lead at the other end, and when he crashed the first ball of the penultimate over for four through midwicket we were 187-6. Just 13 more needed from 11 balls for the final batting point, meaning we'd get the maximum ten overall that are possible in defeat. Could we do it? Not quite. Gav swung and missed at a couple then was bowled for a handy 18, before a couple of dots against new batsman George C. Krish was confident he could handle 13 from the last over, but like Gav died by the sword, bowled for 22. Jacko continued his reputation as being a not out bandit by getting a single to leave things to George C, who produced a lovely off-drive for two during the last over. Ditton ending 190-8, and losing honourably by 30 runs.
A loss by 30 runs then, but given circumstances of our situation and the opposition about as good a defeat can get Which is of course still never that good, but you get my point. It does still mean that we've lost six in our last seven, and can hopefully start changing this at our old friends Milton next week. As I type this I've just seen a text presenting strong-looking Ditton teams for the 1st and 2nd XI, which is a good sign. Sadly though the CCA have not changed games to being played on paper though, or on text messages between captains deciding who has the better side. It's a particular shame really, as Skip's prolific form on the texts in terms of quantity, quality and speed of messaging means I'd reckon we'd have two senior league sides!
---
Saturday 15th July
Milton Vs Fen Ditton
Fen Ditton beat Milton by 15 Runs
Scorecard
Milton run streched in narrow victory #StrongUnit #ProperCricket #SpiritOfCricket By Michael McCann
A hard-fought win was achieved at Milton, in a high-quality game truly played in the right spirit. It showed why club cricketers relish that Saturday league match just a bit more. Victory continues strong form against our friendly local motorway-neighbours, after doing the double in 2015 and 2016. #20Points #BOOM #MoreFunToWriteAboutAWin
Once again Ben E King was turning in his grave, as rather than 'stand by me' Ditton kept ringing the changes so often that the bell was broken weeks ago. Sweepstake on the number? Four this time, about average. We welcomed back all-rounders Wils and Fez, batsman Darren and bowler Wayne. Out went Craig to be a key bowling all-rounder for the seconds, and abuse Grand #ThreeCovers #DickieBird #DoesHeKnowTheRules Gilmour. Gav and Marc were unavailable, and those who can do basic maths will realise that leaves one unaccounted for. Krish pulled out on the day of the game and George C came up from the seconds to replace him. That was one-third was part of a three-part dilemma Skip received on Saturday morning. One player pulled out, Krish, one player hoped to leave early, AB, and one player was without a lift to the ground. Anyone wondering why I've missed the name of that last player off is clearly new around here, because it's obviously Fez. His timekeeping is now so notorious that upon arriving with AB our West Indian was greeted with opposition shocked to see him at an away ground by 1pm. #WhoWouldBeACaptain #HowDoYouSolveAProblemLikeFez
Skip had been warned a day in advance about the pitch he found at the toss. His opposite number Drummond had apologised for the wicket being as green as the A14 Milton and A32 Beckton motorway exits are smelly. Whilst at Ditton on Saturday morning Gilo and McCann had charged around to find H and get the cover on to protect the pitch for the seconds game, Milton similarly kept their surface dry from the heavy showers. Thus whilst being noticeably green the pitch still had largely reasonable carry, and played better than it looked. Skip lost the toss, and predictably having apologised for the surface being so green Milton were in no rush to bat on it #ThanksForThatSkip. In defence of Skip he was once showing great commitment in executing his classic on-holiday-at-centre-parcs-for-the-weekend-yet-somehow-still-playing-Saturday-cricket. You can picture the scene: "Shelley, Amber, Jess, go for a walk, eat a long lunch, have a swim, use the outdoors and indoors, I'll be back in ten hours or so". I assume that question on Twitter about if Thetford Centre Parcs still had the snooker table wasn't on their behalf Skip? ;) Thankfully his disappointment that said tables had been removed was channelled into helping us win today. #AbsolutelyFuming #SnookerTableGate #CentreParcs
Ditton were greeted by challenging fast bowling from both ends, and cold weather, factors which combined with the deck to make it feel like a County Championship game in April. Seb was particularly quick whilst Drummond swung the ball in, but with some deliveries hitting the pitch and carrying straight on. We saw plenty of that trademark appreciative nod Rob does at a bowler after keeping out a good ball, or it passing his outside edge. We also saw a few of his trademark shots, and, buoyed by a five from overthrows, Rob reached 17 when he was caught at mid-on off Drummond mistiming one. We then saw the final part of the Rob Holy Trinity, his trademark ability to get out then be umpiring as quick as a flash. #TwoUmpiringStintsDone #Respect #ClassicRob
McCann was joined by the AB and they survived the sandstorm of the opening bowlers five-over spells - 30-1. McCann was benefitting from his horrific shoes, which are now more tape than shoe, being replaced by using Fez's spikes. Fez has two pairs, you see, one spiked and one non-spiked as he doesn't like batting in spikes. Two reasonable spinners replaced the seamers, the field went pretty defensive and both batsman were finding the gaps. That continued until McCann was LBW for 19 trying to keep out one from the left-arm darter that genuinely 'was a shooter' according to standing umpire Smith. After #GoodNutGate, which showed that whilst most claim they don't admit to reading these reports clearly some actually do, editorial policy has changed to let quotes speak for themselves. Are these reports like attending Alcoholics Anonymous - admitting to reading them is a highly-embarrassing taboo? Anyone seeking information or a complaint about this dismissal description can, anonymously if they wish, contact website editor H or primary witness Robert Smith. #PIJacksonWillBeInTouch #NoNotJackoTheLouderJackson #GetLBWGetShamed #KeyboardWarrior
Fez went for just six, chopping on against the off-spinner when early onto his cut shot. AB was then joined by Skip, and they took us to drinks on 72-3, which given the pitch and bowling wasn't that bad. AB in particular was finding the singles nicely to the deep-set field, but went for a well-made 39. He flashed an edge to first slip off medium-pacer Day, whose cutters had been getting plenty of assistance from the surface. Skip had been getting himself in, then alongside Gilo took the senior role, and typical aggressive hitting helped us reach 128-4 from 29 overs. #SetForACharge #AttackAttackAttack #
Hopes of a large surge were dented when Skip was bowled by a spinner for 39 when trying a pre-meditated sweep on one knee. Darren was bowled just four by Day and Milton were understandably enthusiastic about having us 150 all out. At 138-6 with just six overs left that was a danger, but buoyed by another morning net Gilo was looking solid. Supported by Wayne they added 28 for the seventh wicket, keeping the snazzy electronic scoreboard ticking with important and aggressive running between the wickets #EveryLittleHelps #AsOneLocalStoreWouldSay. By the point the opening bowlers had returned, and Wayne was bowled by Drummond for four. 162-6 had become 162-9, as Giles was unfortunate to be run out by a direct hit for a really handy 17, putting Milton onto a team hat-trick. The ninth wicket came as George C was run out by his father Paul when backing up #SoldDownTheRiver. We still had seven balls to spare, so Jacko found a single to immediately get off the mark. The final over saw him find four from the edge, then ran brilliantly with Paul to claim three from a chip over cover from the final ball. Jacko eight not out, Paul C unbeaten and apologetic to George on arrival back in the Pavillion. #NotCalledTheEdgeForNothing #NotOutBandit #RedInker
Ditton ending with 171-9, the feeling being that was certainly competitive, the momentum was with us having been put in. 99 from the second twenty overs in the innings was a decent haul. A decent tea was much-enjoyed, the sandwich flavours particularly to McCann's liking, with his ability to eat copiously spotted by opposition skipper Drummond #What'sTheFoodVersionOfSmallManSyndrome? #TeaTime #Tesco'sFinestBread #HighlightOfTheDay
Back on the field and Milton sent out Stoehr and the dangerous Conlon, who showed early intent with a pulled six off Fez. Our West Indian bowled a bit too short in much of his opening spell due to an issue with his release point. He threatened though, with a chance missed at backward point before importantly getting Conlon with a 'pitch up, nick off' caught behind dismissal to finish with 1-20 from four overs. At the other end Wayne was steady, conceding 16 from his four. Top-run scorer Newton was, thankfully for us, away this weekend, but Stoehr and new batsman Race kept building. On came AB, who thanks to us fielding second had abandoned leaving early, leaving him sleeping in the shed for the next week #InTheDogHouse #CheersForWinningTheTossSkip. Thankfully his bowling and batting were proving far better than his judgement about Skip calling correctly. At the other end Skip was probing away and doing seemingly all but taking a wicket, but for a time Milton played both well, ticking along to 67-1 from 15 overs. #WicketsInHand #UpAgainstIt #GameOn
With drinks approaching AB bowled Race and we started to build pressure and edge the required run rate up. Skip had gone for just 18 from his six overs to keep Milton honest. 83-2 at the halfway mark left us in the game but needing a spell of pressure, and after drinks that's exactly what we managed. AB went for only 12 runs from his final overs to finished with 1-32 from his allocation. At the other end Fez had replaced Skip, and with the help of the Fez Whisperer to adjust his length from earlier, bowled a brilliant second spell. He started with two maidens in succession, then an over that went for two, a shot somehow guided through three fielders behind point. Fez finished in style with a wicket maiden, a slow off-break blocked, but then a full-pace off-break immediately afterwards coming in significantly to shatter the stumps. Seputac had faced (and largely dotted) the entire excellent spell, then departed with a ball of it spare. Fez ended with 8-2-24-2, another great effort from our best bowler this season, now could we keep the pressure on? #TheHeatIsOn #WePutTheFInFen #StopItFezzington
Yes, we emphatically could turn it into a blast furnace. A certain MJ said 'If you want to make the world a better place take a look at yourself, and then make a change'. This was the first time I can remember not seeing our MJ open the bowling, purely for tactical reasons, and it worked a treat. Whilst he replaced AB, Wayne changed ends and came on for Fez. With our bowling and fielding as impressive in this spell as all season, Milton were punch-drunk and staggered onto 113-4 from 34 overs. So in the post-drinks spell they managed 30-2 in 14 overs, meaning we were firmly in the driving seat. Opener Stoehr was dropped twice in two balls off Jacko's bowling, but our 4th wicket came when Milton's number five chipped MJ to Rob at mid-off. Jacko went for just 14 from his first five overs and alongside Wayne we had the box seat. #MomentumShift #TeamworkMakesTheDreamwork #BlastFurnace
With six overs Milton needed 58, almost ten an over, and Stoehr had been joined by big hitter Seb. Given the new batsman had recently hit an 18-ball fifty we knew the game was still very much on. Seb had come out like a cut snake, Jacko conceding 13 from what was to be his final over. Wayne was doing a great job of keeping a lid on things, also executing a brilliant direct hit run out to remove Seb. With the ball he went for just 13 from his second four-over spell, with 0-29 from his allocation very respectable. Fours over left and 37 runs to win. Rob came on for Jacko and two brilliant overs of medium pace, with a defensive field, brought eight runs and six dot balls. At the other end Skip went for 14 when returning for his final two, and claiming opener Stoehr caught behind after making his fifty. That left nice symmetry between the two Adam's, Brown and Wilson, both scoring 39 and taking 1-32. Ditton delighted to win through a real team effort, with the bowler well supported in the field. Milton ending on 156-7, 15 runs short, containing our record of edging well-spirited and close games against them. #SpiritOfCricket #FindAWaytoWin #WinnersAreGrinners
This win avoids what could have been a seventh defeat in our last eight. What's more Littleport defaulting from the league means that loss doesn't technically count anymore #ClutchingAtStraws. Victory at Milton is a second in our last four games and shows what we are capable of. Unfortunately Littleport at home next week now doesn't exist, so Isleham away is up next in a fortnight. When that match eventually comes we'll be buoyed by our success here in an enjoyable and high-quality game. #StrongUnit #ProperCricket #Momentum
As a post-script it was good to see us having a weekend of success at Milton courtesy of Sunday's annual T20 tournament. We had incredibly strong representation through both the official FDCC side and a CCHC team full of Ditton players too. Both teams made it to the final, and by the sounds of it made a big overall contribution to the day in a cricket and entertainment sense Great to see all our new and old players representing the club so positively. #SundayFunday #Bandits #WePutTheDInDitton
PS For those who've spotted the reference about end-of-paragraph sentences finishing with three hashtags, I salute your taste in highly intellectual post-watershed televisual programming. #ClassyTV #ITV2 #TrashTV
---
Saturday 29th July
Isleham Vs Fen Ditton
Fen Ditton lost to Isleham by 141 Runs
Scorecard
Michael says he is too busy to write one. Here is a short synopsis. AB
Isleham is a nice place to play cricket, with a spacious modern pavilion and a sideways sloping pitch with short straight boundaries and a quick outfield. The forecast was for heavy rain at 5pm, and so we were bemused when our suggestion to reduce the game to 30 overs was turned down. Paul won the toss and chose to field first. We did just about have 11 fielders at the outset, albeit one of them was 7 1/2 months old and in a pram, as AB (moderately) successfully multitasked between parenting and boundary fielding. Fez eventually turned up after 8 overs, having driven over straight from work.
Meanwhile, Isleham had found themselves pegged back after an aggressive start. Openers Krish and Jacko bowled their overs straight through, Krish with one wicket, and Jacko bowling well to deservedly pick up a pair. Rob (today's designated on-field captain) then gave first Sam and then George C a go from the carpark end, and Isleham looked to accelerate, hitting several sixes. George C with one wicket. AB, now relieved from bottle-feeding, was tidy at the other end, and bowled his 8 overs through for just 21 runs, with two wickets, both sharp catches in the infield.
Fez and Rob finished things off and took the brunt of some aggressive blows. 201-8 felt about par, given the flatness of the pitch. However, it all felt somewhat irrelevant, given the grey clouds that were now enveloping the ground. Surely we would never finish the game?
Rob decided to mix up the batting order, promoting Darren to open with Michael and Fez to 3. It didn't work. Darren called for a tight single, only to make it to the bowler's end to find Michael still leaning on his bat. Michael then nicked off and Fez followed soon after. AB joined Rob in the middle. "Only 190 to get" they quipped as the first spots of rain started falling. AB then stood aghast as Rob, Krish and then Phil all perished in the space of 8 balls. He was joined by George at the crease with the electronic scoreboard visible through the gloom reading 20-6. "If we bat out 10 more overs, we should escape with a draw" AB encouraged George. 8 abstemious overs later, AB was eventually tempted by a wide long-hop and sliced it straight and hard to third man. By the time he had his pads off, George and Sam had joined him back in the pavilion. 29-9. It was now both dark and raining heavily - so heavily that the game probably should have been abandoned then and there. The bowlers began to lose control of the ball and several wides and byes went past the keeper as pretty much no-one could see the ball at all. Several chances went up into the air, but no fielder could gain the necessary purchase to take the catch. Still, we soldiered on, farcically, now completely soaked through, but determined that Isleham should gain the 20 points we felt they deserved, until eventually a ball hit the pad that was vaguely straight, the umpire took pity on us, and we all went down the pub.
---
Saturday 5th August
Terrington St Clement Vs Fen Ditton
Fen Ditton lost to Terrington by 8 Wkts
Scorecard
A Grand Day Out
Wallace and Gromit travelled to the moon on their day out to discover it was made of cheese. Ours was to a corner of Norfolk just the 53 miles from Ditton. Terrington St Clement sounds like a village in Midsomer, eyecatching church - check, pretty cottages - nope, delightful cricket ground with thatched roof pavilion - nada. Straight up the A10 to the big Kings Lynn roundabout where a Sainsbury has replaced the Birds Eye factory, turn left onto the A47, then the A17. Simple. It had been a frought week for the Ditton selectors as selection was reduced to "If you're prepared to go, you're in the team". Thirty, yes thirty players unavailable this weekend so just ten pilgrims travelled to be met with rain but, thankfully, covers so we would at least play some sort of game once the showers passed. We were also met with a uniquely shaped ground. Straight boundaries were only a sand wedge away but a three wood required square of the wicket. Imagine Ditton rec last summer when we tried to get the grass cuttings off the outfield but make those cuttings very wet and you have a picture of the outfield. The cricket ground is seperated from the changing facilities by a football pitch and the footballers got there before us, so we had to change 'Al Fresco' by our cars. Back to the Ditton ten - Skip, Krish, Jacko and Wayne are first teamers but the others had been cajoled out of the seconds, along with Waynes mate Steve who very generously made the trip to help out. This intro is as long winded as our regular correspondent would write for good reason. . .
The late start meant an agreement on a thirty over match (along with our desire to get home before dark). Our only hope was that Skip would win the toss and bowl. As you'll see, our batting tail began a bit early but plenty of bowling. Ironic laughter could mean just one thing. You ask him to do one thing. Honestly!
Jacko volunteered to open after top scoring with 9* last week, with Skip. 14-0 and only the shivering, whimpering dogs tethered to a fence nearby were giving cause for concern. Until. Skip bowled by a double bouncer, Jacko edged to the 'keeper, Himesha caught at square leg, Steve and Krish both bowled. H and George came together at 19-5. The pair then had a dig in until George was run out, neither backing up or running his bat in. A brave innings nonetheless. Wayne was caught and it was H and Simon who got us to a second bonus point on reaching 80. Skip told H to have a swing to try to get 100+. A slogged six was soon followed by a plumb LBW. Some stubborn defence and a few crisp leg side shots in 47 for H. Anthony joined his son and soon saw Simon bowled. A not out for Anthony who said he couldn't understand how we'd all got out in single figures (apart from H). Thanks mate!. 97 was quite obviously not nearly enough.
A suicidal run out with Wayne throwing down the stumps after fielding off his own bowling meant we were halfway to a bowling point. That was sealed when Skip got his slower off cutter bang on target, deceiving the batsman who left a big gate for it to hit middle peg. Simon bowled very well, his four overs costing just 15 but it was just going through the motions until TSC hit the winning runs in the 17th over.
The trip home seemed quicker and we were in the Kings Head by 7:30 where the Chairman bought us a drink and was very sympathetic. We'd racked up more miles than runs and 'gained' 3 points. A Grand Day Out indeed.
---
Saturday 12th August
Fen Ditton Vs Bluntisham
Fen Ditton beat Bluntisham by 118 Runs
Scorecard
Report from AB
A spot of calculator-tapping during the week had revealed that we had to win 1 of our last 4 games to guarantee safety. However given our fluctuating form this was by no means guaranteed, and we were determined to try and get our "1 win" earlier rather than later.
Bluntisham were the visitors to the rec, and were met with a strong FD team fully intent on gaining 20 points. Skip won the toss on a day when we weren't certain what to do anyway- the green, patchy, pitch didn't look particularly inviting but local knowledge (read bitter experience) suggested it was unlikely to get any better as the match progressed. So, to our opposition's surprise, we chose to bat.
As predicted, the pitch played nicely for the first 20 overs, as Rob (87, scoring almost entirely through his two favourite scoring areas, with which regular readers will be familiar) and Craig (32, playing his first innings of real substance for the 1st XI) made batting look easier than any other player from that point on as they took us to 95-2 at drinks. Skip struggled with his timing early on, but his 42* steered us to 203-5, and, especially given the increasingly erratic bounce*, FD went to tea the more confident group.
After an early wicket for Krish, an aggressive partnership briefly flourished, with Krish, Longy and Jacko all receiving some treatment as the number 3 peppered the midwicket boundary. Bluntisham reached 63-1 off 15 overs. Stay patient, stay patient, Rob urged, and wickets will come. He was right: 3 wickets in as many overs then effectively sealed the game with Longy picking up two clean bowled, and AB taking a screamer of a diving, one-handed catch for a caught-and-bowled. Another wicket for AB, and it was left to Skip to mow down the tail with a cheeky 4-6. Two of the balls, nipping back from outside off and keeping low, would have done for most batsmen in the CCA. The final wicket came with a run-out from Ralph, who also took a catch, Bluntisham had lost 9 for 22 to subside to 85 all out, and Ditton will once again be playing in Junior 1 North next year.
*Of 15 wickets to fall, 11 were bowled, which tells you all you need to know about the height of the bounce.
---
Saturday 19th August
Fen Ditton Vs Milton
Fen Ditton beat Milton by 8 Runs
Scorecard
Another report from AB
In retrospect, this was one of the best, closest and most enjoyable victories in recent memory. Without the skipper and leading run-scorer Rob, we were put into bat on a green, damp Ditton pitch that offered both variable bounce and plenty of lateral movement for both fast bowlers and slow bowlers alike.
Giles hit a nice boundary before getting a ball that kept low and jagged back from outside off to hit leg stump. AB then joined Craig and both batsmen worked hard to battle the storm. AB hit a big 6 over Byron's boundary before falling in comical fashion for 22, chasing a leg side wide and catching it with the back of his bat, only to see it loop to the keeper. Darren joined Craig and things were hard going, as Ditton reached 65-2 at drinks. Craig fell lbw (no complaints were heard) for a hard-earned 23, and Fez followed soon after, hitting a nipple-high full toss straight down long leg's throat. Why it wasn't called a no ball, we don't know. At 90-5, things could have gone downhill rapidly, but whilst we kept losing wickets, we managed to keep finding the boundary often enough that we never stagnated. George and Krish both hit 6's before being bowled, and Wayne joined Darren for an important 20 run partnership between the 35rd and 39th over. Wayne was caught with 5 balls left in the innings, leading to Max's first bat for the adult team. A single from Darren, and he was on strike. The bowler, Drummond, asked the umpire AB if he was ok to bowl at his usual (quick) pace. AB replied that it was a league game so he should bowl as he usually would. Th fielders moved into catching positions, the ball was short, the batsman rocked back, and pulled it hard for 4. A single off the next ball, and Max would finish 5*. Darren was bowled going for a big hit off the last ball to finish on 42, and it is he who takes most credit for a patient innings that held the Ditton innings together. 153-9, which we felt was defendable, if we bowled well.
Which we did. AB chose Fez and Jacko to open the bowling, and both started tightly. Miton made it to 38-1 off the first ten, Fez taking the wicket. Jacko wasn't "feeling it" so was replaced by Krish at the Playground End, which seemed to suit him. A tight spell of 1-16 off 6 overs followed, the wicket a thin edge to the keeper. At the other end, Wayne bowled an equally tight spell, 1-26 off 6 overs. A key moment however, as on the ball before drinks, opener Stoehl, who has reached 42, tried to lift George over the head of Max at midwicket. A misjudged shot, and a good overhead catch by the youngster. Milton were 78-4 at drinks, and Ditton were right in the mix.
In a quick huddle, AB identified the next 10 overs as crucial to the outcome. Our tactic was to try to rush through ten overs as quickly and quietly as possible. George bowled a match-changing spell, 2-22 off 8 overs straight through, bowled quickly off a short run up and aimed into the block-hole. He added the crucial wicket of Conlon, hit on the boot for lbw. At the pavilion end, AB also bowled his 8 overs straight through, picking up 3 wickets, two bowled, the second of which was a real ripper that spun back from outside off, and a lightning-fast stumping from Darren, who was exemplary behind the stumps. Milton had scored just 22-3 in the 10 overs since drinks, and were now struggling at 100-7 off 30 overs.
Milton now staged a fightback, led by their skipper Drummond and Coston, who, realising that 54 were needed off 60 balls, started running more aggressively. A few misfields, and AB was forced to read the riot act to a few boundary fielders who overran the ball and gave away needless additional runs. The equation for Milton was now 14 off 18, and AB brought every fielder in on the single, with the returning Krish and Fez charged with death bowling duties. The 38th over, bowled by Krish, was a wicket maiden, and the 39th, bowled by Fez, gave away just four singles. 10 off 6 required. The final over, bowled by Krish, was similarly effective as a sequence of dot dot dot run-out sealed the game for Ditton. Milton, understandably, were pretty gutted, but the Ditton fielders walked off the pitch with a real sense of a job well done. A really good game against a friendly, sporting and high quality side, who it was great to have a drink with in the Kings Head after the game.
---
Saturday 26th August
Sutton Vs Fen Ditton
Fen Ditton beat Sutton by 36 Runs
Scorecard
Report from SKIP
The 1st XI travelled to Sutton looking to do the double over them in what has been and up and down season. Coming into the game on the back of 2 wins, confidence was high and we were greeted by sunshine and a pitch with very short boundaries. Skip kept with tradition and lost the toss and Ditton were asked to bat first. Rob and Craig opened and found it tough going due to some good bowling and the pitch doing a bit both sideways and up and down. The score had reached 38 when Craig smashed a ball towards the cover boundary but was unlucky to find 'in his own words' Johnty Rhodes who took a fantastic one handed catch. The next 16 overs saw Ditton do what they do best and find the strangest ways of getting out to find ourselves 91-8 from 28 overs. Its fair to say Rob was triggered LBW for 26 by Fowler, AB then managed to get bowled with a ball that hit both pads before trickling onto the stumps. Skip was done by a ball that pitched half way down and rolled onto middle stump. Gilo run out for 0 followed by Kirsh bowled first ball and then saw Darren run out from a direct hit from the boundary. Ian played patiently until his eyes lit up and tried to hit the spinner back to Fen Ditton and was bowled. Wayne & Fowler then put on 17 runs for the 9th wicket by just playing sensibly and taking ones & twos. Wayne departed for 11 but Fowler & Jacko put on another 15 runs in the last couple of overs to take us to 123-9 and 3 bonus batting points, well that's what we thought.
If we were honest at tea we thought the game was over and it was going to be a matter of how many overs it took Sutton to knock them off. It was great to see at tea all 11 players round a table and just relax and enjoy themselves for 30 odd minutes before they realised the batsman were padded up and we best go and field.
Ditton know that the Sutton openers are decent batsman but if we got them both early then Sutton nerves might just come into play as they needed to win to keep their title chances alive. Skip choose to open with Krish and AB. Although they didn't bowl badly, Sutton were 28-0 off the first 6. What came next was maybe the best bowling partnership this season which saw both Wayne and Skip bowl their 8 overs straight through and between them returned figures of 16-8-26-9. Wayne's first over was a wicket maiden thanks to a great catch from Darren standing up. Skip came on at the other end and started with a double wicket maiden, both openers now gone and suddenly it was 28-3 and we might just have a slim chance. 5 overs later and believe it or not the score was now 28-6, Sutton had lost 6 wickets for no runs. Now surely from nowhere we were favorites. Both bowlers finished their spells and the score was now 54-9 Wayne 8-4-12-4 & Skip 8-4-14-5. Skip's 5 wickets taking him past 300 wickets for the club. With Wayne and Skip bowled out, Krish and AB returned and kept it very tight but we just couldn't seem to take the last wicket. 30 overs down and Sutton had crept to 80-9, Ditton knowing the game wasn't over tried to keep their patience. AB bowled out and was unlucky to go wicketless with 8-3-17-0. Rob came on with hope that his golden arm would find that last wicket. In his 3rd over he was launched for a big 6 and suddenly Sutton had belief. The batsman tried the same thing again 2 balls later down to long off and it was sailing for 6 over Skips head until he jumped up and plucked it one handed out of the air (lucky that he is 6ft 2). Ditton had the win they thoroughly deserved from their performance in the field. The fielding was the best this season with special mention to Rob for his 3 catches and Darren behind the stumps who was as sharp as ever.
5th place now secured and Ditton go into the final match of the season next week at home to Granta. Results this weekend have put Granta bottom of the league so they have all to play for against a Ditton side full of confidence and now on the back of 3 straight wins.
---
Saturday 2nd September
Fen Ditton Vs Granta III
Fen Ditton beat Granta III by 2 Wkts
Scorecard
FINISH ON A HIGH By Michael McCann
A fourth straight win and a good social showing afterwards rounded off another season nicely.
On a sunny day but with a slightly green pitch Skip lost the toss and Granta III, needing four points to ensure survival, chose to bat. Given this desire for survival and that Granta II had been forfeited against, plus hearing some unsubtle calls asking for reinforcements, we were intelligently cynical about who exactly we'd be facing. What was for certain was that Ditton had the an incredibly strong bowling attack available, featuring seven options.
Granta started steadily enough, but tight bowling and fielding from Ditton meant the run rate was never anything concerning. Jacko was as miserly as normal, bowling through his eight overs for just 20 from the Jackson End, including a maiden. His bowling led to the opening wicket, as it was an attempted quick single that caused one of the openers to pull his muscle and retire hurt. When a hundred years old you reach, bowl as well as Mark Jackson, you will certainly not. At the other end Krish pulled in decent figures of 5-2-15-0, and has more maidens (23) than anyone in our division. After 16 overs Granta were going solidly in reaching 50-1, but probably wouldn't have banked on the strength in depth of what was to come in the Ditton bowling ranks. It had felt like day one of a County Championship match - proper cricket, aside from a forcefield causing a certain diminutive slip fielder Jackson (not Mark) to dive over three deliveries. This was clearly due to dark forces acting by putting the ball tantalisingly out of the reach, not deliberately done to ensure others had to chase after the ball. To channel my inner Rafa Benitez, it is a fact this person was eventually replaced in the cordon.
At the Pavillion End Krish was replaced by Longy, desperate to end the season on a high. I say end the season, but for him it felt like a third-of-the-season mark, having played one game in every three due to daddy duties. Our very own Waqar Younis came home with 7-1-27-2, the first bowled with a perfect in swinger that hit the top of the middle. Fans of the Adam Long wicket dance got to see it again when Felix Serby pulled him to fine leg, where Jacko took a good head-height catch that was travelling fast. Both wickets came in the over, and started a steady collapse throughout the rest of the innings on a tricky pitch, that was keeping a bit slow and low.
George S had replaced Jacko, and figures of 6-0-27-1 were incredibly harsh for our gun fast bowler/spin bowler/six hitter, who today felt like bowling gas. George found the edge of Turner's bat twice but uncharacteristically Paul C couldn't cling on either time, with our blond-haired bombshell thankfully eventfully getting himself a deserved wicket. That victim wasn't Turner though, who after his two lives went 'six and out' to our second change bowler. This guy, a certain A. Wilson, was I'd assume comfortably the quickest second change bowler Junior 1 has seen for a while. He pulled in 5.3-1-15-4 to go with a Michelle last week at Sutton, sweeping up the Rabjohns wickets with aplomb. Yorkshire call Adil Rashid 'the hoover' for his ability to finish an innings off, and Skip's accurate medium pace does that similarly effectively. I say accurate medium pace because after this performance he was rightly collared by Director of Cricket Mr Smith, who asked Wilson to 'put his back into it a bit more' and 'get some pace on the ball'. For those who don't speak the language of sarcastic club cricketers (batsman), that translates loosely as 'well bowled, you've been particularly rapid recently, I'm quite glad to play on the same team as you but I'll be avoiding your net in pre-season'.
Back to our-game and four wickets from Skip helped us continue to move through Granta, who fell from 50-1 to 113 all out. H predicted that McCann's unusual presence in the ring, rather than the boundary, would bring him a pretty simple catch, and so it proved, taking one at point. Skip meanwhile ends the season with 27 wickets at 9.59, with a scalp every 14.93 balls, leaving him the second-highest wicket-taker in this league. Not bad, though as Rob says, what could that be with a bit more pace? Nine wickets in his last two games ensured Skip finished above a certain Fessil Jack as our leading wicket-taker. Both were, due to our range of options relegated to second change and like Skip, Fez didn't disappoint in his new role, with 3-1-6-1 to end with 20 wickets this season. Our specialist death bowler helped finish things off, though it was Skip who did the final rights with two wickets in two balls. This included the option batsman who, after retiring hurt earlier, bravely walked out with a runner when in visible discomfort to try and help Granta reach a third batting bonus point. He was bowled to leave Granta 113 all out in 34.3 overs, seven runs short of the third bonus point.
A lovely tea followed, and it was nice to hear multiple Granta players say they particularly look forward to a Ditton tea, such is the reputation Cheryl Page now commands in CCA circles.
Craig was all set to open the batting as Pingu, with, as the picture proves, a ridiculous penguin hat on to continue and end-of-season tradition that had started.…this season.
Rob was having none of it so Craig reluctantly dispensed with the hat. The pair added 68 for the first wicket, Rob scoring 51 of them in a boundary-filled innings. Ten fours and a straight six for Smith, who was, bizarrely given the circumstances, getting extensive and aggressive 'chat' from Granta questioning his technique. When you look at the dark side you must be careful, for the dark side looks back. The fact #BenitezAgain is Rob ends the season with 569 runs at 71.13 including two hundreds, leaving him in the top five run-scorers in the division. That looks pretty good to me. Rob made 51 when he clipped one to deep mid-wicket, though due to confusion from scorers Long and Hayward his fifty was never clapped. Craig, still reeling from his recent expedition to London to watch rain all day after being cunningly pranked by McCann, was caught for 10.
Ditton had been 68-0, but the collapse continued when Hayward and Skip fell for 4 and 0 in the same over, both caught off the spinner. Our captain got a vocal send-off that came out of nowhere, maybe Granta had decided to just go for our best players as an inverse sign of respect? McCann was joined by Fez, but went just after drinks for 3 when picking a ball that was too full to sweep. Long was LBW for a duck, but thankfully Fez and George edged us closer with some calculated aggression. Just as we thought we might be out of the woods Fez was unnecessarily run out for 17, seeking a two that didn't exist. With the target down to single figures out came Krish, whose six ducks from twelve innings had secured him the Duck Trophy already. Understandably Ditton supporters were nervous, but they'd infact be treated to another Krish classic for the third time this season - the six and out in the same over. After a ferocious six over mid-on, Krish was caught early onto the ball (like most batsman that day) when trying to repeat the shot. He went for 7, leaving George S to finish things off with a boundary, taking him to a classically-Silcock unbeaten 12 - all in fours. Paul C got his red inker with 0 not out, and Jacko was a relieved man having been rushing to pad up.
Ditton edging to 114-8 in 26.3 overs, claiming a two-wicket win, with Granta apparently staying up. I say apparently because even with the six points from this game the table still has them behind Burwell. At the other end Girton deservedly went up, which only seemed fair given they lost just twice, whilst rivals Isleham, Sutton and Bluntisham all suffered five defeats. Below those four promotion contenders was were Ditton ended, 5th, bang in the middle of the nine left after Littleport withdrew.
Our third season back in Junior 1 was defined by our inconsistency, and due to that was our first without a winning record. Player availability contributed a slump of six losses in seven, but as someone once said in a dark place we found ourselves. Thus a little more knowledge lit our way home, recovering admirably to end with four successive wins. Rob joked before the Granta game that this variety is the beauty of Ditton, and it was on display once again. We ended with eight wins and eight losses, or 9-9 if you include the Littleport fixtures. This included losing to Terrington, Burwell and Littleport, three of the bottom four, but then doing the double over promotion contenders Sutton, and once again beating Milton twice too.
Most importantly though was what came after the game: a Ditton cricketer must have the deepest commitment, the most serious mind, and the desire to truly partake in the social side of the game. With McCann/Rob offski soon approximately 15 of us headed out for what was a really enjoyable night on 'the sauce' at Calvary's Brewery and then other establishments. Joe Reeds, Chairman and Joe's housemate joined the XI for a night of merriment. A bumper podcast saw the two leavers interviewed and everyone summarise the season in three words (including Joe's understandably bewildered housemate). Then, Olympic torch style, the podcast reigns were handed over from McCann to Jackson. Craig hosted an episode earlier this season and now, 'must unleash what he has learned'. Which, this season, is probably don't drive to London as much as anything else. Changes in the media department then, with a new podcast host, and from next season a new designated scribe for 1st XI match reports.
After nine seasons, and 45 consecutive league matches for the 1sts, ended by 'The/Ze Bunker (as Rob/Craig christened it)', it has been an absolute pleasure. Thanks to everyone for the friends and memories made, but a poor season with the bat left me no choice but to find a move to the one place in the world where the wickets might, literally, be roads. I'll be reading/listening from afar next season and hopefully able to get back for a game or three at some point. Meanwhile we still have the end-of-season dinner and no-doubt lively podcast to come, which will no doubt be a cracker way to conclude things. Thanks for reading - 2017 season, and MM, out.
PS - 10 Fen Ditton CC brownie points for anything who can spot (without cheating) whose quotes are sowed into the fabric of this patchwork quilt.