---
Season 2016 Match Reports

Saturday 6th August
Thriplow IV Vs Fen Ditton II
Fen Ditton beat Thriplow IV by 244 Runs
SCORECARD
A Game of Firsts by Phil Gardner
After the strong performance of last week, the 2nds went off on their travels and visited Thriplow IVís at their picturesque Newton ground. Initial discussions centred upon a tree positioned strategically within the outfield. Debates were had as to who would be the first to hit it (and get 4 runs); in fact no-one did in the whole of the match. More importantly Tom noted the strength of the sun and firmly asserted that he would field under the tree and hence enjoy any shade it would provide.
As it happened we lost the toss and were put into bat so any immediate benefit of such a strategy was lost. We also noted the relative youth of the opposition, certainly it is the first time we have played a side this season with more juniors than ourselves.
A solid opening partnership was formed by Sameer and Gav who played sensibly against some accurate youthful bowling. It was pleasing to see our opposition give their juniors a chance and bearing in mind what was to ensue, their attitude and application could not be faulted.
When we were beginning to consider our first 100 partnership for our opening pair, Sameer managed to get himself out. Gav was joined at the crease by H but just as the pair settled, Gav was caught off a top edge having looked set for a solid half century.
H was joined by Tom who was clearly playing with a fair degree of confidence following his solid knock the previous week. The two batsmen settled in and runs started to come more easily, 150 was passed and then 200. The more senior members of the team moved to view the proceedings more closely and joined Mani under a tree adjacent to the boundary to get out of the sun!
Sam and Amelia had been left to do the book and a good job they did to) though 50ís for both H and Tom failed to get acknowledged in the traditional manner. Runs continued to flow, debates were had as to what total we might achieve and then realisation that H might be close to his century.
A broad round of applause came from the Group when his hundred was confirmed; the first for the 2nds. Tom and H continued to punish the bowling and on the first ball of the last over we reached 300. It was at this time that H decided that he was not going to run anymore and Tom decided that an even score of 300 was a jolly good number. The remaining 5 balls were dots leaving us at 300 for 2. Tom contributed a fine 82 not out whilst H with 114 not out is the biggest score from a 2nds batsman to date.
After an enjoyable tea we proceeded to the field with the luxury of having a total of 300 to defend. Gav and Mick started and both bowled tightly. Mick picked up a couple of quick wickets while Gav was unlucky on several occasions. The first rotation saw Amelia and Sam come on. Amelia continued here excellent bowling of the proceeding week and was unlucky not to be rewarded.
Sam also picked up from where he had left off the previous week. It was then that the opposition batsman decided to take him on, only for Sam to take a great caught and bowled from a ball that would have no doubt reached the boundary and beyond had he not got in the way!
It was at this stage that your correspondent was introduced into the proceedings. Following the fine line and length demonstrated by Sam, my rather loose opener presented the batsman with an opportunity to have a go, however Mani saved the day and took a good catch.
Out came the young opening bowler for Thriplow, a left hander. I decided to try and just bowl a straight ball, rather surprisingly it moved across him and removed the bail from his off stump. Probably the best ball I have bowled in my career to date?
So we moved onto a potential hat-trick ball; short and outside off stump was never going to be good enough. The opposition by now had decided that there best option was to try and remain at the crease as long as possible. Jason had been brought on to bowl and was rewarded with a wicket for his tight line and length. A catch for Darren after a couple of abortive attempts!
Mani decided that he would demonstrate his prowess behind the stumps and after replacing H took a catch from my bowling to now lead outright the team catching charts. Sam and Amelia were brought back to try and finish the match and Sam duly obliged bowling the final batsman and giving us a victory by 244 runs.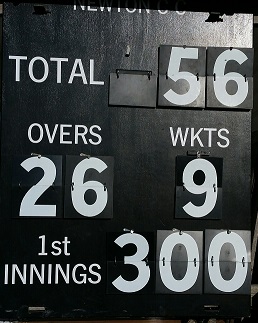 So back to back victories for the first time and solid batting and bowling performances.
---